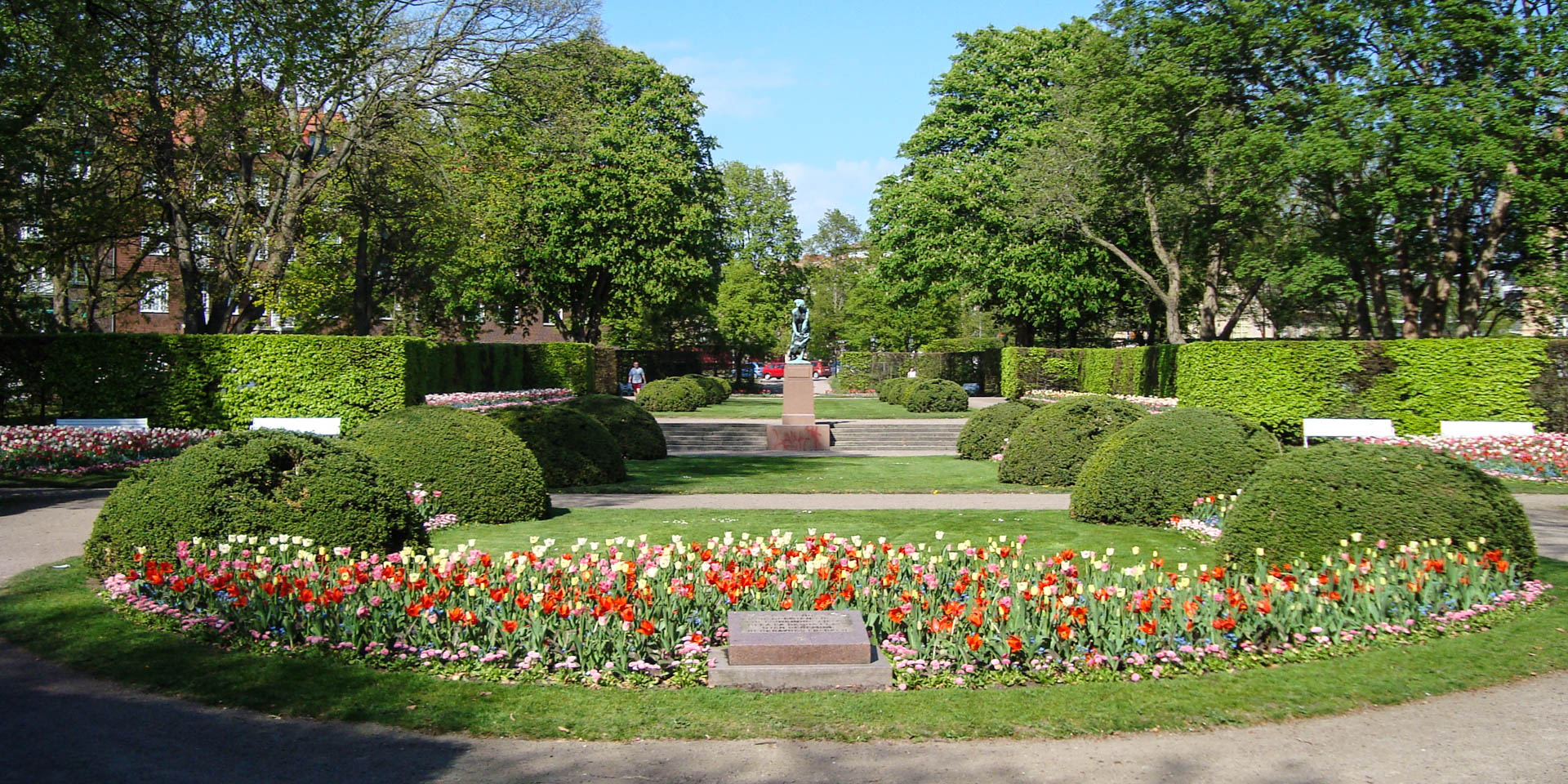 Slottshagen
Park in Helsingborg
The park Slottshagen lies in the shadow of the medieval fortress tower Kärnan on the rock massif Landborgen just above the center of Helsingborg.
Large parts of Slottshagen, which was built from 1909 to 1911 on the site of the demolished fortress, are designed in the style of an English garden with large lawns, tree groups, tall shrubs and ponds. The northeastern corner is a rather formal park with flower beds and low bushes cut in shape.
In the south-east corner is a large playground, which exists since 1906 and was one of the first public playgrounds in Sweden. It was re-designed in 2016 as a medieval scene to reflect the historical background of the park.
Between these two parts of the park is a large open-air stage, which is the venue for various musical events in the summer. The western half of the park is mainly dominated by lawns and the mighty fortress tower, while on the southern tip of the park is a small rose gargen with pergolas and small observation towers since 1930.
The entire park is located on a site that was the cradle of the city during the Viking era. At first it was only a small settlement on the hill, secured by earth walls. The fortress grew and became so large that it occupied almost the whole area and the dwelling houses moved step by step to the foot of the hill.
After the fortress had been demolished in 1680, the site was used as an agricultural land. Towards the end of the 19th century, the area developed into a popular excursion destination for the people from Helsingborg. At that time, the old fortress tower was restored and the representative staircase Terrasstrapporna was built, which leads from the inner city to the hill.
The area was chosen as a location for a large craft and industrial fair in 1903. In order to visualize the exhibition, 50 trees were transplanted from the nearby Öresundsparken and the idea was born to permanently transform the site into a park.
Similar destinations in the area