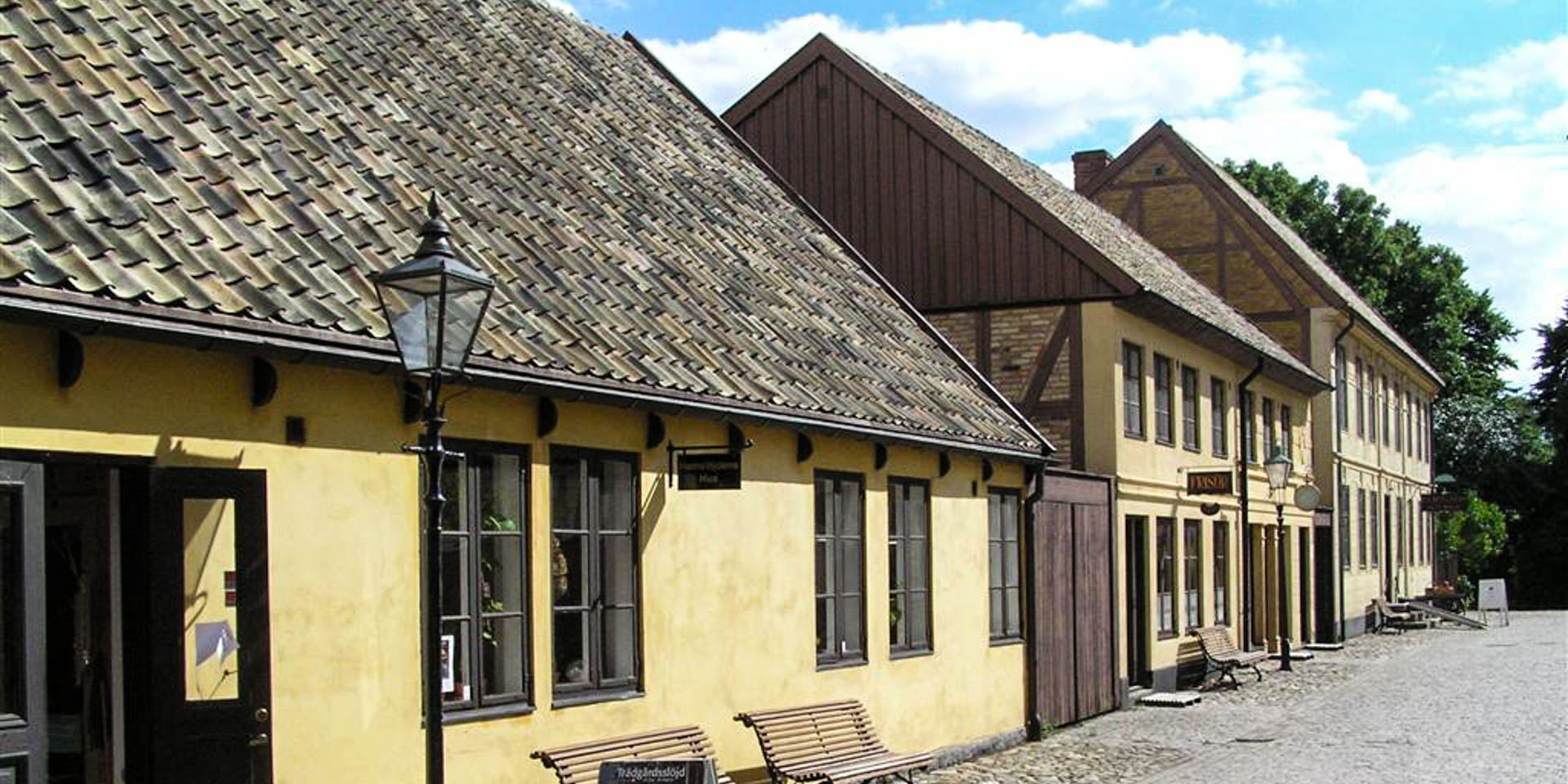 Fredriksdal Museer och Trädgårdar
Open-air museum in Helsingborg
The open-air museum Fredriksdal Museer is located on the edge of the inner city of Helsingborg and is one of the largest open-air museums in Sweden, with an area of around 360,000 square meters.
Fredriksdal is an extraordinary combination of open-air museum and landscape garden. With old buildings, various landforms, old plant cultivations on historically cultivated farmland as well as historical livestock breeds, Fredriksdal shows a successful and lively image of the province Skåne of the 19th century.
Throughout the museum, there are about fifty historic buildings – old farms, water-, saw- and windmills, as well as a small historical quarter with narrow streets and old shops. There is also the Grafiska Museet, Sweden's largest printing museum.
The botanical garden, unique in Northern Europe, represents the landscape of Skåne in miniature. The typical landscape forms and native plants are represented, from dry meadows to oak forests to the dunes. Many of the species represented have already partially disappeared in the wild.
On several areas in Fredriksdal live and graze livestock of old domestic races. The fields are cultivated with historical crops and are processed with horse plows. For the whole plant and animal world represented in the museum, the rule is followed that old races and species are best kept alive by constant cultivation.
In the vegetable garden, old crops are cultivated with methods such as 150 years ago. Framed by different fruit trees, which simultaneously serve as a gene bank for southern Swedish fruits. There are about sixty different varieties of apples, about forty pear varieties and about 10 varieties of plums and cherries.
A French garden with symetric shapes and large hornbeam hedges dates back to the time of the former Fredriksdal estate and was built in the 18th century. An English garden was added at the beginning of the 19th century. In contrast to the symmetry of the French garden, the paths wind between trees and bushes. In the classic rose garden, thousands of fragrant beauties grow in about 500 different varieties – including about 2000 years old types as well as modern varieties.
The museum and gardens of Fredriksdal are open all year round. Visiting the printing museum is included in the entrance fee. Most of the paths in the park are designed for wheelchairs, adapted toilets are also available. Dogs may be carried along, when they are kept on a leash.
History
Nucleus of the museum was the Fredriksdal Estate, built in the 18th century by the salvage entrepreneur Fredrik Wilhelm Cöster. During the following generations, Fredriksdal developed into a large property. Gardens and parks were created, vegetable and herb gardens were planted and cultivated. After the last owner had donated the whole complex to the city of Helsingborg, Fredriksdal was opened to the public in 1923 as an open-air museum.
Similar destinations in the area