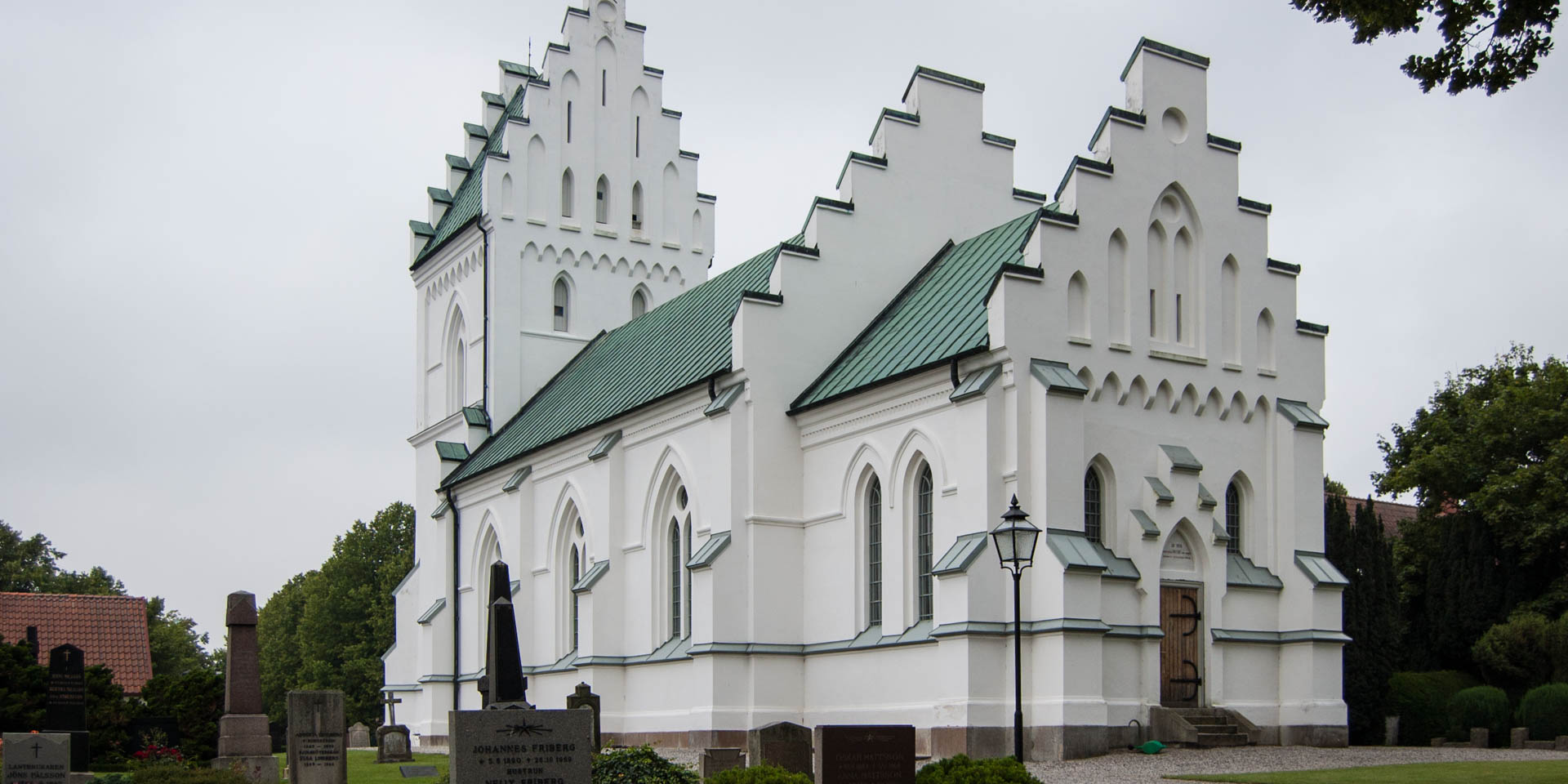 Arrie Kyrka
Historical church in Arrie
Arrie Kykra is a historic 19th century church located in the small village of Arrie in the north of the municipality of Vellinge Kommun, just a few kilometres south of Malmö.
The church in Arrie was built according to the drawings of the Swedish architect Salomon Sörensen and was consecrated in 1890. From the outside, the stepped gables, the greenish roof and the whitewashed walls are particularly striking. A church already stood on this site in the Middle Ages, of which only the lower part of the tower remains.
The medieval church was built in the 13th century in the Romanesque style, had a long nave as well as a choir and a semicircular apse. In the late Middle Ages, the tower was added to the west side and over time, further changes were made until the church was radically rebuilt at the end of the 19th century.
The Arrie Kyrka from the inside
The pulpit, carved from oak, dates from the late 16th century and was already part of the furnishings of the previous church, like the similarly old wooden baptismal font. A large wooden relief from the early 16th century shows the scene of the Passion story in which Pilate washes his hands. The church bell was cast in 1594 and is still in use today.
The organ was also built in 1890 and was made by Salomon Molander & Co from Gothenburg. Today, the church in Arrie is mainly used for baptisms, weddings and funerals. You can combine a visit to the church with exploring the nearby nature reserve Arriesjön-Risebjärs Naturreservat, which is only one kilometre to the east. On the way there, you will pass the 25-metre high hill Gavelsbjär, which is itself a small nature reserve and from which you have a perfect panoramic view over the fields of Söderslätt.
Arrie Kyrka as a series setting
From 2013 to 2015, three seasons of the comedy series Halvvägs till himlen around the fictional pastor Albin Olsson were released. The church in Arrie served as the setting for the church in the series, which is located there in the fictional town of Östra Nöbberup in Skåne. In a total of 24 episodes, the young pastor Albin uses unorthodox methods to try to attract visitors to his church and expand his congregation. Even though he often encounters rejection from the existing parishioners.
Similar destinations in the area