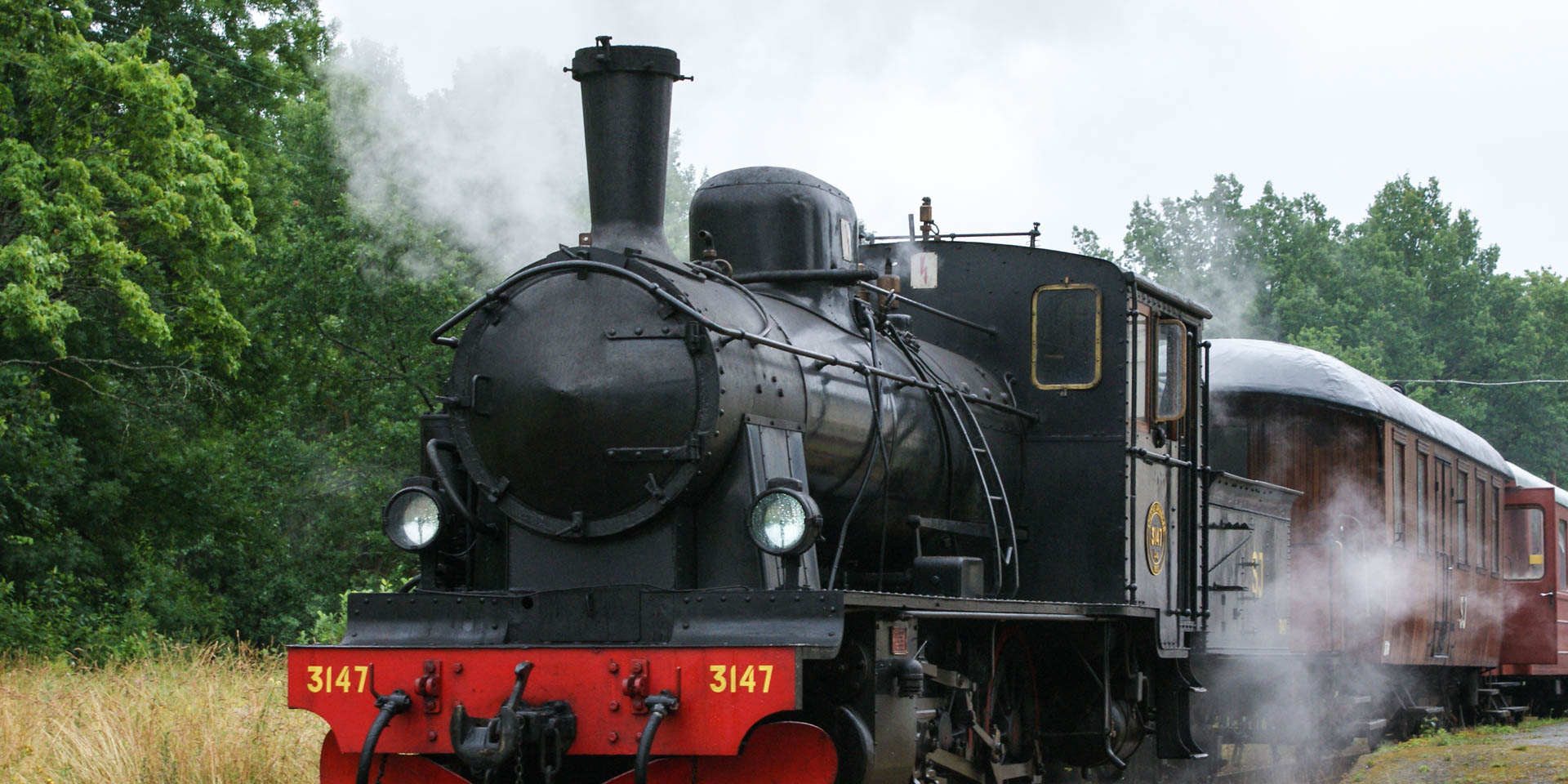 Smalspårsjärnvägen Hultsfred–Västervik
Heritage railway Hultsfred-Västervik
The Smalspårsjärnvägen Hultsfred–Västervik is the 70-kilometer narrow-gauge heritage railway between Hultsfred and Västervik and belongs to the top 10 Swedish industrial museums.
Between the end of June and the beginning of September you can ride with the rail cars from the early 1950s on the Smalspårsjärnvägen Hultsfred-Västervik. In the pre-and post-season on three days each week, in the main season between early July and mid-August daily with three departures in each direction. The section Västervik–Ankarsrum is also traveled by steam trains with historical cars on weekends during peak season.
The route runs through beautiful nature in eastern Småland, through dense forests and fertile plains, past small villages and beautiful lakes. There are several stops and historic train stations along the way in connection with various travel destinations.
For example, near the old train station of Ankarsrum there is the former ironworks Ankarsrum Bruk, which has been transformed into the industrial museum Aktiveum. A café is located in the station itself. The next interesting stop is the lake Långsjön with beach, boat rental and restaurant.
The last stop before Hultsfred is at the heritage museum Hultsfreds Hembygdspark, within sight of the lake Hulingen with an adjacent campsite and Hulingens Badplats.
On board of the railcars it is possible to buy coffee, tea or soft drinks. You can get your ticket in the KLT travel centers at the train stations in Hultsfred and Västervik or on the train directly, but only cash payment is possible there.
Accessibility for wheelchairs is restricted to a maximum width of 60 centimeters due to the entrances. The transport of wheelchairs, strollers, walkers, bicycles and even dogs is free of charge.
History
The railway line has a track width of 891mm and was released the first time for traffic on 16 November 1879. On August 20, 1984, the narrow gauge line, which at that time was still leading to Växjö, was shut down for regular passenger traffic under massive public protests.
In 1996, a first section of the route including the station building and the vehicles were declared a monument. With the help of the monument protection authority, the restoration succeeded in further parts of the route and since 2003 the complete route between Hultsfred and Västervik is being used as a museums railway during the summer.
Similar destinations in the area