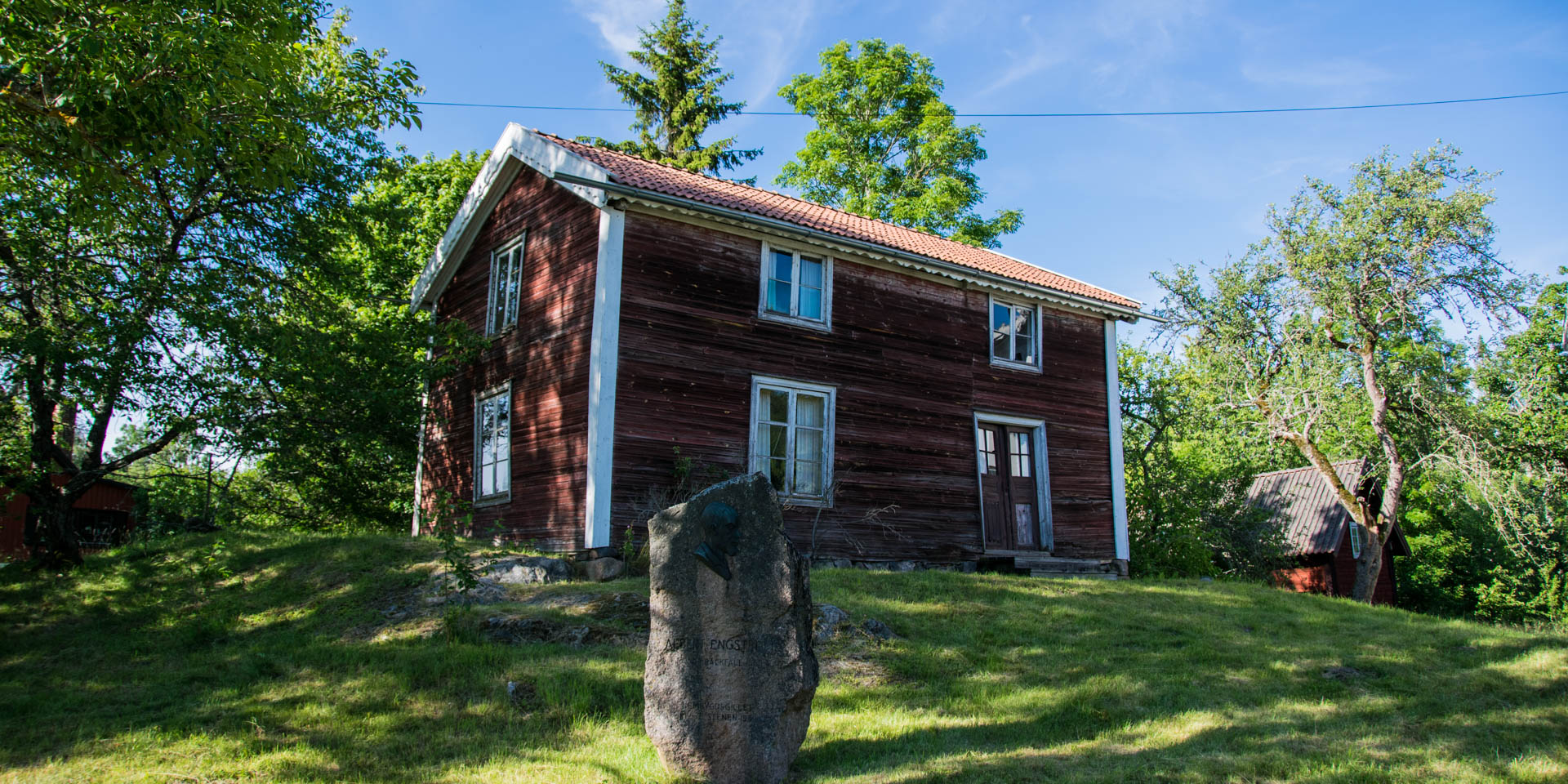 Bäckfall Lönneberga
Albert Engström's birthplace near Lönneberga
On the farm Bäckfall Lönneberga in the parish Lönneberga, about 15 kilometers west of Hultsfred, stands the house where Albert Engström was born, one of the most famous Swedish cultural personalities of modern times.
The old two-storey house on Bäckfall near Lönneberga, where Albert Engström saw the light of day on May 12, 1869, has already decayed a bit. The walls are crooked, the red paint is weathered. The building can not be entered, only a small sign on the road and a larger memorial stone in the garden is reminiscent of the well-known author and gifted draftsman.
The life of Albert Engström
Engström spent his first four years on the farm until his family moved to Mariannelund and, when Albert was 9 years old, to Hult near Växjö , where he spent the rest of his childhood.
Towards the end of his secondary school education, which he completed in 1888 with a university-entrance diploma , Engström already wrote verses and poems for local newspapers. He then studied four semesters of Latin and Greek at the University in Uppsala, then he was a student of Carl Larsson at the Valland Art School in Gothenburg.
Engström was known as a skilful draftsman mainly through his numerous cartoons in Sunday newspapers and in the newspaper Strix he published by himself. No less known are his humorous caricatures, with which he pick apart authorities such as the bourgeoisie, the clergy or officers. His style of portrayal shows clear parallels to the figures of the wood sculptor Axel Robert Petersson from Oskarshamn, known as Döderhultarn.
He made his debut as an author in 1905 with the title En Bok (A Book) and published over two dozen more books during his lifetime. In 1919 he was appointed as a member of the Swedish Academy and worked from 1925 to 1935 as a professor of drawing at the art school.
Albert Engström died on November 16, 1940 and was buried in the cemetery in Hult near Växjö. The remembrance of his work is largely kept alive by Albert Engström-sällskapet, one of the largest literary societies in Sweden, founded in 1981.
Similar destinations in the area