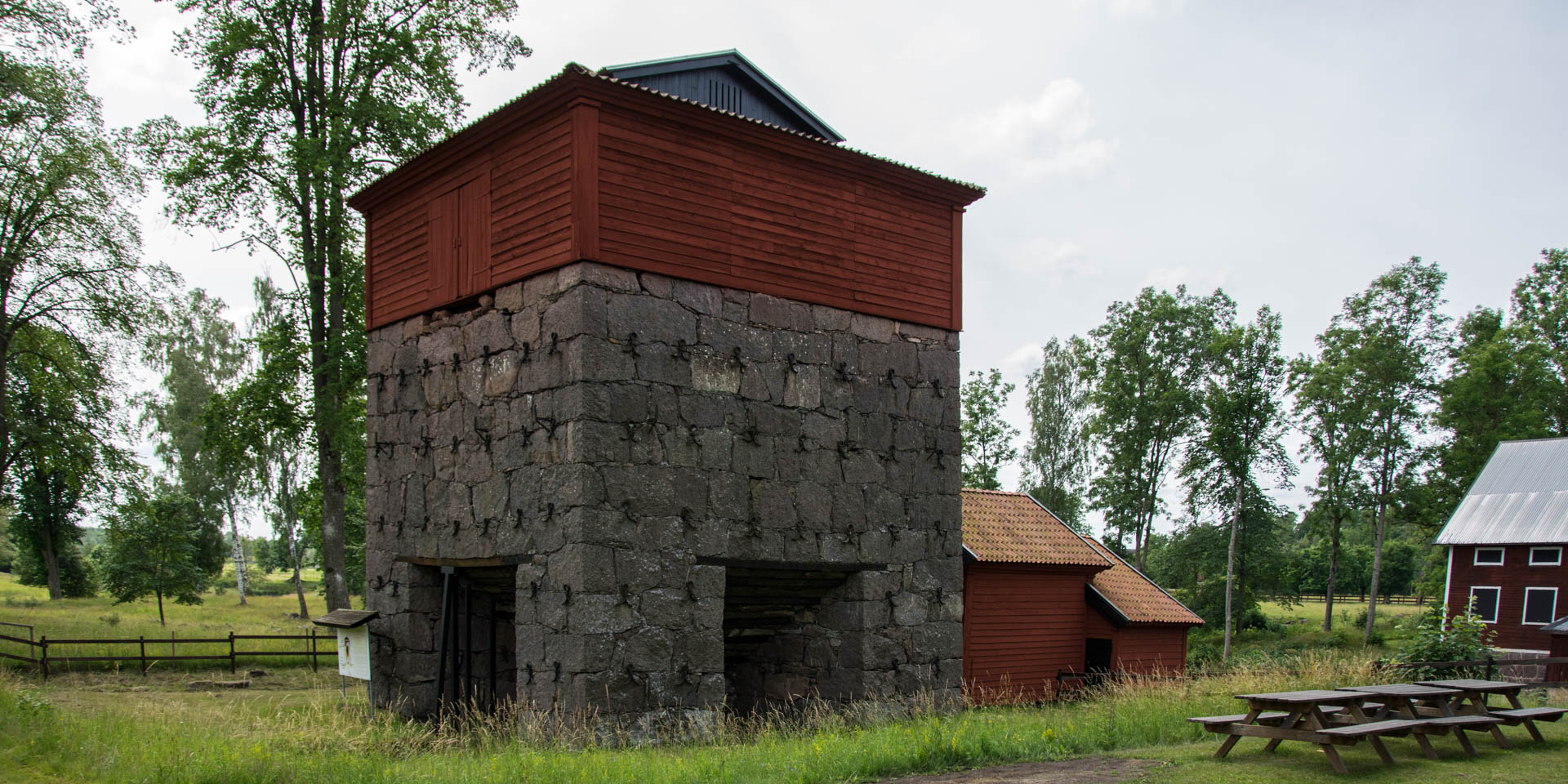 Hagelsrums Masugn
Historical blast furnace in Hagelsrum
The blast furnace Hagelsrums Masugn, which was operated until 1877, is located next to the river Silverån in the village Hagelsrum, about 10 kilometers south of Hultsfred and is the only remaining pre-industrial blast furnace in the province Kalmar Län.
Hagelsrums Masugn consists of the well-preserved blast furnace, which was put in operation in 1854, and the blower house with an old three-cylinder furnace blower. This is followed by the building standing directly on the river, where once the water wheel was used to run the blower.
The era of iron smelting in Hagelsrum lasted for a total of about 130 years and began in 1748 at this point with the first blast furnace, which, however, stood on the opposite side of the river. This furnace collapsed in 1760, after which a new blast furnace was built at the present location.
In 1853, after more than 90 years of operation, this second blast furnace was outdated and so worn out that it was decided to replace it with the still existing one. In the very first year of its operation, the new blast furnace reached the highest annual production in the history of the ironworks of Hagelsrum with 509 tons of pig iron.
Even though blast furnaces were used as long as possible in continuous operation, even in its peak year, the furnace in Hagelsrum only had 179 melting days. Responsible for the relatively low number of melting days was the problem with supply of raw materials. The iron ore came in Småland from the bottom of the surrounding akes. The ore were collected in winter when the ice cover on the lakes was strong enough to carry the heavy sledges.
The average daily production of the blast furnace in Hagelsrum was only 2.8 tonnes of pig iron, but 8 tonnes of iron ore and 35 cubic meters of charcoal were needed. According to old accounting documents, it has been reconstructed that about 25 employees were working for the direct operation of the plant, which was divided into two shift teams of 10 workers and 5 employees for management and administration. An estimated 100 people were employed outside the ironworks to transport and extract raw materials.
The pig iron was mainly poured into ingots and processed in the smithies in Storebro. But part of the pig iron was also cast directly on site to make end products such as saucepans, frying pans or waffle irons. After one of the numerous owner changes, the foundry in Hagelsrum was closed in 1802 and the pig iron was delivered to the associated foundry in Rosenfors.
The area around the blast furnace is open all year round. If you wish a guided tour, contact the heritage association Målilla-Gårdveda Hembygdsförening, which owns the old facility since 1994.
Similar destinations in the area