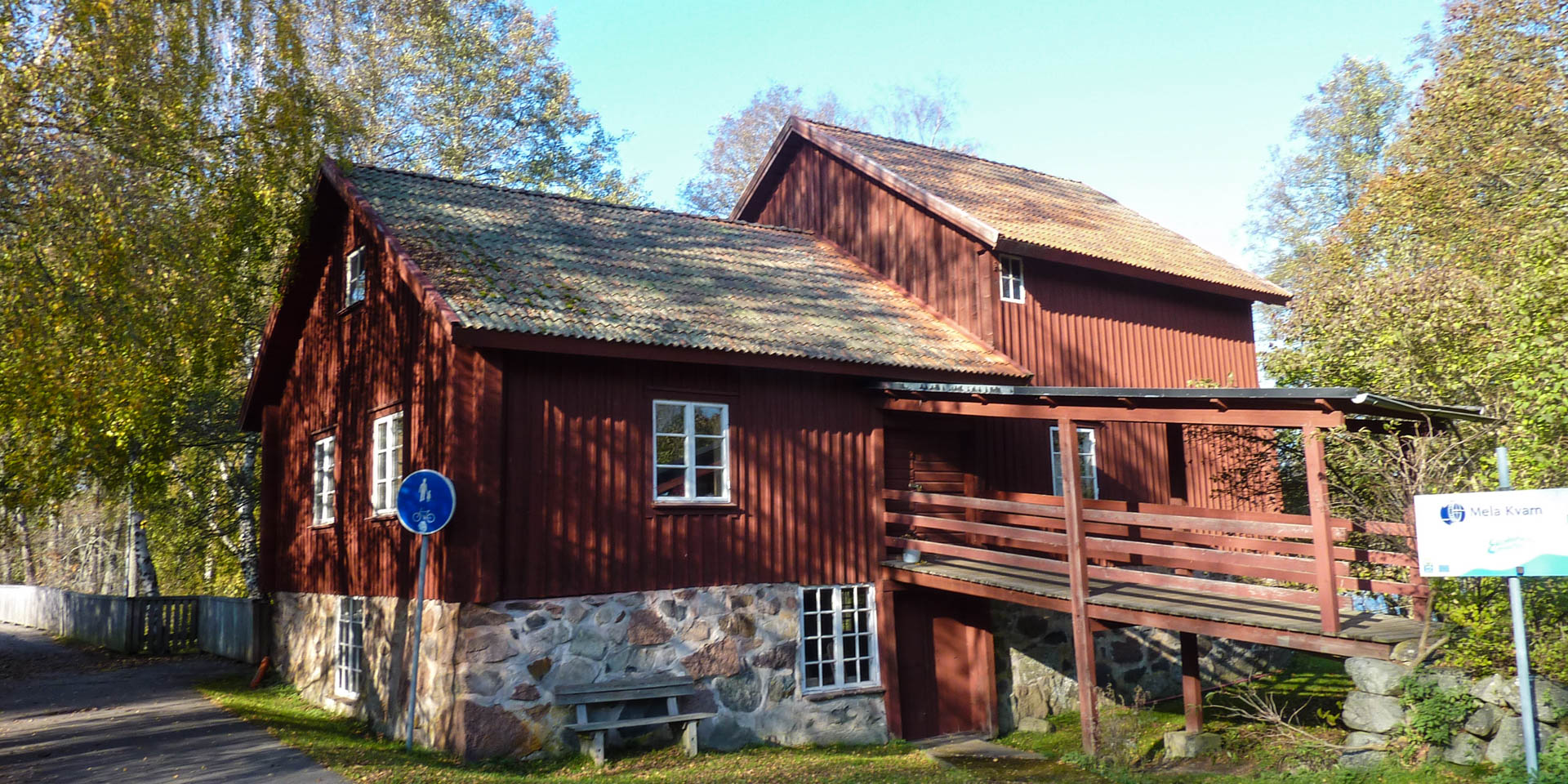 Mela Kvarn
Historic water mill in Vetlanda
The well-preserved historical watermill Mela Kvarn dates from the early 19th century and is located on the small river Emån in Bäckseda, a southern suburb of Vetlanda.
Mela Kvarn is one of the largest preserved water mills from pre-industrial times in the province Jönköpings Län. Its history dates back to the 17th century and the present appearance of the water mill corresponds to the state after the last expansion at the end of the 19th century.
The massive basement of Mela Kvarn, built of rough natural stone, dates from the 17th century, as well as parts of the old upper wooden construction, which was reused during the modernisation of the mill in 1813. The mill was in regular operation until 1964 and was unused with all its technical equipment until it was extensively renovated in 1984.
The grinding floor and the basement in particular are in their original condition. These include the old brickwork, the wooden walls, beam layers, stairs and the old plank floors. In particular, the untreated simple planks, on which the decades of use have left clear signs of wear and tear and a special patina, give the mill some of its authenticity.
A complete unit of the original two milling plants is still preserved in the northern part of the mill. It consists of the complete machinery from the 1930s with roller mill, flour mixer and classifier as well as all conveying systems and drive elements.
The drive elements include one of the legendary angular drives developed by the ingenious constructor Oscar Jonsson and patented around 1910 under the brand name Volvo. He owned the mill from 1905 and founded the small machine factory Nordiska Maskinfabrik next door, where he produced angle drives in various sizes as well as column drills, milling machines and water turbines.
The machine factory was shut down in 1960 and the buildings were demolished in 1968 due to dilapidation. Oscar Jonsson and his inventions are commemorated today in a room in the southern part of the mill, which is set up as a small industrial museum.
Similar destinations in the area