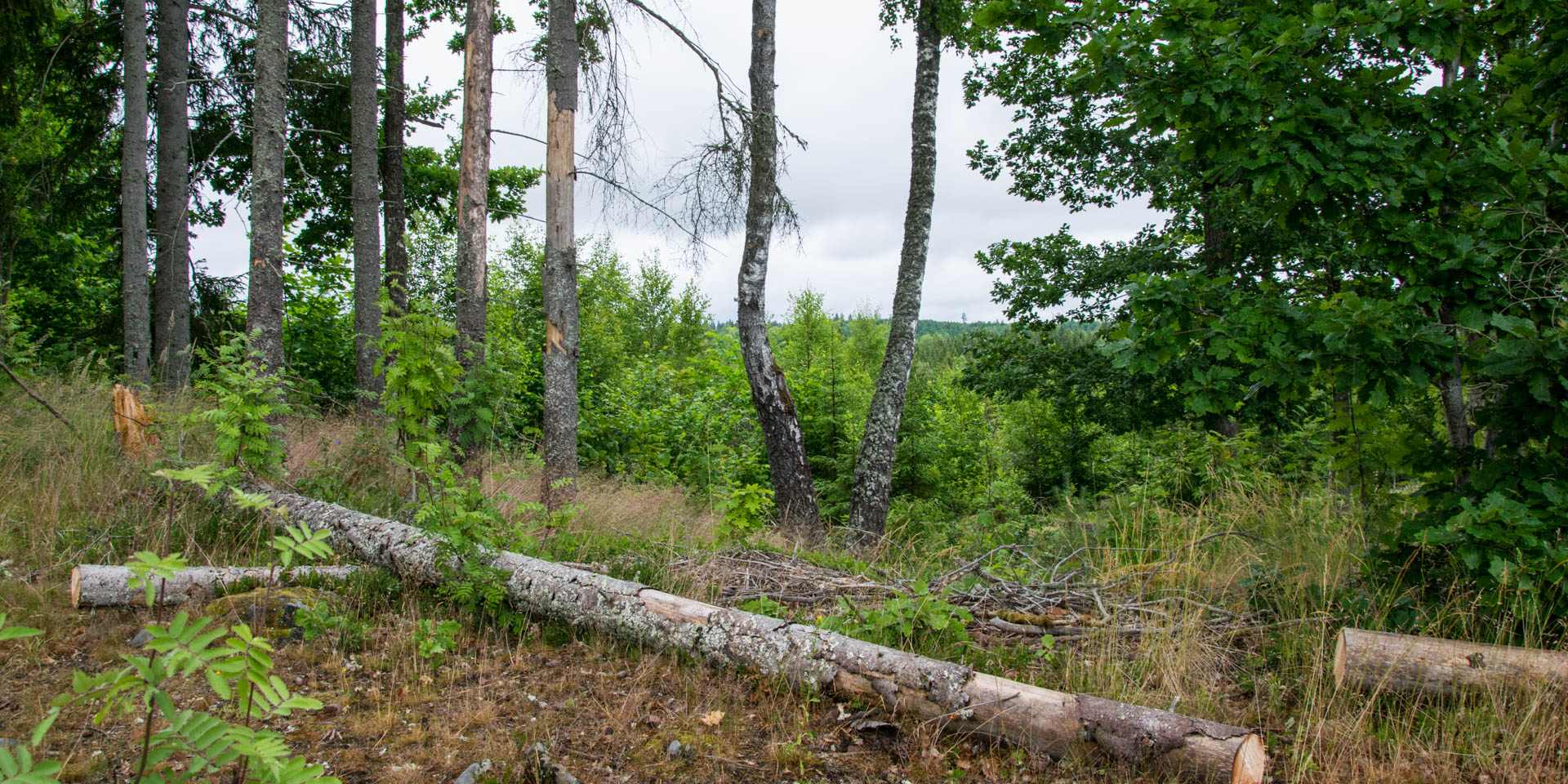 Oxhagsbergets Naturreservat
Nature reserve near Nye
Oxhagsbergets Naturreservat is a nature reserve of just under 4 hectares around the hill Oxhagsberget, which protects the remains of an old wooded meadow and invites you to take a short hike as well.
The nature reserve Oxhagsberget is located 7 kilometres south of the small village of Nye between the lakes Holmsjön and Värnen in the municipality Vetlanda kommun. An entrance with a parking area is located to the southwest along the narrow forest road. There is also an information board at this spot.
Exploring Oxhagsbergets Naturreservat
Oxhagsberget rises 30 metres above the surrounding landscape and can be reached by following a marked path. This path is part of the Höglandsleden, a 454-kilometre circular hiking trail through the highlands of Småland. The highest point of Oxhagsberget is reached after only a few hundred metres from the entrance and offers a panoramic view of the historic Trollebo estate and Lake Värnen.
The path leads out of the nature reserve after a short distance to the north and meets the access road. Turning right onto this and following it eastwards, it offers views of the northern and eastern slopes of the Oxhagsberget and leads back to the previously mentioned entrance. This small round trip is just under 2 kilometres long.
Flora & Fauna on the Oxhagsberget
Until the early 1990s, hay was harvested between the trees on Oxhagsberget. In order to preserve this landscape with its plants and animals, the nature reserve was created in 2006. The old oaks, spruces, aspens and birches provide habitats for insects and rare lichens such as the striking tree lungwort (Lobaria pulmonaria), when alive and as numerous deadwood.
On the old hay meadows, numerous common cowslips (Primula veris) grow in bright yellow, along with several other flower species. Hidden in the dead trees around Oxhagsberget live the larvae of longhorn beetle species such as the Callidium coriaceum, known in Swedish as Bronshjon.
Similar destinations in the area