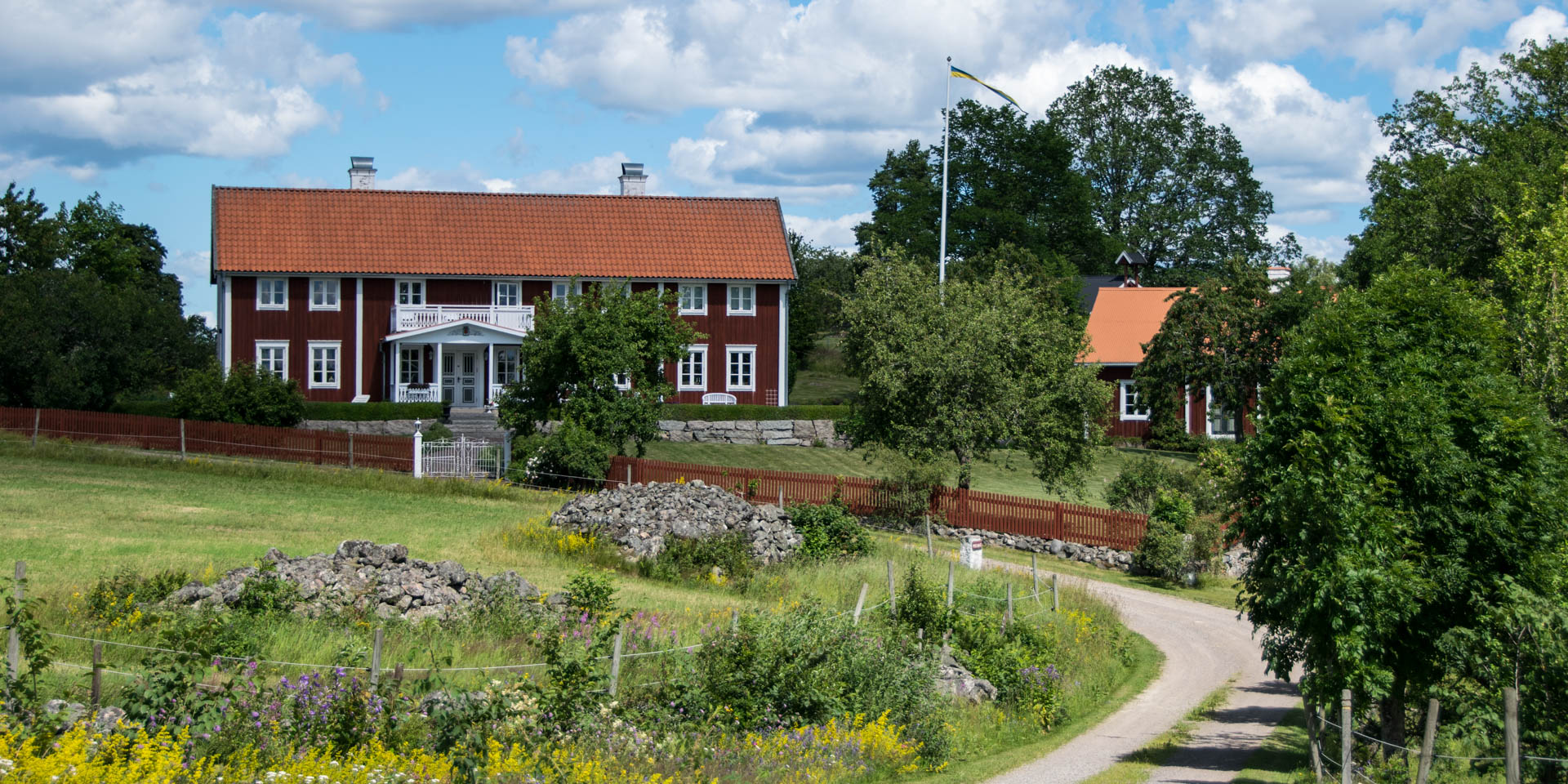 Popular destination
Högarps By
Cultural reserve near Stenberga
The cultural reserve Högarps By in the parish Stenberga, about 30 kilometers southeast of Vetlanda, is a very well preserved example of a picturesque old cultural landscape, as it used to be typical in this part of the Småland highlands.
The centuries-old barely modified form of cultivation in connection with the volcanic rock of the subsoil has produced a special form of flora with some rare plants. Högarps By fulfills the requirements of a cultural reserve as a combination of a cultural landscape and nature reserve.
In 1995, parts of Högarps By were declared a nature reserve, in 2010 they were converted into a cultural reserve, with the area increased to 60 hectares. Within the reserve there are five old farmhouses, one is still active.
The size and location of the parcels and buildings have not changed since the land reform in 1817 and the landscape still looks the same as it did in the 19th century. The walls of picked up stones, the classic wooden fences, pruned trees, fields and meadows and the natural surfaces embedded like islands paint a picturesque image of a rural area from that time.
Explore Högarps By
The regular hay harvesting on the meadows and the permanent use of the grazing land granted a special plant diversity, which has formed over a long time by this kind of cultivation. The typical plants are wolf's bane (Arnica montana), mountain everlasting (Antennaria dioica) and common milkwort (Polygala vulgaris). Also some rarer species such as leafless hawk's-beard (Crepis praemorsa), rock cinquefoil (Potentilla rupestris) and the blue or white flowering Elder-flowered Orchid (Dactylorhiza sambucina) occur in Högarps By.
Different circular trails lead through the reserve, partly along the gravelly main roads and are also passable with wheelchairs or baby strollers. But there are also unpaved paths that lead over the pastures and through a forest.
Right next to the parking lot is a large barn with toilets and a sporadically open museum with historical agricultural equipment. In front of the barn are tables and benches available for a picnic.
Similar destinations in the area