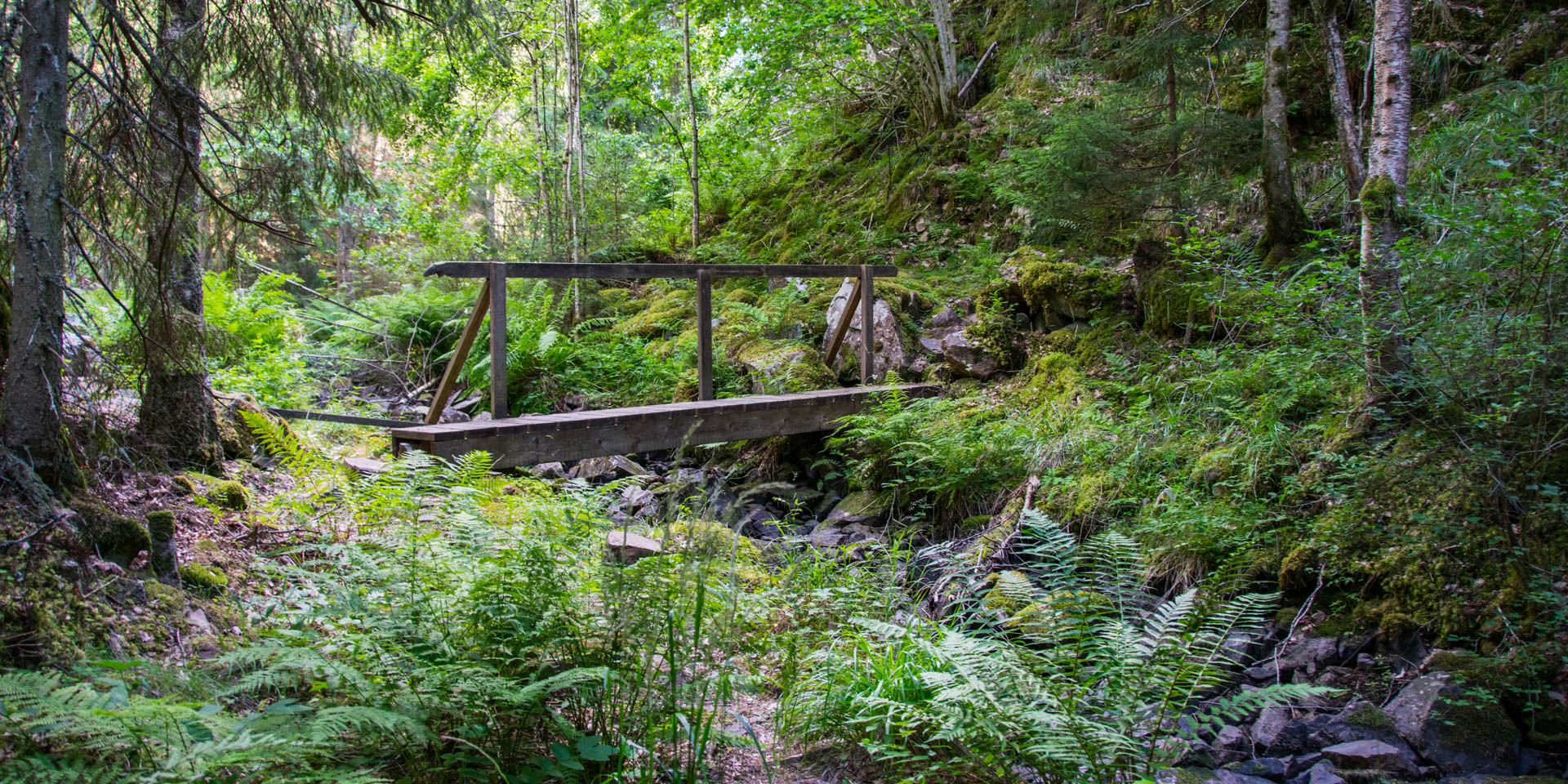 Insider tip
Helvetets Håla Naturreservat
Ravine and nature reserve near Lemnhult
The nature reserve Helvetets Håla Naturreservat with the deep ravine Trollebo Portar is hidden in the dense forest near Lemnhult, about 25 kilometers south of Vetlanda.
The 7.6-hectare nature reserve consists of a natural forest with very old coniferous trees and a 500 meter long section of the deep ravine Trollebo Portar. In this part of the ravine is an approximately circular widening, often filled with water, called the Helvetets Håla (hellhole).
The path that leads into the nature reserve soon reaches a lookout point above Helvetets Håla. The site is located directly on the unsecured cliff and allows a slightly dizzying view into the about 30 meters deep hole.
The ravine Trollebo Portar
To the right of the lookout point, a steep path leads down into the ravine. A narrow footbridge crosses the stream flowing at the bottom of the ravine and large boulders are everywhere, which have fallen from the steep cliffs.
The entire gorge is four kilometers long, between 20 and 30 meters deep and about 35 meters wide. It is one of the longest and, with its almost vertical cliffs of red granite, probably the most dramatic gorge in the Småland highlands.
Flora and fauna in Helvetets Håla
The vegetation at the bottom of the gorge consists of a mixture of tall firs, deciduous trees and shrubs. Due to the high humidity, the variety of mosses is very large and there are many species such as lanky moss (Rhytidiadelphus loreus), greater whipwort (Bazzania trilobata) and endangered species such as heller's notchwort (Anastrophyllum hellerianum) and green shield-moss (Buxbaumia viridis).
On the east side of the gorge, a marked path leads up again – into a natural forest with up to three hundred years old pines and a rich population of typical forest birds. There, for example, nest crossbill (Loxia), black woodpecker (Dryocopus martius) and Eurasian pygmy owl (Glaucidium passerinum), the smallest European owl species.
The path from the parking lot to the nature reserve leads over a distance of about 300 meters, which runs over a cow pasture and of course some fences.
Similar destinations in the area