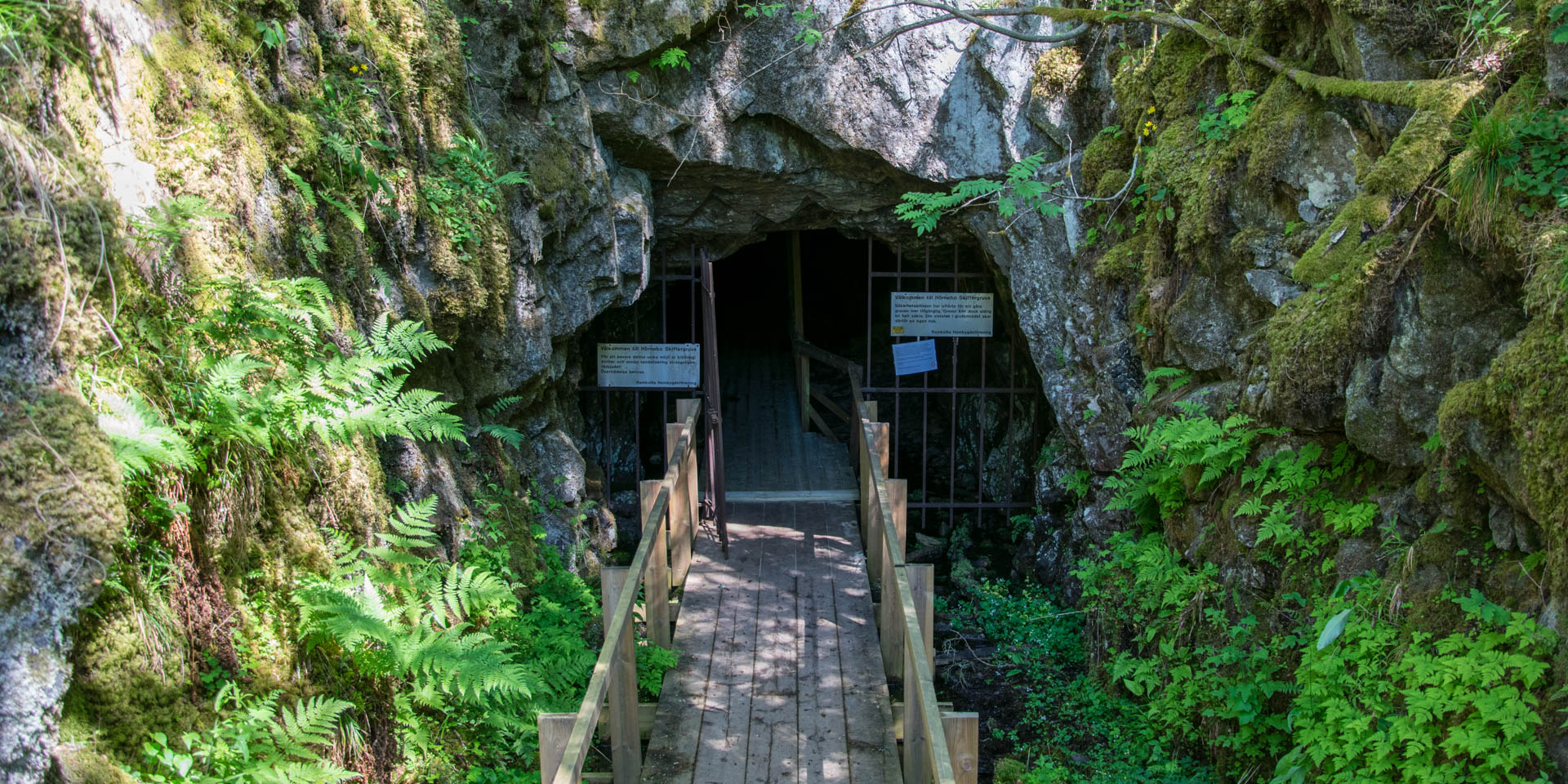 Insider tip
Hörnebo Skiffergruva
Former slate quarry near Ramkvilla
Hörnebo Skiffergruva is a part of Swedish industrial history with the special charm of a "lost place". The slate quarry, abandoned at the beginning of the 20th century, lies in the middle of the forest near the hamlet of Hörnebo in the south-west of the municipality of Vetlanda Kommun.
Around 1850, slate began to be quarried in the Hörnebo Skiffergruva, which was processed into roof and façade slabs on site. The quarrying was done by open-cast mining, and in the course of the quarry's approximately 50 years of operation, a total of three 15 to 25 metre deep pits with vertical walls were formed, separated only by narrow rock walls. The three pits are connected by an adit and a tunnel.
At the bottom of the pit, a 130-metre-long tunnel leads under the road, ending at the foot of a hillside on the opposite side. A trolley track once ran through this tunnel, which was used to transport the quarried slate blocks from the mine and process them into handy slate slabs. The spoil heaps to the left and right of the path, as well as a small lake nearby, give an idea of the amount of slate processed.
Exploring Hörnebo Skiffergruva by yourself
This tunnel is the only access to the quarry today. You follow the signs from the car park at the large information board, climb down the slope on a narrow, partly steep path through the forest and reach the tunnel entrance via a wooden staircase. The tunnel is lined with running boards and has a handrail on one side. However, the tunnel is not illuminated, so a pocket torch is very helpful.
At the end of the tunnel, you find yourself in a hollow formed by vertical rock faces with surprisingly lush vegetation that has been able to develop here undisturbed in the more than 100 years since Hörnebo Skiffergruva was abandoned. In places there are tall conifers at the bottom of the quarry, otherwise various ferns and mosses, some of them rare, dominate the bottom vegetation and the lower part of the steep walls. With increasing altitude, the flora changes to small trees and shrubs colonising the rock faces. There is always water at the bottom of the quarry, but a system of large and well-placed wooden platforms allows a good view of every corner of the old quarry.
Every summer, music evenings are held in the illuminated pit on Wednesdays in July and the first two weeks of August. The music programme is colourful and features both well-known artists and newcomers, but is a special experience in any case due to the special atmosphere and acoustics.
With the exception of the music evenings, entry to the Hörnebo Skiffergruva is free. However, due to the risk of rockfall from icing, the pit is only open from the end of April until the first frost in autumn.
Similar destinations in the area