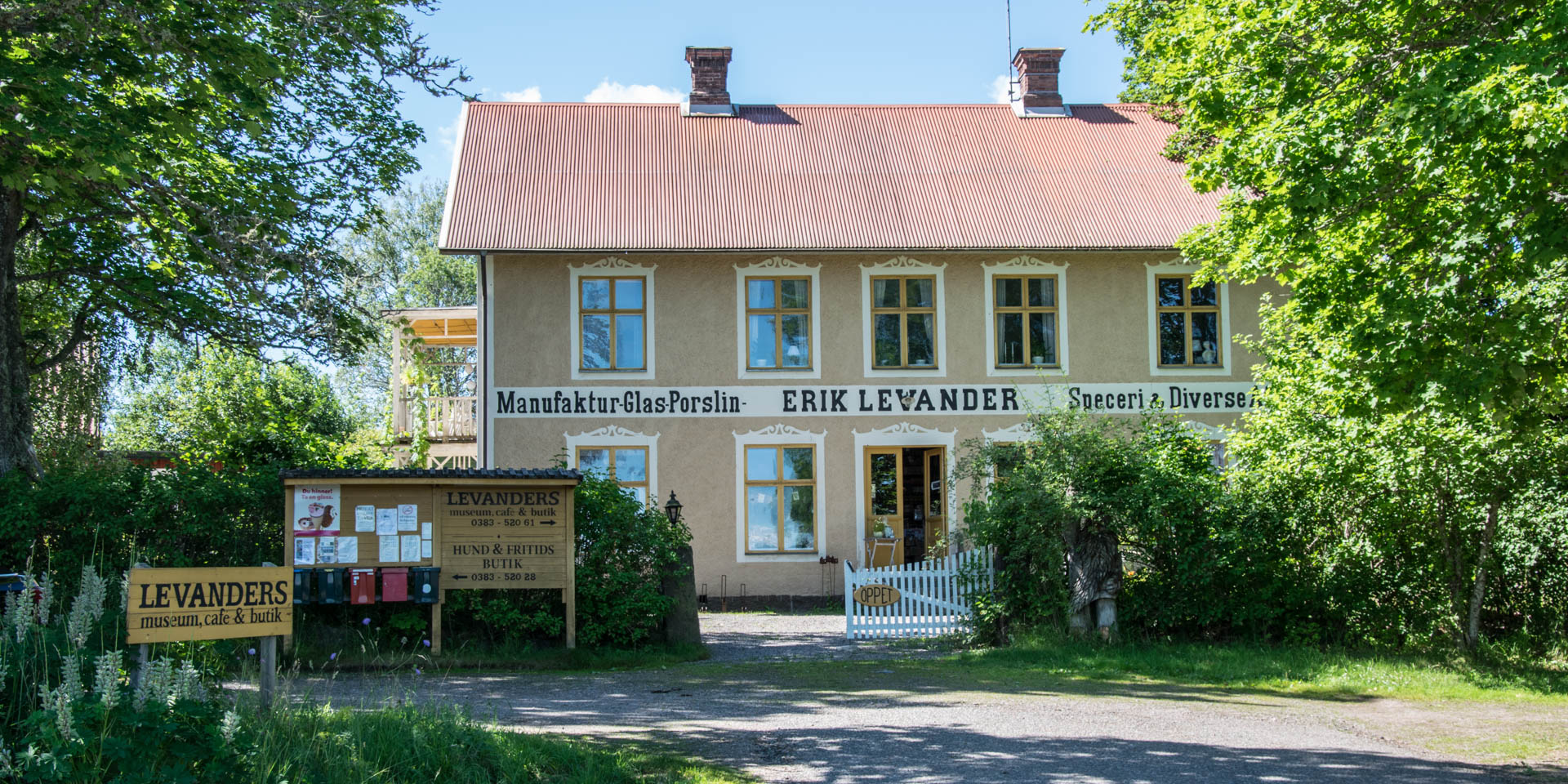 Levanders Lanthandel
General store museum in Alseda
Levanders Lanthandel on the outskirts of the village of Alseda, in the eastern half of the municipality of Vetlanda Kommun, is best known as a museum featuring a turn-of-the-century general store that has been preserved in its original state.
The original inscription of Levanders Lanthandel, stretching across the entire width of the house, describes what is confirmed when you cross the threshold of the two-storey building from the end of the 19th century. It is in fact an originally preserved general store in which time seems to have stood still at some point in the 20th century. The shop was founded as early as 1864 and was taken over in 1920 by Erik Levander, who ran the shop for 50 years, until 1970.
Levanders Lanthandel Sortiment
The original furnishings are presented with the patina of decades of use on the large counter, the tables and the ceiling-high wooden shelves, which are well filled with old cardboard packaging, storage jars, tins, bottles as well as tins of sweets, sugar and coffee. But also galoshes, cuffs, wooden shoes or corsets as well as cardboard boxes with buttons and sewing thread can be found here, as one would expect in an old general shop. The drawers still smell of herbs and spices, there are large wooden bins on the floor, and old advertising posters and tin signs hang on the walls.
In addition to the museum, there is a gift shop actually selling, selected jams, jellies, chocolates, sweets, teas or pesto, as well as postcards, posters or fine soaps and fragrance lamps.
There is also a small café with seating inside the building and in the garden when the weather is nice. The menu includes coffee, tea and cold drinks, as well as a selection of different traditional cakes baked according to old family recipes with eggs from local chickens.
Levanders Lanthandel:

Opening hours
Opening hours
1. May – 31. May
Wednesday: 11:00 – 16:00
Thursday – Friday: 11:00 – 17:00
Saturday – Sunday: 11:00 – 15:00
1. June – 31. August
Tuesday: 11:00 – 17:00
Wednesday: 11:00 – 16:00
Thursday – Friday: 11:00 – 17:00
Saturday – Sunday: 11:00 – 15:00
---
Last update: 04/2023 | Errors and omissions excepted.
Similar destinations in the area