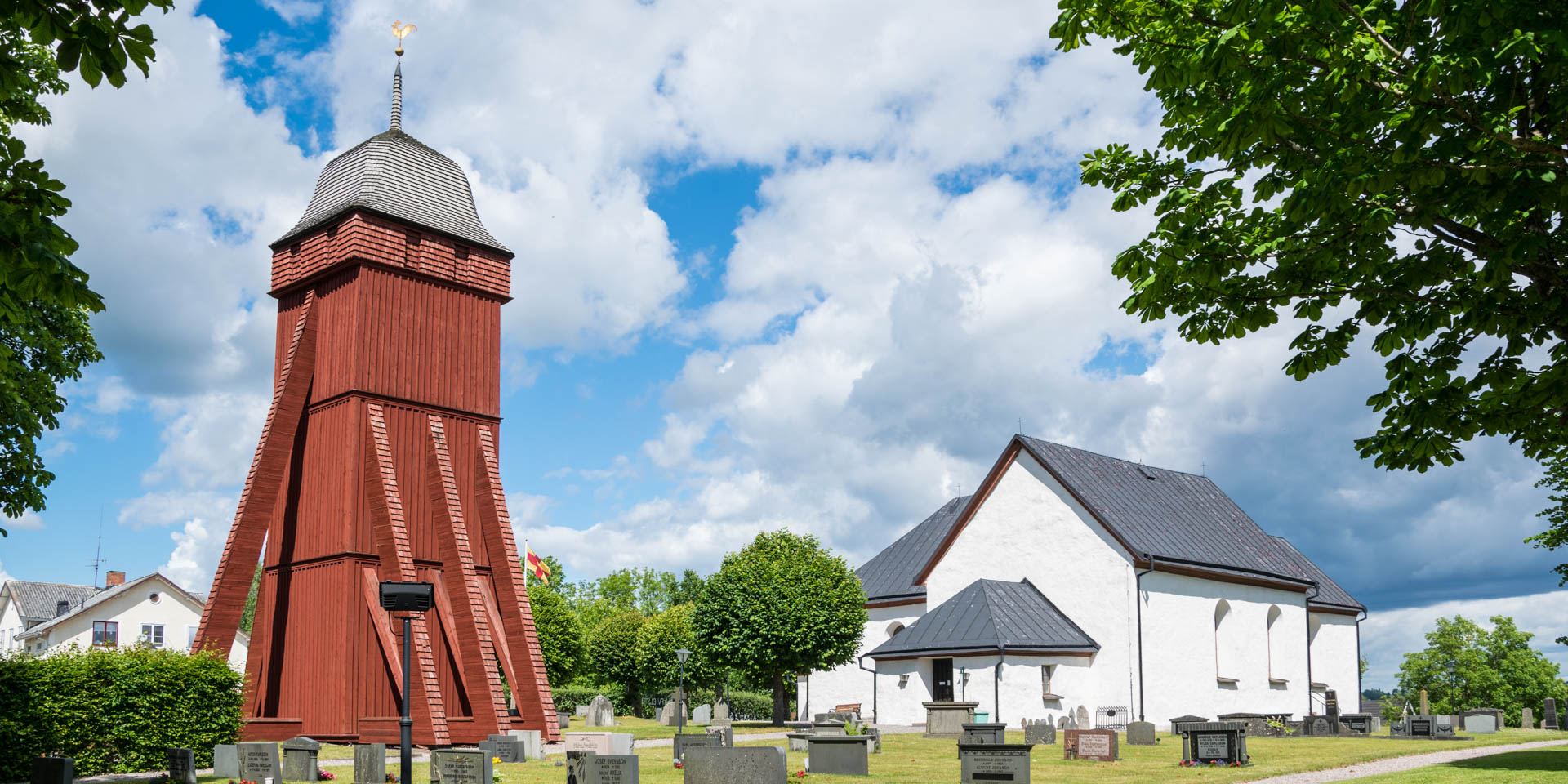 Nävelsjö Kyrka
Medieval church in Nävelsjö
The medieval Nävelsjö Kyrka was built as a Romanesque stone church in the second half of the 12th century and is located in the small church village of Nävelsjö in the western half of the municipality of Vetlanda Kommun.
Naevelsjö Kyrka is one of a group of nine so-called Njudung churches spread over the area of the municipalities of Sävsjö and Vetlanda. Njudung is the early historical name of the region and refers to one of the total of eleven small countries of which Småland was once formed.
The birth of Nävelsjö Kyrka
The Njudung churches all originated in the early Middle Ages and are extremely similar in size and architectural style. Originally, they all consisted of a nave with a narrow choir and semicircular apse, as was usual for medieval churches, but they all have no base masonry as a characteristic feature, which has also earned them the name "barefoot churches". Due to stylistic peculiarities and similarities, it is assumed that the Njudung churches were built by stonemasons who were involved in the construction of the Lund Cathedral and had to find new employment after its completion in 1145.
The Nävelsjö Kyrka was only 25 square metres in size at the beginning around 1150 and initially consisted only of a choir and apse. The nave was built in 1182, although this date is known so precisely because dendrochronological examination of a roof beam revealed that the associated tree was felled in the winter of 1181/82. In 1761, the transept was added to the north side, giving the church its present appearance. The wooden belfry, which stands somewhat apart from the church, was built in 1682 and received its present appearance after extensive restoration in 1900. The oldest bell in the tower dates from the 13th century and is therefore one of Sweden's oldest church bells still in use.
The interior of Nävelsjö Kyrka
The baptismal font in the apse, which has been converted into a baptistery, dates from around 1180, as does the church itself. The sandstone baptismal font with detailed fabulous animals is very well preserved and is attributed to the stonemasons of the so-called Njudungs group, who were active in Småland and Östergötland between 1180 and 1200.
The painted and gold-decorated pulpit dates from 1669 and depicts the four evangelists Matthew, Mark, Luke and John. The matching canopy was added in 1691. The altarpiece shows Jesus on the cross as the main motif and was created in 1761 by Johan Ullberg (1708 - 1778), a former innkeeper and well-known woodcarver from Skåne.
Similar destinations in the area