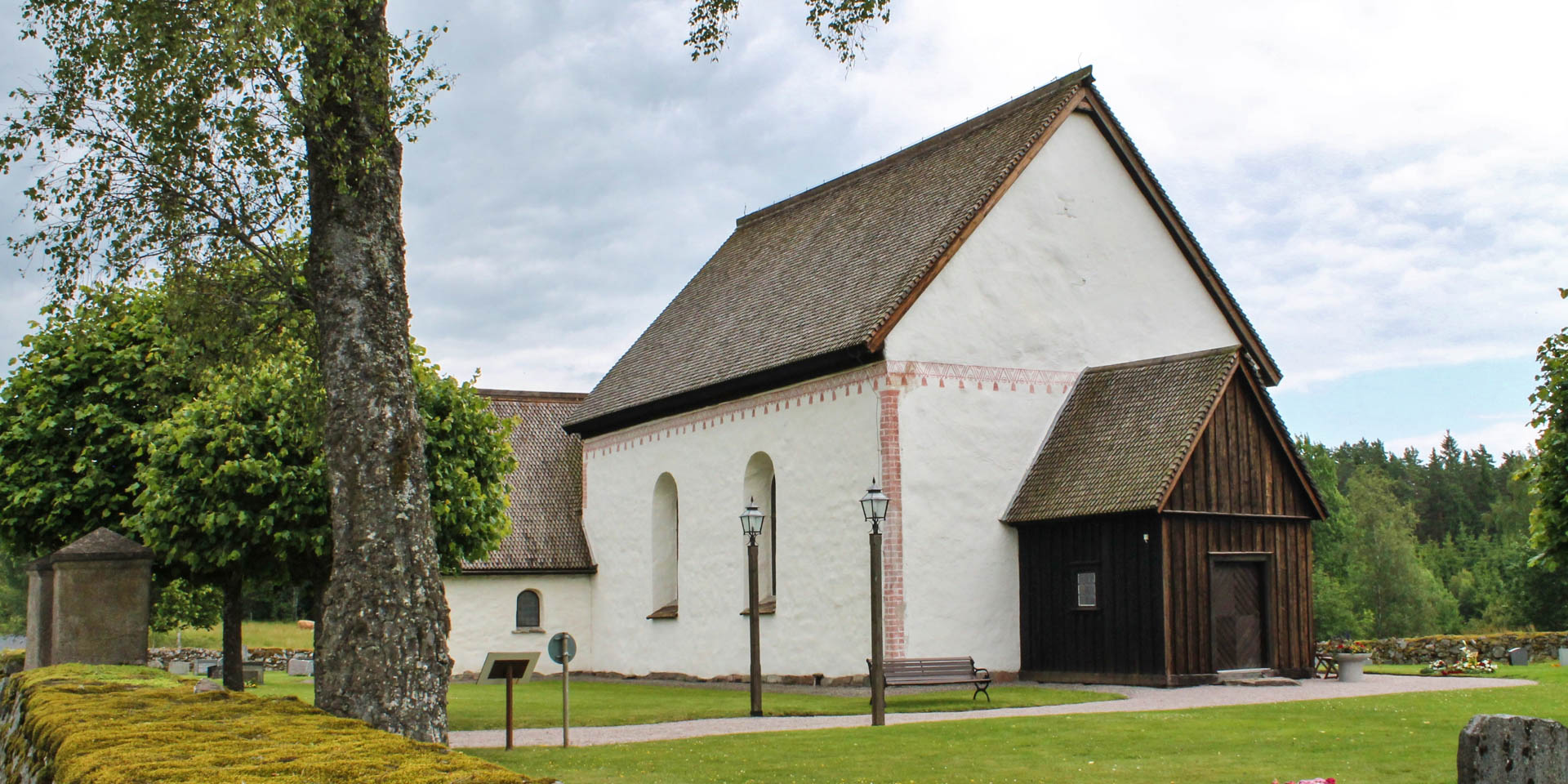 Lannaskede Gamla Kyrka
Medieval church near Landsbro
Lannaskede Gamla Kyrka is a special medieval rural church, because it was consecrated around 1150 and is one of the oldest Romanesque churches in Sweden. It is located outside the village Landsbro in the highlands of Småland, about 15 kilometres west of Vetlanda.
The actual church building of the Lannaskede Gamla Kyrka consists of a rectangular nave with a semicircular apse and a steep saddle roof and corresponds to the Romanesque original from the 12th century. The only structural extensions are the wooden entrance hall built in the 17th century and the sacristy attached to the north side in the 18th century.
It is assumed due to some structural details that the builders of the church were also involved in the construction of the Lund Cathedral. The clearest indication of this is provided by the southern entrance portal, which is reminiscent of the portal of a large church with a canopy supported by a row of columns.
In the entrance hall of the church there is a small rarity in the form of a rare, so-called Eskilstunakista. This is a tomb made of stone slabs decorated with runic ornaments in the style of a sarcophagus, with the ends designed as high gables. Usually such tombs were erected over the tomb of a high-ranking person – in Lannaskede it was the tomb of an early medieval sovereign who was buried around 1100 in the cemetery at the church.
The walls and ceilings inside the church are richly decorated with paintings from different eras. While the decorations on the triumphal arch and in the apse date from the 12th century, the wooden ceiling in the nave was painted with medallions around 1702.
The window in the apse corresponds to the original size in the Middle Ages and is an example of how small all the windows in the church were originally. The brick altar standing in front of the window dates from the 12th century, while the magnificent wood-carved altarpiece framing the window was created in 1699.
The pulpit and baptismal font date from the middle of the 17th century and the closed and painted pews from the 17th and 18th centuries. The church organ is one of the other peculiarities within the church, as it was built in its oldest parts in the 16th century and is one of the oldest fully functional church organs in Sweden.
Similar destinations in the area