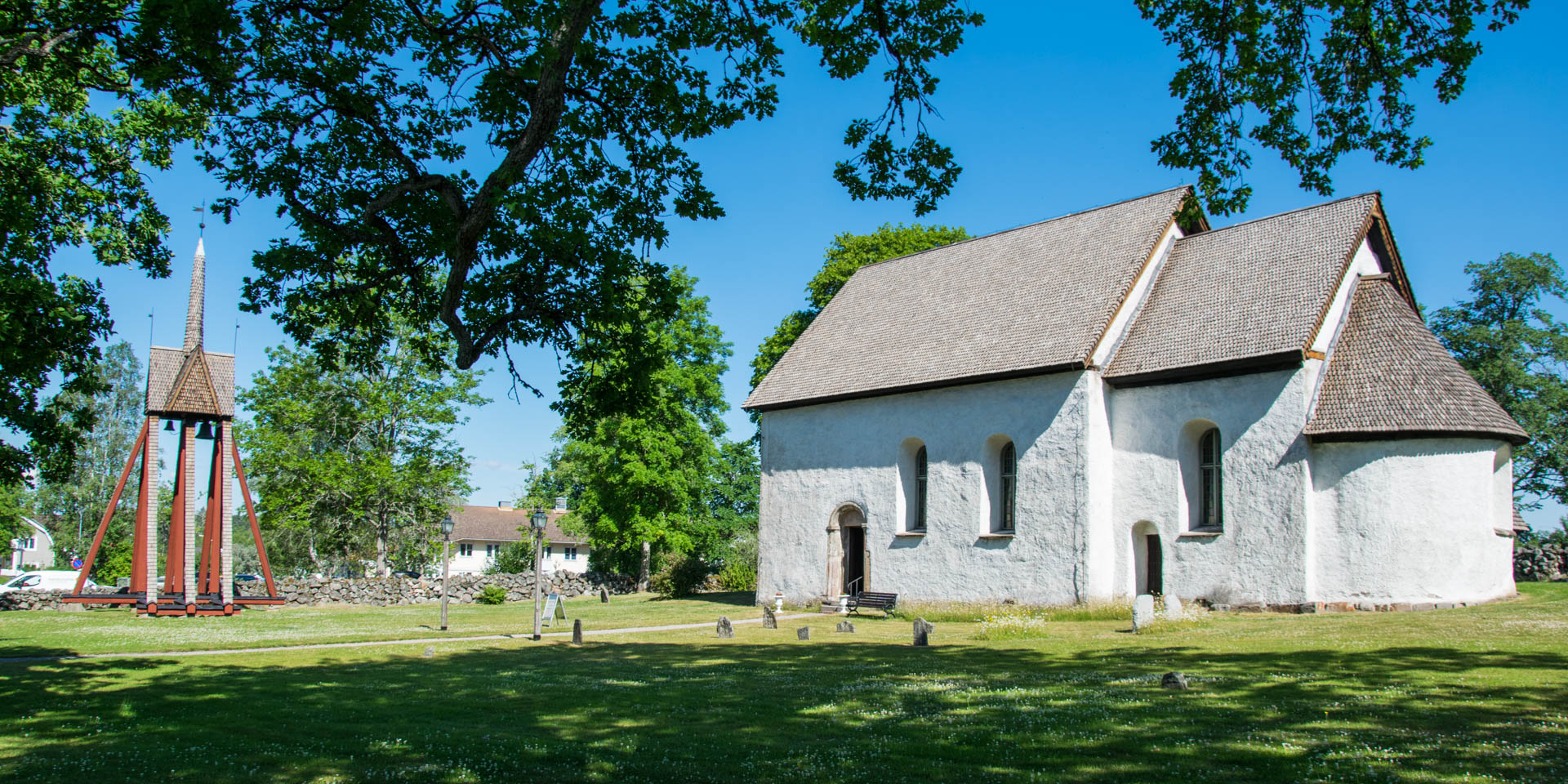 Myresjö Gamla Kyrka
Medieval church in Myresjö
Myresjö Gamla Kyrka is a church from the middle of the 12th century, whose appearance has changed only insignificantly in the course of history. It is located in the village Myresjö in the highlands of Småland about ten kilometres southwest of Vetlanda.
With a rectangular nave and a short, lower choir with a semicircular apse, Myresjö Gamla Kyrka is a typical example of the Romanesque style of early stone churches in Sweden. While many other churches of a similar age have undergone major changes in the years since their construction, Myresjö Gamla Kyrka's modifications are limited to the construction of the sacristy in the 15th century and the enlargement of the windows.
When the church was built, the construction of the Lund Cathedral had just been completed, which involved stonemasons from all over Europe as well as building craftsmen from the region. The returnees then built some of the churches in the highlands of Småland, using the experience they had gained in building the cathedral. These influences can be seen very clearly, for example, at the columned entrance portal of Lannaskede Gamla Kyrka, only six kilometres from Myresjö .
The characteristics of the Myresjö Gamla Kyrka
Although not quite so distinctive, the same influences can also be seen at the entrance portal of the church in Myresjö and also at the baptismal font carved from grey sandstone. The latter is decorated at the upper half circulating with different mythical creatures and shows thereby motives of oriental origin, which the native stonemasons probably copied themselves from the Lombard colleagues also involved in the cathedral building.
Another special feature of the church in Myresjö are the 13th century paintings on the walls of the choir, which are among the oldest preserved Romanesque paintings in Sweden. No less beautiful is the 17th century painting in the apse, which covers the walls and the domed ceiling.
The oldest objects in the church are the baptismal font and the stone altar, both from the time the church was built. The large triumphal cross in the archway to the sanctuary is a 13th century wood carving from Småland and the pulpit with canopy created in 1679 impresses with magnificent Renaissance inlays.
The rediscovery of the church
The church would no longer exist today by a hair's breadth, since it had been abandoned in 1879 in favour of a new church on the border to the neighbouring parish of Lannaskede. Around 1900 the roof of the nave collapsed and trees were already growing out of the church when it was decided to restore it in the 1920s.
The restoration lasted from 1925 to 1927 and since the roof over the choir and apse had remained intact throughout the entire period, the paintings there remained well preserved and only needed cleaning. In addition, during the restoration the medieval murals in the choir, which had been painted over with white wall paint during the Reformation, were uncovered.
Similar destinations in the area