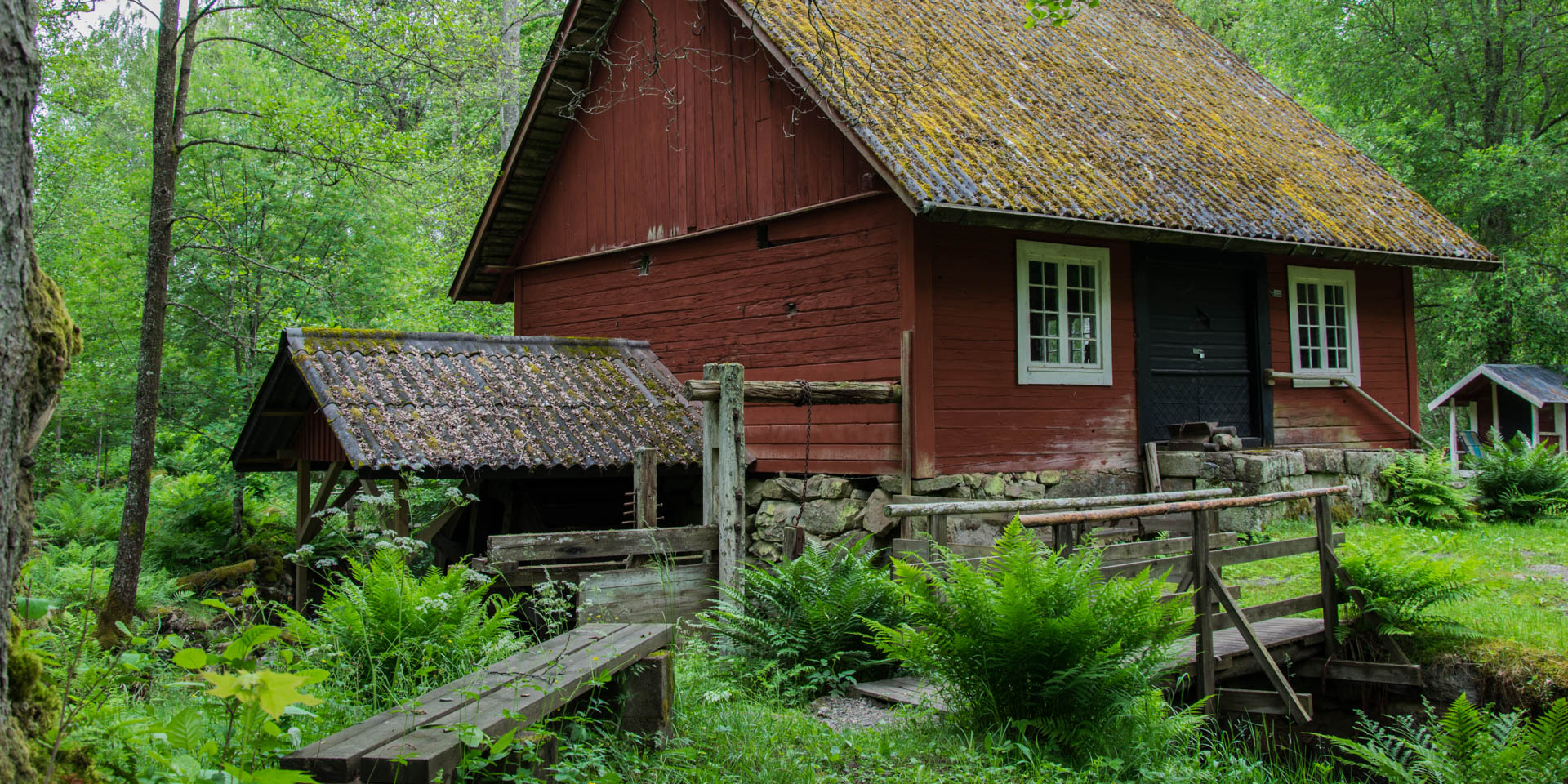 Tjurkö Kvarn
Picturesque watermill near Agunnaryd
On the north side of the lake Möckeln, not far from Agunnaryd in the southeast of the municipality Ljungby Kommun, you will find the historical watermill Tjurkö Kvarn with a picture-book mill idyll.
The Tjurkö Kvarn is surrounded by the dense green of the forest and a rushing mill stream that drives the mill's large water wheel. The brook forms some small branches upstream of the mill, which merge again behind the mill to form a watercourse, so that the mill is situated on a small island between the small brooks.
In front of the mill, the main course passes under a beautiful old stone arch bridge. Around the mill, small wooden footbridges lead across the narrow creeks, which are lined with the lush green of large ferns. You can walk around the mill and watch the varied play of the flowing water from different perspectives or sit down on one of the simple wooden benches to listen to the splashing and murmuring of the streams.
The history of Tjurkö Kvarn
The roots of the water mill reach far back into the past. For example, in a protocol of the regional mill commission in 1689, it is already described as very old, without mentioning a date of its origin. At that time, the mill had a single grindstone driven by a horizontal paddle wheel, which was replaced a little later by a vertical water wheel.
Today's appearance of Tjurkö Kvarn corresponds to its condition in 1864, when the mill building was enlarged and a second millstone was installed. The mill was in regular operation until 1954 and in 1956 it was donated to the local heritage society Agunnaryds Hembygdsförening. From 1975 to 1977 the society renovated the mill, so that it is now fully functional again.
Visiting the mill
Once a year, on the Friday after Ascension Day, the local heritage association organizes a traditional mill day. You can see the mill in action when rye flour is milled, which is for sale on the spot. Furthermore, there is a barbecue sausage stand, coffee and pastries, a moped rally and a bingo game.
The outdoor area around the mill is always freely accessible. Appointments for guided tours of the mill can be arranged by telephone, with a little luck even spontaneously on site, as the sign at the mill indicates.
Similar destinations in the area