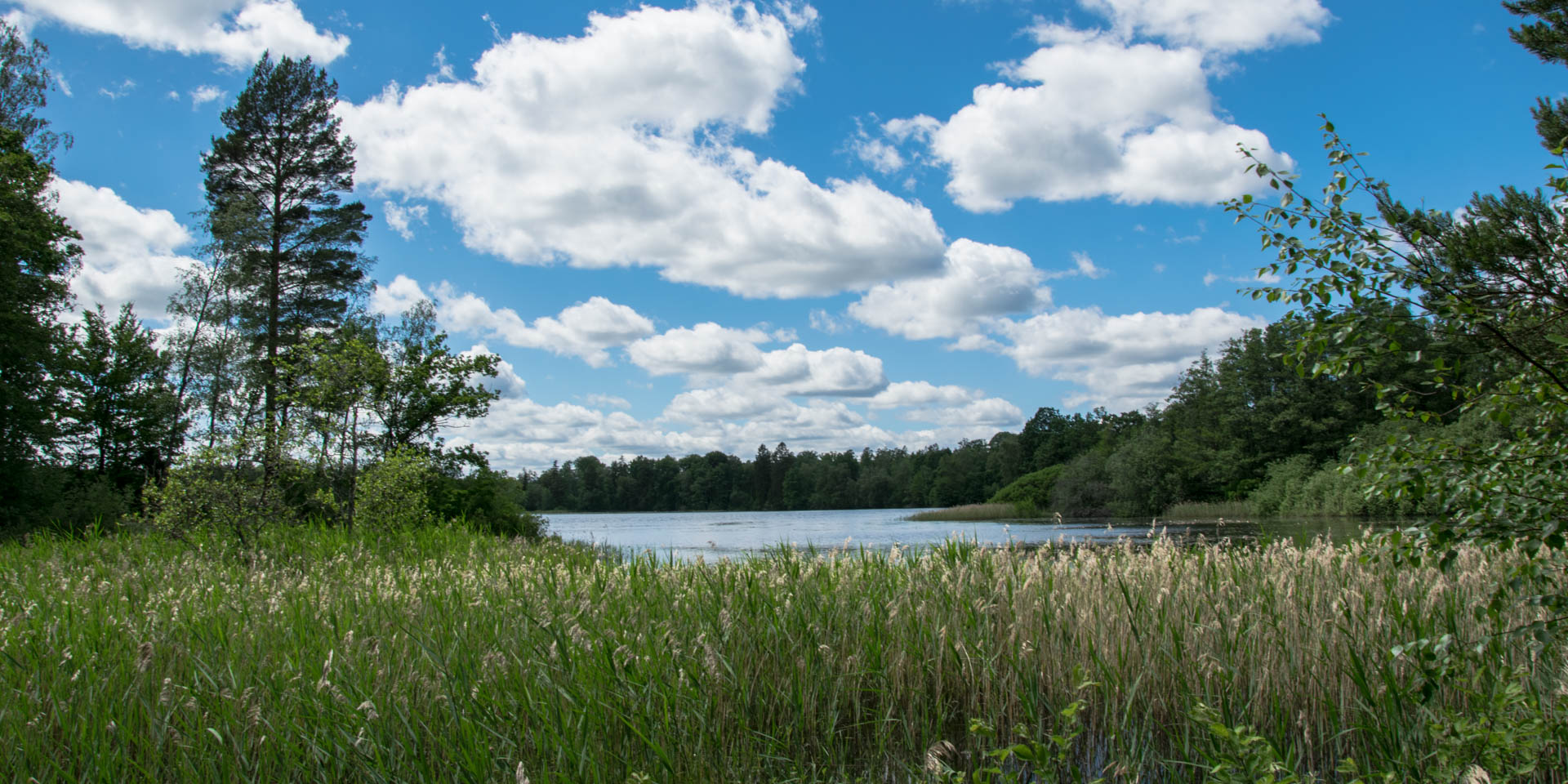 Bräkentorps Strövområde
Large recreation area near Ljungby
Only a few kilometers outside Ljungby lies the extensive recreational area Bräkentorps Strövområde with a network of hiking trails around the lake Bräkentorpasjön.
The approximately 500-hectare Bräkentorps Strövområde consists of a varied landscape with predominantly flat to slightly hilly terrain and a mix of small humid forests and extensive coniferous and mixed forests. In several places within the area you will also find cultural-historical remains such as burial grounds, rune stones and ruins of former buildings.
The nature reserve Bräkentorp
Inside the area on the north side of the lake Bräkentorpasjön is Bräkentorps Naturreservat, which consists of three parts and covers a total area of 11 hectares. The nature reserve is situated on a system of elongated glacial moraines that follows the river valley of the Prästebodaån, which flows on the northeastern shore of Bräkentorpasjön into the almost one square kilometer large lake.
The two southern parts of the nature reserve are located on the headland Vekaudden, which extends far into the lake. On the western side of the headland the nature reserve consists of steep pine-covered slopes, while on the eastern side of the it changes first into a flat, sandy area and immediately on the lake shore into a wetland. The third part of the nature reserve is located about 500 meters further north and extends over a wooded moraine ridge along the river until it widens near Furutorpet.
Exploring Bräkentorp
Several circular hiking trails with lengths of 1.5 to 6.5 kilometers lead through different parts of the recreational area. The longest trail is the so-called Sjöstigen (Lake path), which starts at the large parking and rest area on the site of the former farm Bräkentorps Gård and leads around the entire lake.
Along the Sjöstigen there is a shelter, barbecue and resting places and a toilet at the bathing place Bräkentorpasjöns Badplats on the eastern shore of the lake. From the parking lot at the bathing area you also have the nearest access to a floodlit running track, which is 3.7 kilometers long and invites you to run through the woods on the south-eastern side of the lake.
Other circular trails, such as Furutorpstigen, which runs through the northern part of Bräkentorps Naturreservat and is around 1.6 kilometers long, branch off from the Sjöstigen on the way. Most of the cultural-historical remains can be found along the 1.5-kilometer-long Kulturstigen (Culture path), which branches off from the Sjöstigen at the northeastern end of the lake and can also be reached by the shortest route from the parking lot at the bathing area.
Similar destinations in the area