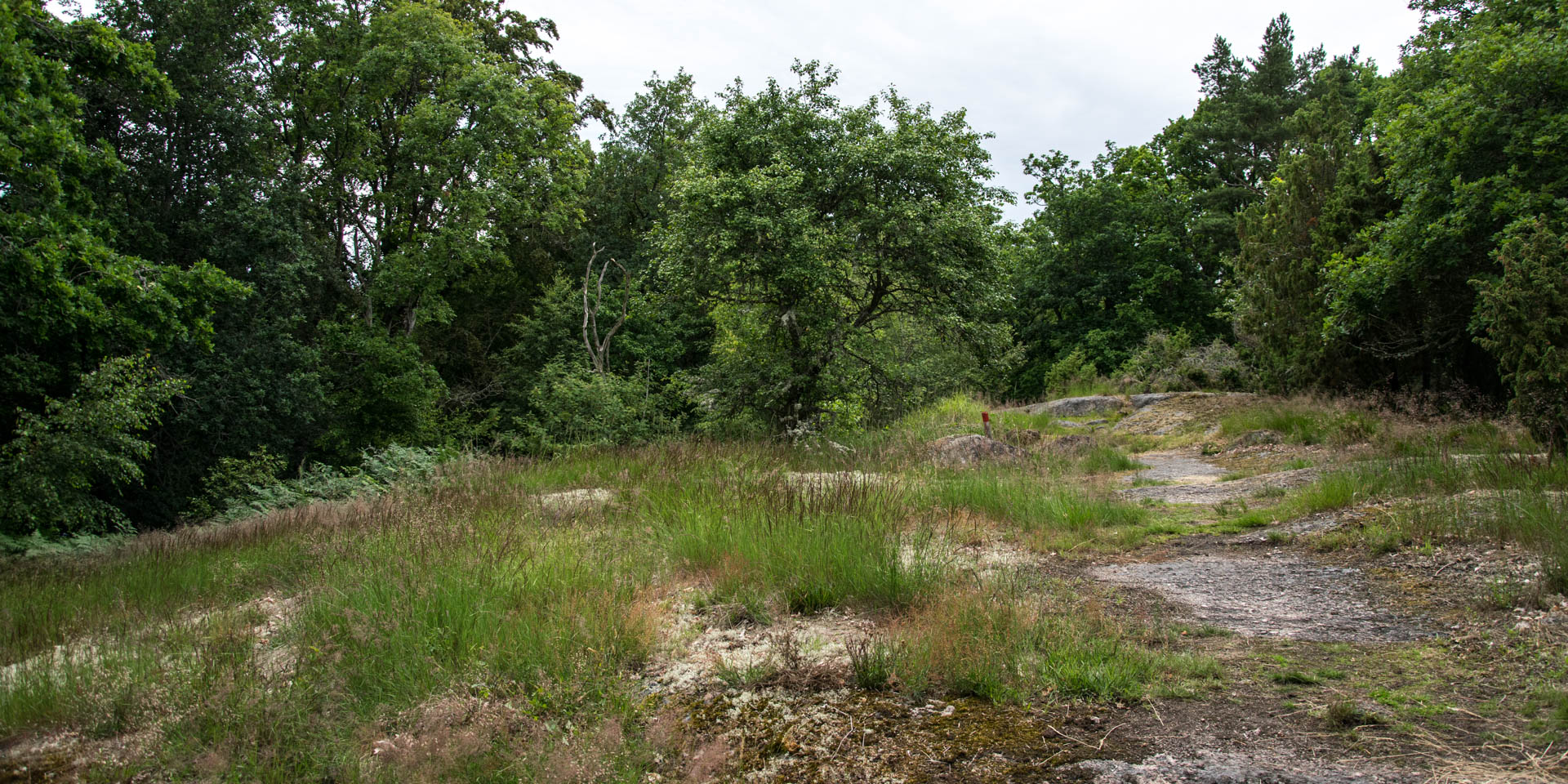 Eriksbergs Stränders Naturreservat
Nature reserve near Nytäppet
The nature reserve Eriksberg Stränder is located 16 kilometers east of Karlshamn and covers the entire coastline of the Eriksberg peninsula as well as the adjacent marine area and some islands of the archipelago.
The inner part of the Eriksberg peninsula, including Maraviken Bay and the island Dragsö, is part of the fenced area of the wildlife park Eriksberg. The nature reserve Eriksbergs Stränder occupies the narrow coastal strip outside the fence. The total area of the nature reserve is 411 hectares, of which 128 hectares accounting for land area.
Since the nature reserve is very narrow, there is only one marked path on each side of the bay. On the east side, the Kohageleden trail starts at the parking lot in front of the entrance to the wildlife park and continues for a distance of five kilometers to Kohage, the eastern tip of the peninsula. The path Alböleleden on the west side is six kilometers long, begins at the parking lot at the settlement Nytäppet and leads to Alböle on the western tip of the peninsula.
The terrain is consistently hilly and the paths are characterized by a permanent up and down, which makes walking a bit more difficult. However, the effort is rewarded at some higher places with a beautiful view of the archipelago.
Flora and fauna of the nature reserve
Right up to the consistently rocky beach line, the vegetation consists mainly of dense mixed deciduous forest, interrupted by individual rocky clearings and small open meadows. You can find the foundations of former torps, old stone walls and remnants of former paths, since the peninsula was populated by numerous small farmers until the founding of the wildlife park in the 1930s.
The old trees are home to a large number of insects – alone 500 different species of beetles can be found, including critically endangered species such as the stag beetle (Lucanus cervus) and the lesser stag beetle (Dorcus parallelipipedus). The old and partially hollow trees are also an important habitat for bats, of which were found over 15 different species on Eriksberg peninsula.
The bird population is also extremely diverse. In addition to a large number of different songbirds, there are also western marsh harriers (Circus aeruginosus) as well as ospreys (Pandion haliaetus) and, with a little luck, even white-tailed eagles (Haliaeetus albicilla) to see.
Similar destinations in the area