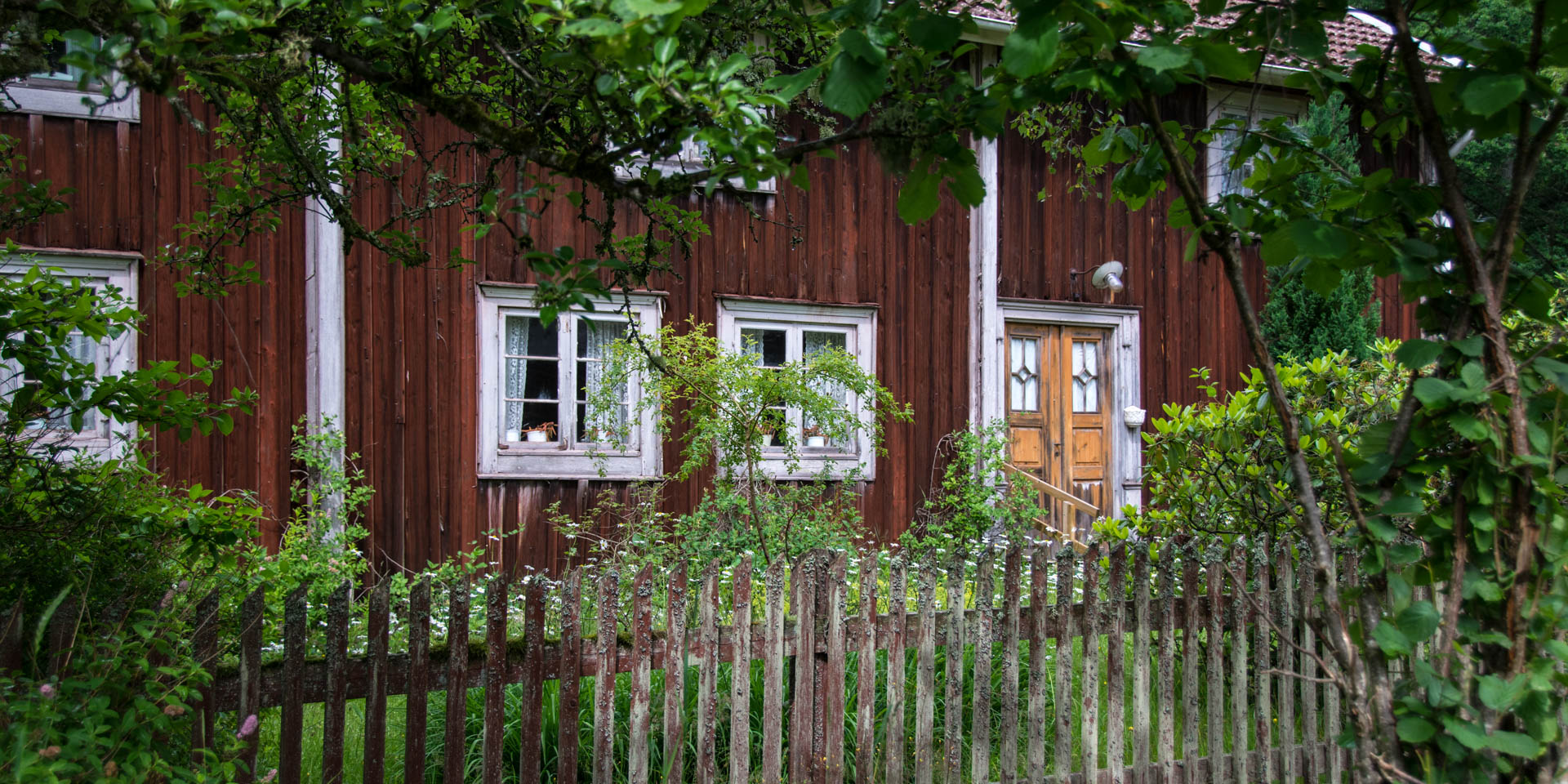 Lobergets Naturreservat
Nature reserve near Ringamåla
The nature reserve Lobergets Naturreservat, which is also interesting from a cultural and historical point of view, is located on a hill above the narrow river Miån near Ringamåla, about 25 kilometers north of Karlshamn.
Not far from the border to Småland and just a few hundred meters north of the nature reserve Ire, the 127-hectare nature reserve Loberget consists of a large piece of natural forest and overgrown cultivated land surrounding an abandoned farm from the 19th century.
The old farm in the nature reserve
After entering the nature reserve from the nearby parking lot on the east side, you are reaching the old farm after a short distance. The yard consists of two large barns on the long sides, the two-storey main house and a few smaller outbuildings.
The farm, which was abandoned in the 1970s, gives the impression of being in a deep sleep. The curtains and the flower pots in the windows of the main house make you feel like the residents would return at any moment. Only the overgrown front yard, the weathered white color of the window frames and the dark rusty brown color of the walls show that the farm has long been uninhabited.
Around the farm are the terraced former usable areas that are gradually being conquered by nature. The grasses and wildflowers from the old hay meadows, such as cowslip (Primula veris), heath dog-violet (Viola canina) or common milkwort (Polygala vulgaris), have meanwhile also spread over the former arable land.
Flora and fauna of the natural forest
A red marked path leads into the untouched natural forest in the west of the farm – first into a deciduous forest dominated by oaks and hornbeams, which then turns further west into a dense mixed coniferous forest with pines and spruces. The deciduous woodland vegetation includes dog's mercury (Mercurialis perennis), wood melick (Melica uniflora), baneberry (Actaea spicata), Solomon's seal (Polygonatum multiflorum) and the poisonous herb-paris (Paris quadrifolia).
The ground of the coniferous forest is dotted with blueberry bushes and numerous different mosses, such as the beautiful lanky moss (Rhytidiadelphus loreus), undulate plagiothecium moss (Plagiothecium undulatum) and the large cushions of the large white-moss (Leucobryum glaucum).
Numerous forest birds nest in the forests, including western capercaillie (Tetrao urogallus), hazel grouse (Tetrastes bonasia), black woodpecker (Dryocopus martius) and boreal owl (Aegolius funereus). The abundant dead wood of the natural forest is the habitat for numerous wood-loving insects, in this case also for Corticeus unicolor, a useful beetle that feeds on bark beetles or the rather rare six-spotted longhorn beetle (Anoplodera sexguttata).
Similar destinations in the area