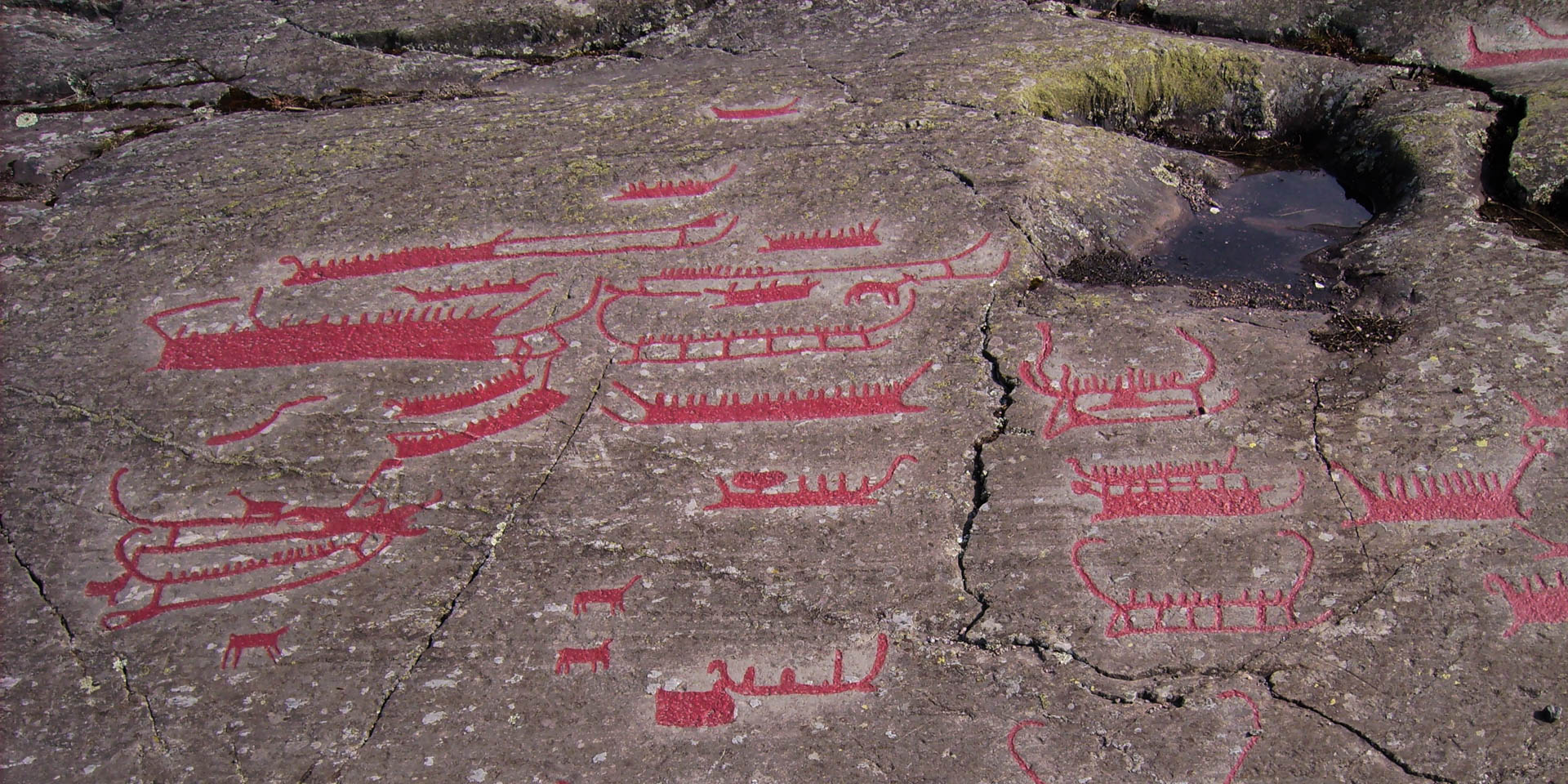 Hällristningar i Himmelstalund
Bronze Age rock carvings in Norrköping
The rock carvings Hällristningar i Himmelstalund belong to the most important Bronze Age rock carvings in Sweden. They are easily accessible within a grassy area on the banks of the river Motala ström in the west of the city centre of Norrköping.
With over 1,700 rock carvings spread over a limited area of around 50 different flat rocks, the Hällristningar i Himmelstalund, named after its location in the recreational area Himmelstalund, show the densest concentration of Bronze Age rock carvings in Norrköping. They can be found within an area of about 2 x 5 kilometres along the river, which contains over 7,000 rock carvings from the Swedish Bronze Age (1,800 – 500 BC).
The rock carvings in Himmelstalund show a great variety of different motives, whereby the representations of ships with more than 600 drawings predominate. The sizes of the ships vary quite strongly – they reach from small boats up to large ships with crews of up to 50 persons.
The second large group consists of animal depictions, which are represented with about 260 pictures, among them a rock plate with a herd of pigs as well as the illustration of a wild boar hunt. Elsewhere, there are long rows of engraved bear paws that run as a long trail over a distance of 20 metres over the top of a rock.
In addition, there are a number of symbols such as concentric circles, sun wheels, spirals and the net-like symbols found only in Östergötland, whose meaning has not been clarified. There are also carvings with representations of battle axes, swords and spears. There are also pictures of people, whereby these are mostly depicted as processions or in hunting scenes.
The type of rock carvings basically differ in two different versions, namely in pictures in which only the outer contours were carved into the rock, and those carved areally. All the carvings are only a few millimetres deep, but with the tools available 3,000 years ago, the effort required to create the carvings in the hard granite must have been immense. Due to this effort and the rich symbolism, it is assumed that the rock carvings are an early religious place of worship.
For better visibility, many rock carvings, but not all, are regularly painted with red paint. In order to be able to recognize the numerous not colored carvings, the early morning or evening hours are suitable for a visit, when the carvings become visible due to their shadow cast by the low sun.
Similar destinations in the area