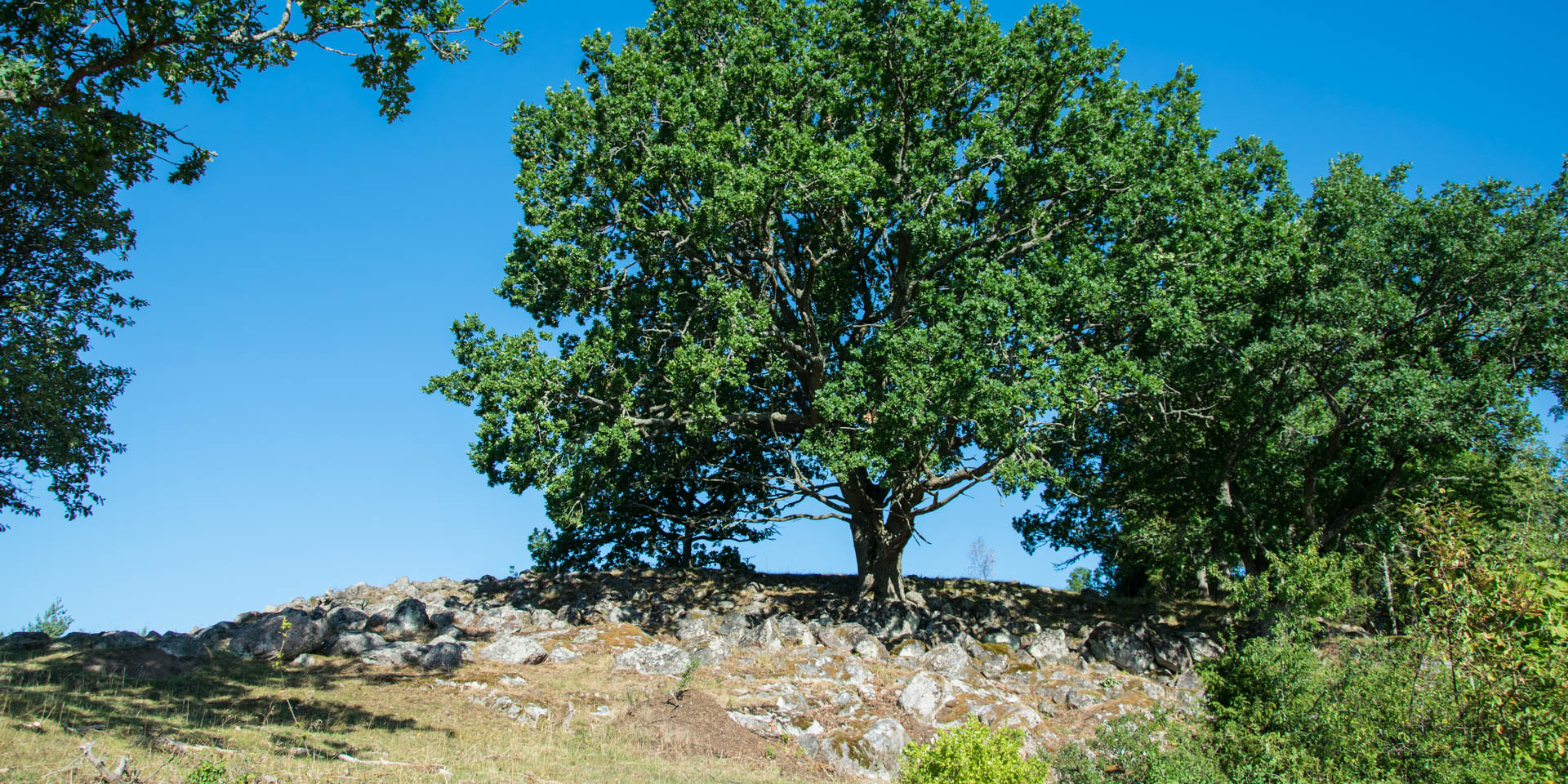 Bobergets Fornborg
Iron Age castle ruin near Östra Stenby
The remains of the Iron Age castle Bobergets Borgruin are located on the top of a steep rocky hill near Östra Stenby on the peninsula Vikbolandet, about 17 km east of Norrköping.
The peak plateau with Bobergets Borgruin can only be reached via the southern side, while the cliffs on the other three sides of the hill are dropping almost vertically.
Since three sides of the plateau were protected from intruders by the vertical walls, the castle only had a fortification wall made of large stone blocks with an attached wooden palisade on the south side. An additional protection against attackers was provided by another stone wall in front, which today can only be recognized by a low row of stones.
In the course of archaeological research at the beginning of the 20th century, a several metre thick cultural layer was found inside the ruin. The thickness of the layer and the artefacts found in it indicate that Bobergets Borgruin was more of a fortified settlement inhabited over a long period than a military complex.
The examined artefacts are typical for the Iron Age and the Migration Period, so that it is assumed that the site was used in the years 150 to 500. Among the discovered objects are ceramic shards, leather shoelaces, millstones, rivets, nails and bones of farm animals. The presence of warriors is documented by swords, knives, spearheads and gaming pieces.
A small sensation was the discovery of a rock-hard but quite well preserved bread roll, which is dated to the time around 400 to 500. The excavations at Bobergets Borgruin carried out between 1906 and 1909 were the first of its kind in Sweden, in which such a facility was examined according to scientific methods and an age determination was carried out on the basis of the artefacts found. Until then, neither the age nor the function of this type of fortified structure had been known.
Similar destinations in the area