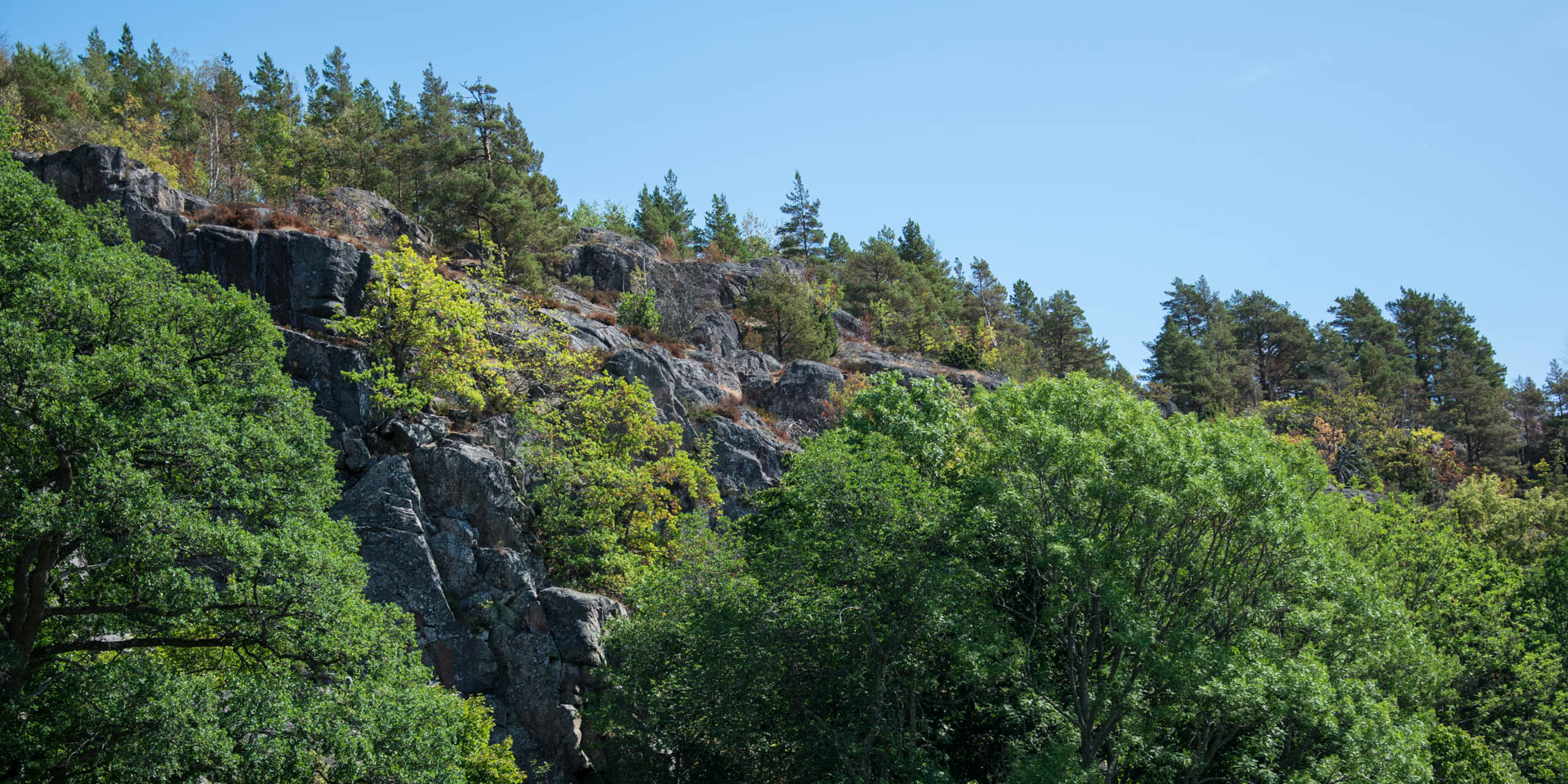 Norrkrogs Naturreservat
Unspoilt nature reserve near Stegeborg
The nature reserve Norrkrogs Naturreservat is located at and on a rugged rock massif on the northern shore of the bay Slätbaken near Stegeborg, about 35 kilometers southeast of Norrköping.
The southern exposure of the massif and the very old, almost untouched forest within the 59-hectare Norrkrogs Naturreservat provide special environmental conditions in which a whole range of rare animals and plants live. In addition, the more than 50-metre-high rock massif offers a magnificent view over the bay and the picturesque castle ruin of Stegeborg on the opposite shore.
Rare insects in Norrkrogs Naturreservat
The trees on the rock massif and especially on the slopes, which consists mainly of pines and oaks, are very old. The partly hollow trunks as well as the abundant dead wood of fallen trees provide ideal living conditions for many rare beetle species.
Among them are the interesting hornet rove-beetle (Velleius dilatatus) as well as the mighty stag beetle (Lucanus cervus) or the black slender Procraerus tibialis from the click beetle family and the cardinal click beetle (Ampedus cardinalis).
Norrkrogs Naturreservat is one of the best-known spots in Östergötland for moth species which are rather rare in Sweden, such as the dew moth (Setina irrorella), the large dagger (Acronicta cuspis) or the dark dagger (Acronicta tridens).
The plant world of the nature reserve
In the partially humid depressions and small gorges on the mountain as well as at the foot of the rock massif, a mixed forest dominated by black alder, oak and lime grows with a few wych elms, maple and ash trees. On the top of the massif there are areas free of vegetation and in other places there are different types of grasses with blueberry bushes, wood fern or liverleaf interspersed.
A large number of different lichens, adapted to the specific situation, grows on many trees within the nature reserve, such as the tree lungwort (Lobaria pulmonaria). Especially the dead trees form the habitat for a large number of tree fungi, some of which are rare.
At the foot of the western cliff adjacent to a campsite, the vegetation is different again. Unspotted lungwort (Pulmonaria obscura), lily of the valley, giant bellflower (Campanula latifolia) and baneberry (Actaea spicata) can be found there.
The nature reserve is crossed by an approximately 2.5 kilometre long circular trail. The starting and ending point is the parking lot between a restaurant and the campsite. The path first runs along the southern hillside, past the beach Stegeborgsgården, then over the eastern flank up the mountain. The trail leads past some beautiful vantage points and over the gently descending north slope back to the parking lot.
Similar destinations in the area