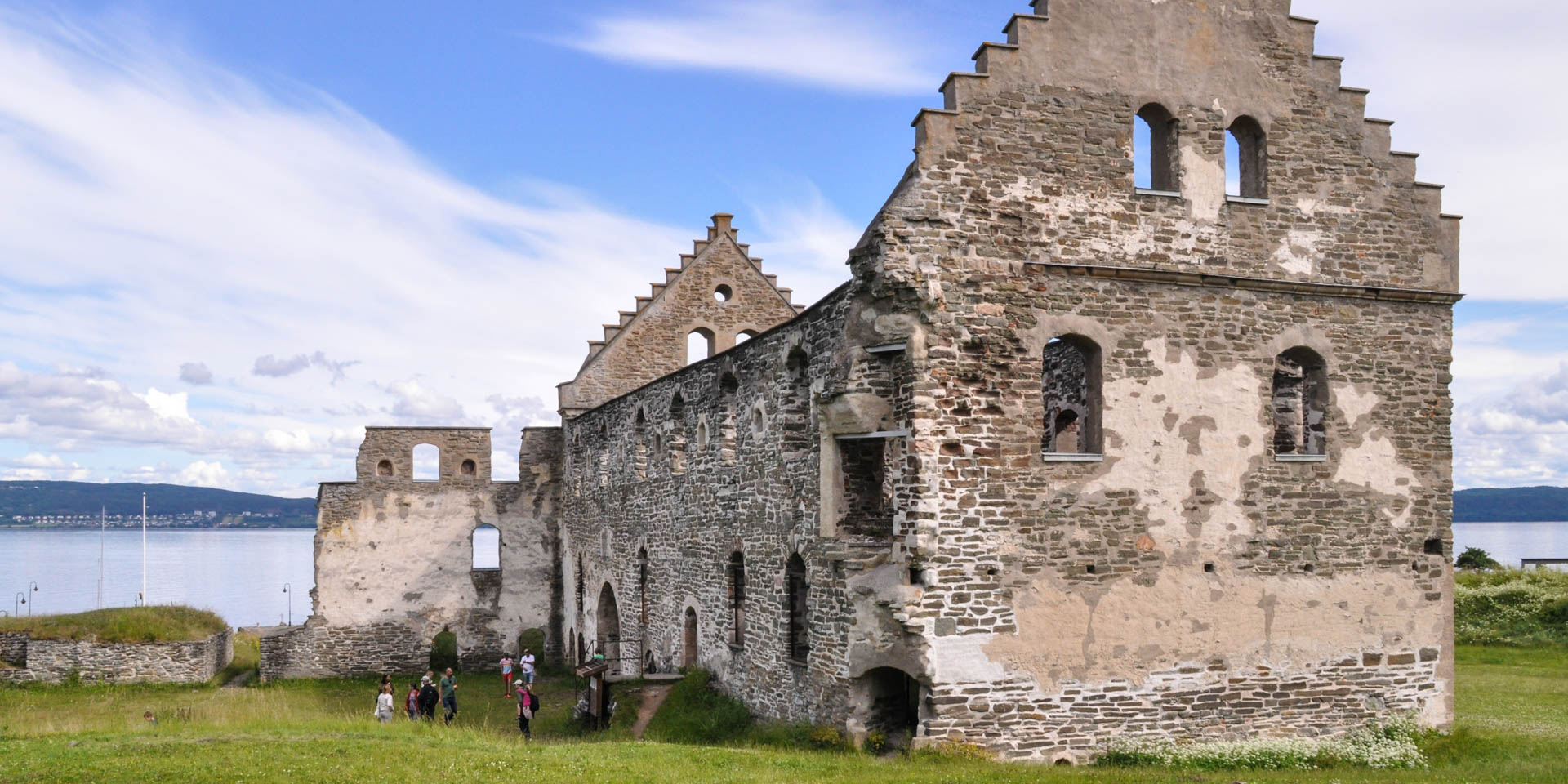 Visingsborgs Slottsruin
Castle ruin on the island Visingsö
Visingsborgs Slottsruinis the ruin of the once magnificent castle Visingsborg. It is located in the immediate vicinity of the ferry pier on the eastern shore of the island Visingsö in Lake Vättern, around 45 kilometers north of [ link=3-541]Jönköping[/link].
Visingsborg Slottsruin consists only of the south wing, just a fraction of the former castle. In its last phase, which was completed in 1662, the fairy-tale castle consisted of four equal-sized wings, which formed a closed square around a large courtyard.
The castle had four towers whose gilded rooftops towered over the roofs and stepped gables. To protect against attacks, the complex was surrounded by ramparts and bastions, which were equipped with cannons. Weapons were stored in the armory for about 800 soldiers, and the last lord of the castle had a private army of about 200 men.
The size of the castle was no coincidence, because it was the seat of the noble family Brahe, which possessed extensive estates in the provinces of Västergötland, Småland and Östergötland and formed the largest county in Sweden in the 17th century.
The construction of the castle began in 1561 with the west wing, after Per Brahe the Elder became a Count, appointed by King Erik XIV. His son Magnus Brahe added the east and south wing, which formed the statelyest part of the castle, with its halls and chambers.
The last lord of the manor, Per Brahe the Younger, who also had built the luxurious manor Brahehus, completed the castle by adding the missing north wing. As an educated and very history-interested contemporary he had installed an imposing library and gave the entire castle the last luxurious touch.
The decline of the Visingsborg
The fairytale castle did not last too long. According to a decree of 1680, all counties in Sweden were confiscated by the Crown. The castle was cleared and only served as occasional accommodation for senior civil servants. The end of the castle approached, after it was used from 1715 as a camp for prisoners of war, mainly Russian soldiers from the Great Northern War (1700 – 1721).
On the night of December 22 to 23, 1718, a devastating fire broke out, that completely destroyed the castle and the only remains were the walls of the south wing. It was first tried to blame the prisoners for the fire, but soon became apparent that the cause was to be found in the accommodation of the German guards.
It was one of the sergeants who wanted to smoke a pipe and ignited the fire by lighting it with a straw from his mattress. Why the fire spread so fast, remains in the darkness of history. The soldiers tried in vain to extinguish the fire and complained, that they had no support from the prisoners.
Similar destinations in the area