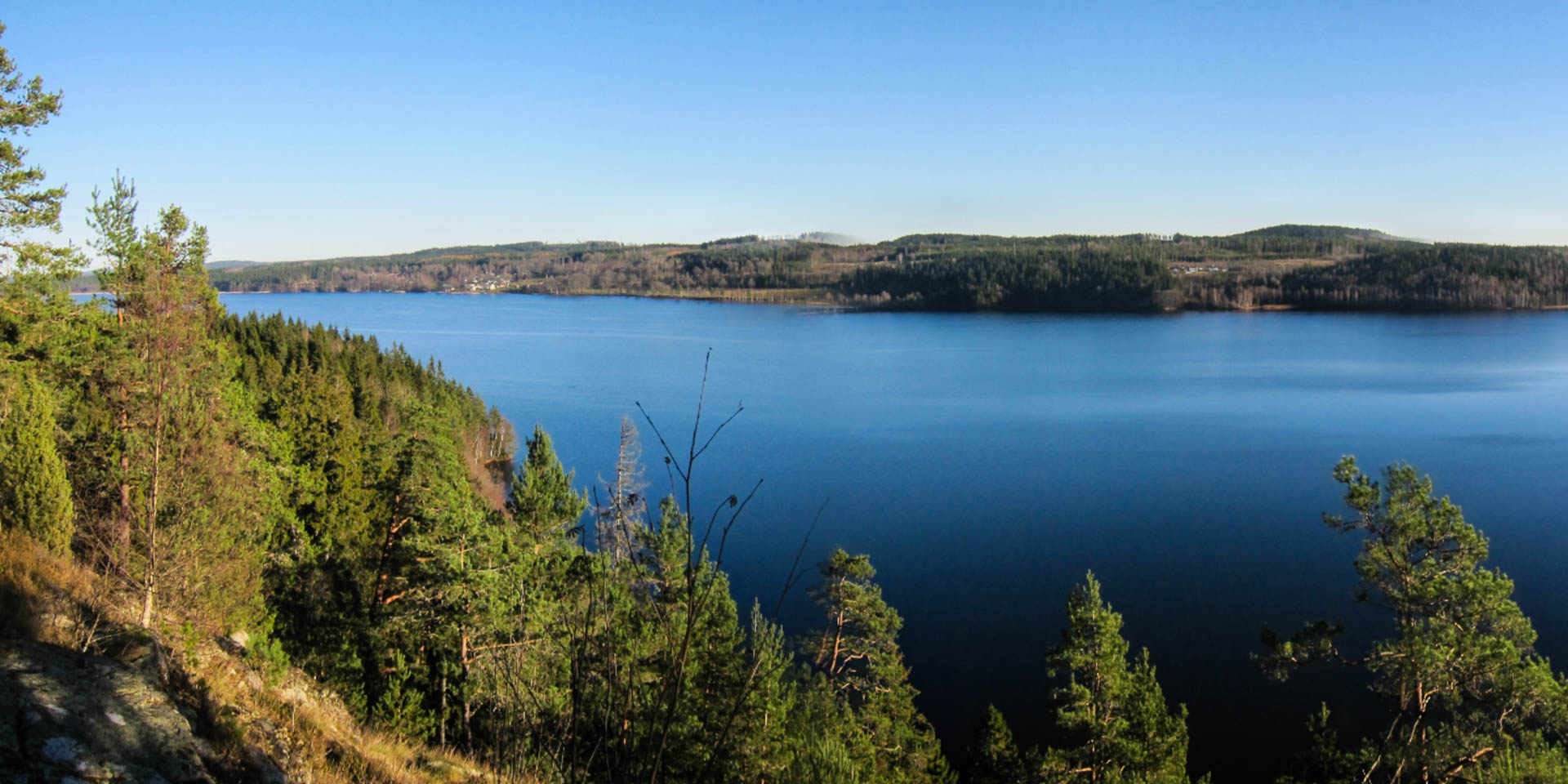 Uvaberget Tenhults Naturreservat
Impressive nature reserve near Tenhult
Uvaberget Tenhults Naturreservat with its steep rocky slopes and vertical cliffs is a very impressive nature reserve on the southwestern shore of Lake Tenhultasjön near Tenhult, about 20 kilometers southeast of Jönköping.
With a total area of 37 hectares, of which almost 20 hectares are the water area of Tenhultasjön, the nature reserve Uvaberget Tenhult is not very large. The outstanding feature of this nature reserve are the rocky slopes with their ancient spruce trees as well as the cliffs, which are up to 45 metres high and where you have a fantastic view over the lake.
Due to the small dimensions, the trails are not long. From the parking lot, you only have to walk about 300 metres in northerly direction to reach the high lookout point with a barbecue area.
The flora and fauna in the nature reserve
Nevertheless, Uvaberget Tenhults Naturreservat also has an interesting flora and fauna, adapted to the specific conditions. While above the vertical cliffs it is mainly ancient pines and spruces that stretch their sweeping crowns towards the sky, the less steep slopes are mainly covered with mixed coniferous forest, in which completely different living conditions predominate due to the exposure to sunlight.
Two plants classified as highly endangered in Sweden thrive in the nature reserve. One is the sponge Phellopilus nigrolimitatus and the other is Heller's Notchwort (Anastrophyllum hellerianum). Typical plants are also the ostrich fern (Matteuccia struthiopteris) and the lichen Arthonia leucopellaea.
Rare insect species include the beetle Microbregma emarginatum, which lives on the bark of spruces, and the bronze-coloured Callidium coriaceum, a member of the buck beetle family.
The ancient pines are important breeding trees for some bird species. For example, Eurasian pygmy owls (Glaucidium passerinum), black woodpeckers (Dryocopus martius) and hazel grouses (Tetrastes bonasia) nest at the Uvaberg, and ospreys can often be seen circling above the lake.
Similar destinations in the area