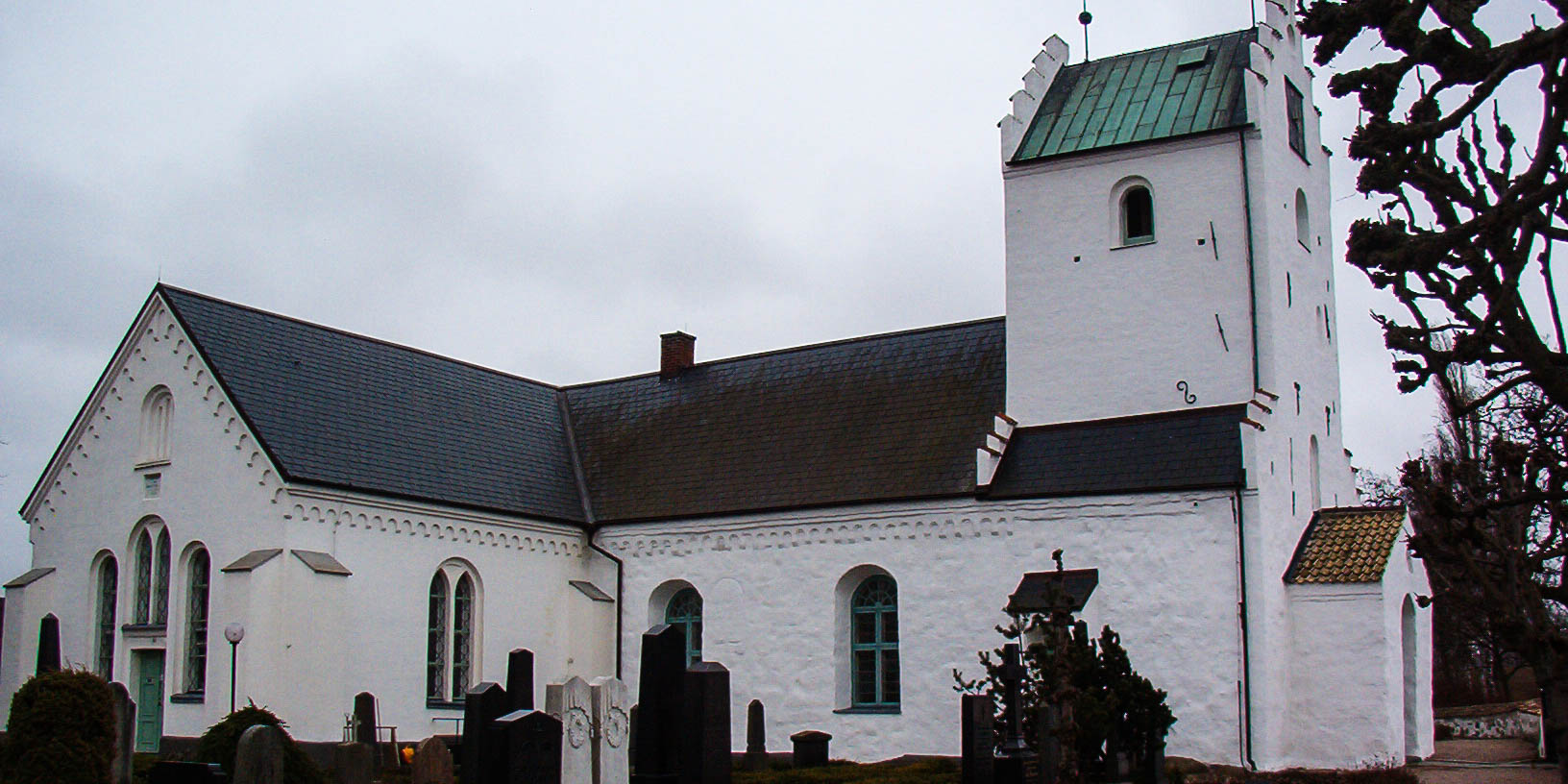 Södra Sallerups Kyrka
Historical church in Malmö
The Church of Södra Sallerup was built originally in Romanesque style in the middle of the 12th century and is the oldest church in Malmö. Södra Sallerup belongs to Malmö city district Husie and is located on the eastern outskirts of Malmö within a more agricultural region with a number of farms.
Its present appearance received the Södra Sallerups Kyrka 1863–64 due to extensive renovations under the direction of the leading church architect Prof. Carl Georg Brunius. In this connection the eastern part of the nave had been renewed and received a three-page final chorus. Simultaneously one transept each at the southern and northern side were attached.
The oldest surviving objects within the church dates back to the 17th century. The octagonal and painted wooden baptismal font dates from the first half of the 17th century. The body is supported on four wooden figures and the eight sides are decorated with wooden panels with carved figures on it. The baptismal bowl made of brass was manufactured in the late 17th century.
As in many other churches in Skåne, also here is a shield with the initials of King Charles XI. After the provinces Blekinge, Halland and Skåne were permanently in Swedish possession after the Peace of Roskilde in 1658, the heraldic shields were installed to remind the people of their new nationality.
History
After complition of the Cathedral of Lund in 1145, several new stone churches, which replaced the old wooden churches dating back to the first millennium, were created in Skåne. The church of Södra Sallerup was one of the first which arose during this period. The Romanesque ground plan originally consisted of a rectangular nave and followed by a lower, square chancel with a semicircular apse on the east side.
During the Middle Ages additions were built continuosly; like the tower with its characteristic stepped gables on the west side of the nave from the 13th century. The two bells were cast in 1617 and 1756 in Malmö bell foundries and the tower clock was built in 1785 by the Malmö watchmaker Lars Jakobsson Högberg.
The ceiling of the ground floor of the tower, the vestibule of the today's church, is decorated with vaulted ceilings of brick and painted with ornaments. On two walls of the anteroom is a painted cross, each one surrounded by a circle. These are so-called consecration crosses. Every time a church was consecrated, even after extensive construction work, this was done in a solemn High Mass, which was held by the bishop. In this case after the completion of the tower. During the ceremony, the bishop drew a cross with consecrated oil on the north and south wall of the tower. In commemoration of the dedication ceremony it was common to trace these crosses with color.
Similar destinations in the area