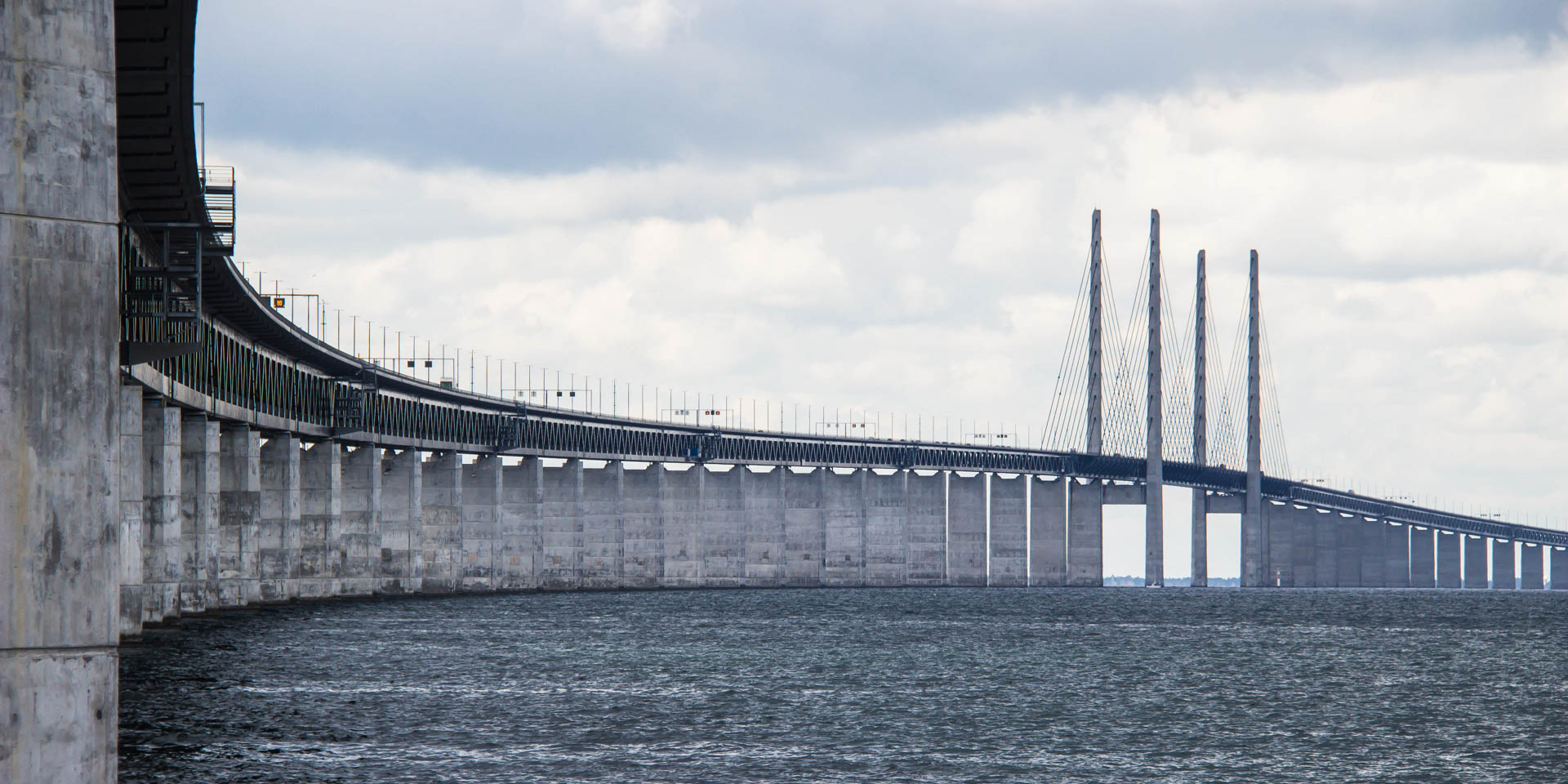 Öresundsbron
The Öresund Bridge
Since July 1st 2000, the toll road on the Oresund Bridge is the first continuous road and rail link to Sweden. The crossing of the Öresund between Copenhagen und Malmö was completed after about a 5-year construction period and consists of a 4 kilometers long tunnel, an equally long artificial island and total of 7 kilometers long bridge.
The construction of the Oresund bridge consists of a 3.7 and a 3 kilometers long parts, resting on massive concrete pillars. With a total length of nearly 1,100 meters and its 206-meter high bridge piers is it the world's largest cable-stayed bridge for road and rail transport. The upper construction of the double-decker bridge is 30 meters wide and 11 meters high. On the top side she carries the four-lane highway and in the lower level a double-track railway line.
The tunnel consists of four separate tubes, two for the road and two for the railway. Between the two tubes is a separate escape tunnel.
The toll station is located at the Swedish side of the bridge. In each direction, there are seven lanes which are equipped with card readers and are partially staffed. There are also four lanes in each direction, which are reserved for the automatic, electronic payment system BroPas. For automatic payment a transponder must be in the vehicle, which sends a signal during the passage with max 50 km/h to the billing system and enables the automatic billing. The total capacity of the toll station is about 2,600 vehicles per hour in each direction.
For those who doesn't want take the ferry on their travel from the Continent to Sweden, there is a attractive, continuous road connection by using the Öresund bridge and the Danish Storebaelt bridge.
To do this, you first drive via Flensburg in Germany to Denmark, then via Kolding to Nyborg and then cross the Great Belt via the toll road Storebaelt bridge. The route continues on from there to Copenhagen and the Öresund bridge.
Similar destinations in the area