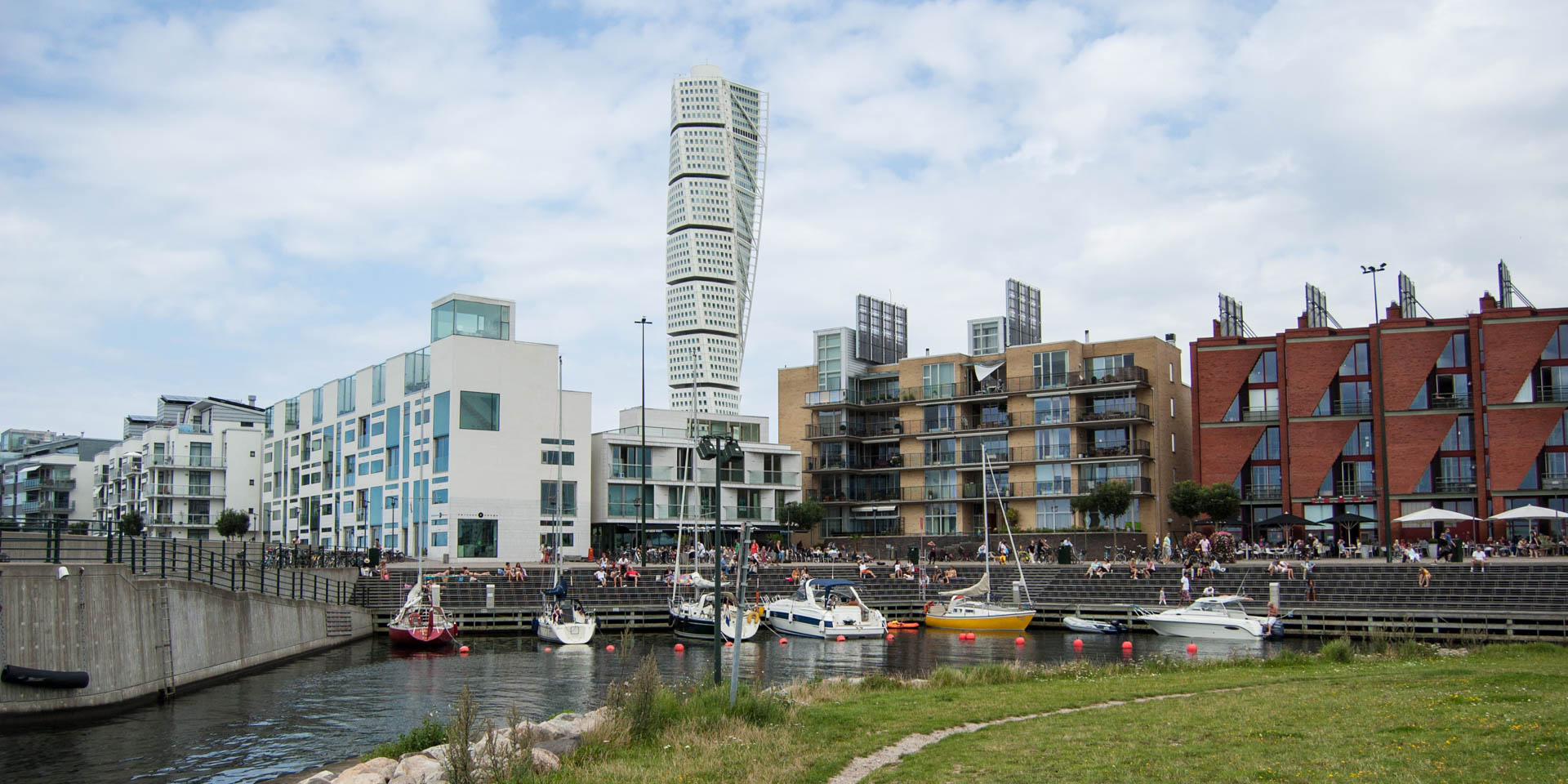 Popular destination
Västra Hamnen
Innovative district in Malmö
Västra Hamnen (Western harbour) is a new and ultra-modern district in Malmö. It is located on a former shipyard area right beside the sea, only less than a kilometer north-west of the medieval old town of Malmö.
With the skyscraper Turning Torso as Malmö's new landmark, Västra Hamnen was built since 2001 on an approximately 175 hectare industrial wasteland. After its final completion, it will house approximately 10–12,000 inhabitants.
The district combined living, working, education and leisure time and is the first project of its kind in Scandinavia, which is carbon neutral through its sustainability-oriented overall concept and received a corresponding environmental certification. The energy supply of the district is completely self-sufficient and is based 100 percent on wind and solar energy and biogas. The air conditioning of the buildings is done by solar panels and heat pumps, seawater and groundwater.
Besides the high quality of living, Västra hamnen has also a high and diverse recreational value. The entire area is criss-crossed by green spaces, ponds, artificial watercourses and fountains. In some places, there are swimming pools that invite to jump into the water of the Öresund. A long beach promenade leads through vast green spaces along the sea to the nearby Ribbersborgstrand. The skate park Stapelbäddsparken has world-class level and the numerous restaurants, bars and coffee shops are currently the most popular in Malmö.
History
The shipyard crisis the 1970s to the 1980s also hit Malmö hard and ultimately led to the loss of one of the main economic pillars of the city and resulted in the loss of 30,000 jobs. The shipyard with the formerly widely visible landmark, the large Kockums crane, eventually fell into disrepair.
Around the turn of the millennium, it was decided to solve the problem of the old shipyard in Malmö with organizing the urban fair Bo01. For this purpose the abandoned shipyard has been used to build a completely new city district. The landmark of the new district Västra hamnen was finished in 2005; the skyscraper Turning Torso is with 190 meters the highest building Scandinavia.
Similar destinations in the area