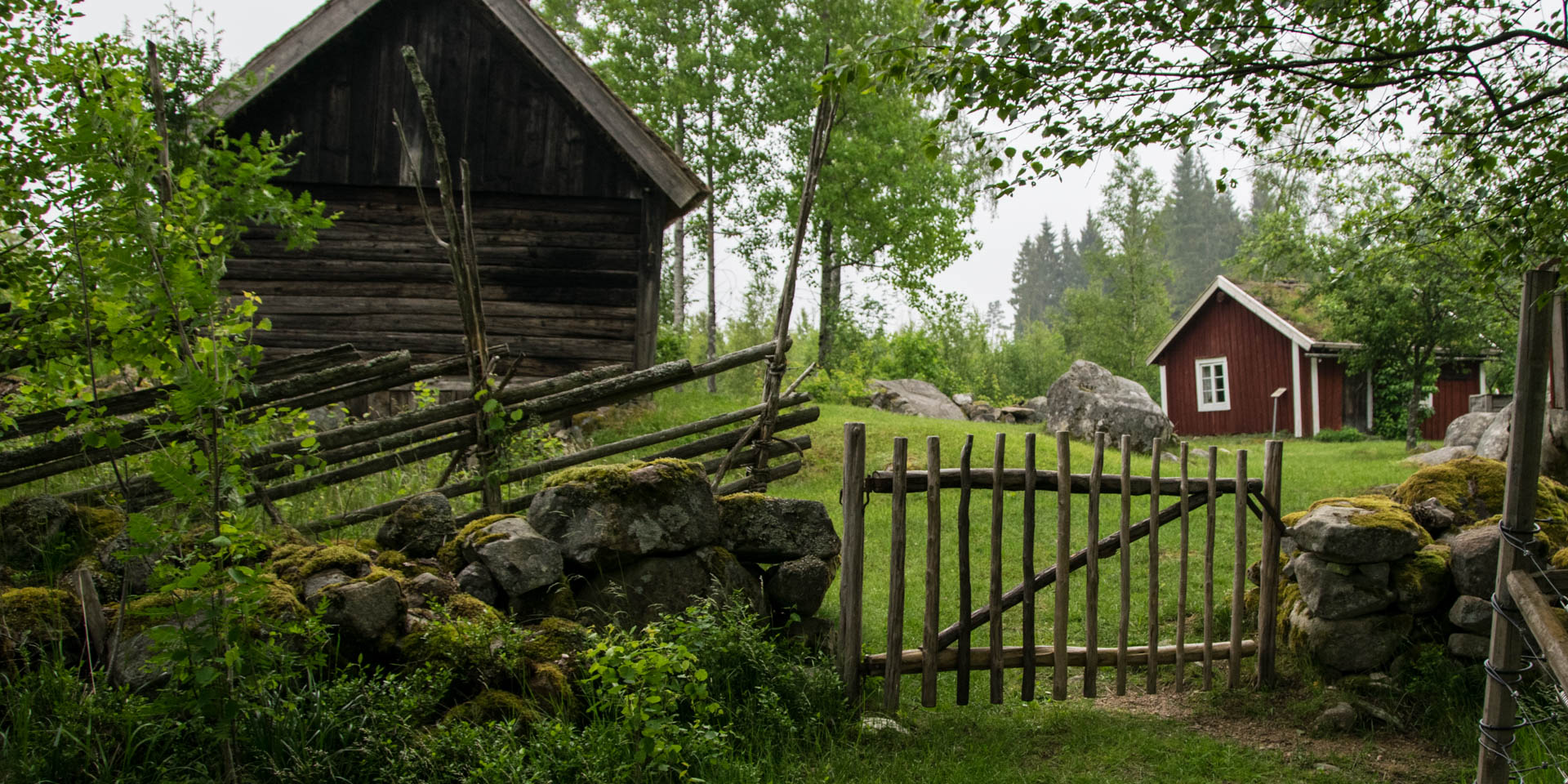 Insider tip
Lille Petter Johans Stuga
Historical farmyard near Eneryda
On a remote clearing, about four kilometres away from the nearest village Eneryda in the extreme north-east of the municipality of Älmhult, there is a small farmyard worth seeing, the Lille Petter Johans Stuga.
What is special about Lille Petter Johans Stuga is on the one hand that everything in the cabin is a little smaller than usual, because the small shoemaker Petter Johan Hagelkvist (1873 – 1952) lived and worked there. On the other hand, it looks exactly the same as it did in 1948, when Lille Petter Johan left his home.
There are only two rooms in the cabin and the ceilings are so low that a person of average body length cannot stand upright in them. But it was just right for Lille Petter, because he was only about 1.30 metres tall. In the front room of the cabin there is still his small bed, small chairs, a table, Petter's old shoemaker's bench with his tools and a big brick oven with a cooking place.
In the back room there is a chest of drawers and an old bed in normal size. This room was occupied by Petter Johan's parents when they retired to the old part of the house in 1898 after Petter married his cousin Anna. It's hard to imagine by today's standards, but this small cabin actually housed four adults over a period of five years.
The story of Lille Petter Johans Stuga
After five years of marriage Anna fled from the narrowness and left her husband. In 1907, the marriage was divorced. After Petter's parents died a few years later, he lived alone on the farmyard until he hired a housekeeper in 1925. Her name was Sofia, she was 1.70 metres tall and what was commonly known as a stately woman. They got along splendidly and complemented each other. While Petter was doing his craft, Sofia cooked caramel sweets, which she wrapped in fine tissue paper and sold at funerals, weddings or other events in the area.
In 1948, Sofia and Lille Petter Johan left the farmyard and moved in with Sofia's daughter at her place in Västra Götaland, where the small shoemaker died at the age of almost 80 in 1952. In 1949, the local history society Virestads Hembygdsförening bought the farmyard Aspholmen, as Lille Petter Johans Stuga is called according to its official name.
Unfortunately, the cabin initially fell into disrepair and only measures to preserve its substance were taken, not least because there was a long discussion about whether the cabin should be moved to the local museum Virestads Hembygdsparken. Only after the landowners agreed to take care of its preservation, the restoration started. Since 1977, Lille Petter Johans Stuga has been restored to its original appearance and is open to visitors free of charge all year round.
Similar destinations in the area