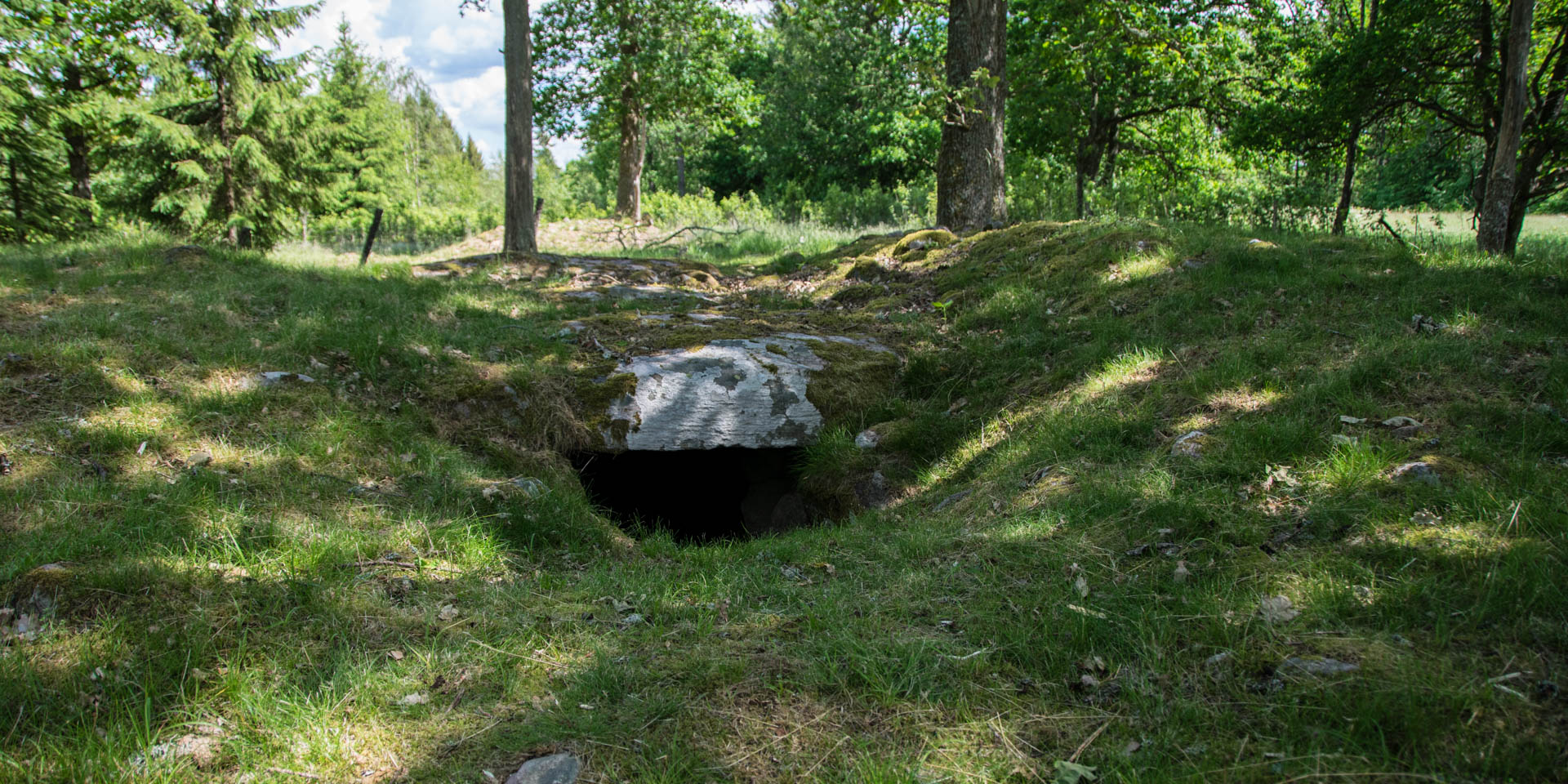 Juddhultsgraven
Stone Age burial monument near Göteryd
About two kilometres west of the church village Göteryd in the west of the municipality of Älmhult in a small deciduous forest you will find Juddhultsgraven, one of the largest and best preserved neolithic tombs in Sweden.
Juddhultsgraven is about 4,000 years old and is the largest and most famous chamber tomb in the area of the parish of Göteryd around the lake Römningen. With 90 documented chamber tomb, it has the highest density of this type of grave in Sweden.
The structure of the chamber tomb
While many of the still existing chamber tombs from the Neolithic period often consist only of the exposed vertical stone slabs of the side walls, Juddhultsgraven is still largely intact, including the original burial mound. The tumulus has a diameter of about 17 meters and a height of about 1.20 meters and consists of stacked, 20 to 30 centimeters large field stones.
In the centre of the tumulus there is the actual stone chamber, partly embedded in the ground. The interior of the burial chamber is almost seven metres long, up to 2.50 metres wide and between 0.80 and 1.20 metres high. The side walls consist of seven stones on one side and six vertically placed stones with a thickness of up to 70 centimetres on the other side. The ceiling of the burial chamber is formed by four large flat stone slabs with a thickness of around 30 centimetres.
The upper side of the ceiling stone is visible and is about 50 centimetres lower than the highest point of the surrounding burial mound, since the layers of stone originally piled up directly above the burial chamber were removed during the archaeological excavation carried out in 1909.
Archeological knowledge of Juddhultsgraven
During the excavation the grave was completely opened by removing all roof stones. However, like many other prehistoric grave sites, it had to be noted that at some point in history the closed grave was visited by grave robbers. A sure sign of plundering is the complete absence of metal objects, which existed already in the Neolithic Age and which were among the most valuable possessions of higher ranking persons, who were usually buried in such elaborate graves.
Instead, the archaeologists found other non-metallic objects such as shards of clay jugs and various flint objects such as buttons, scraping tools and very flat-hewn arrowheads.
After the investigation, the burial chamber was restored by replacing weathered stones, then the covering stones were put back in place. On one side, the burial chamber remained open, so that it is possible to look inside through the narrow opening or, with a little courage, to crawl in.
Similar destinations in the area