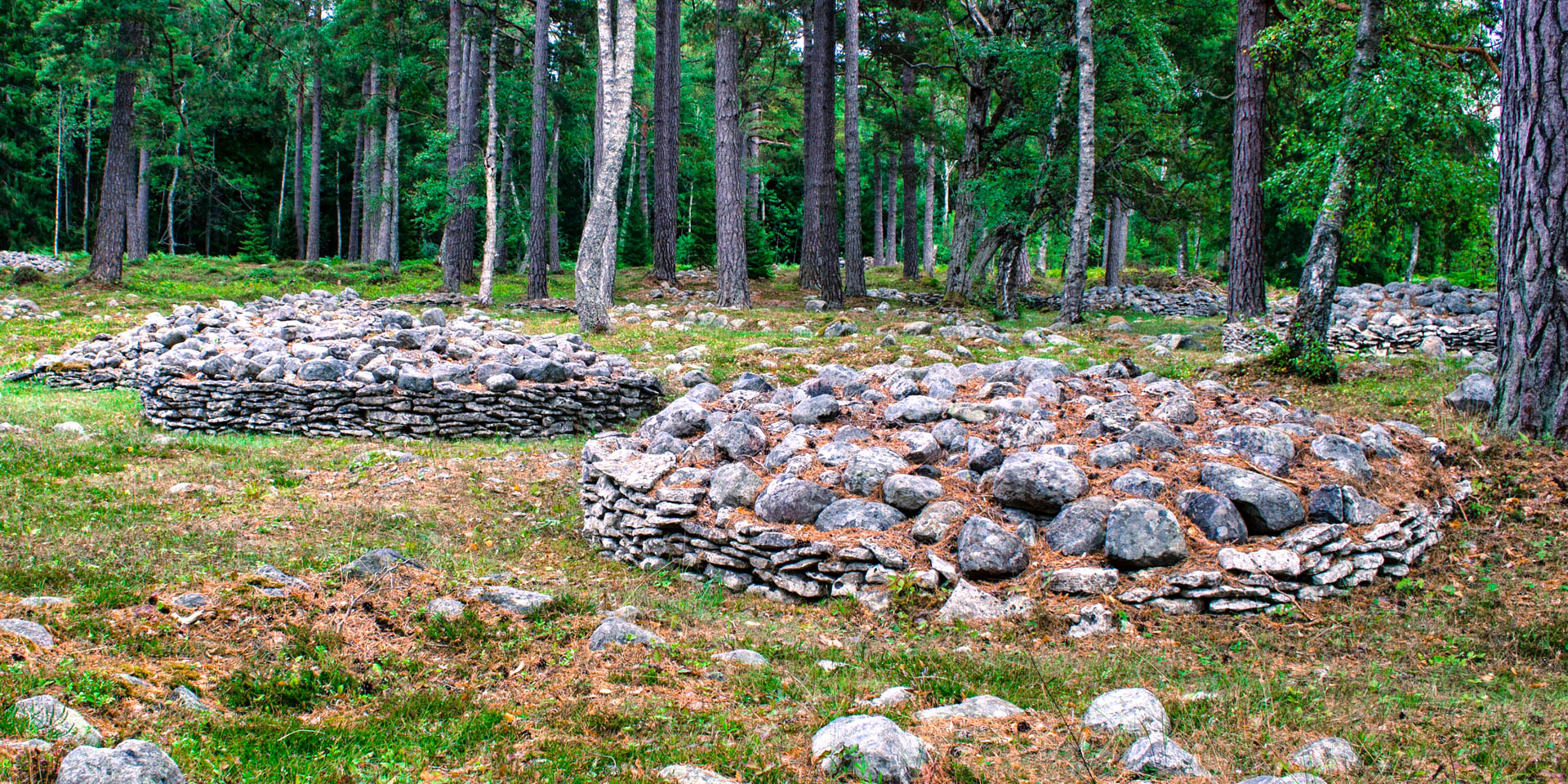 Trullhalsar Gravfält
Large burial ground near Anga
In a remote patch of forest between the village of Anga and the east coast in the central part of the island Gotland hides the burial ground Trullhalsar Gravfält with around 320 exceptionally well-preserved graves from the Vendel period and Viking Ages.
Trullhalsar Gravfält is named after the numerous graves from the Vendel period (550 – 800 AD), which were constructed as slightly elevated, filled stone settings with a border of piled-up limestone slabs. They were therefore imaginatively compared to trolls stretching their necks upwards (Trullhalsar).
There are 291 graves of this type within the Trullhalsar burial ground, which occurs there in different sizes from two to eight metres in diameter and heights between 20 and 40 centimetres. Some of them still have a rounded stone in the centre as a so-called grave ball, a special feature of Scandinavian graves from the late Iron and Viking Age.
In addition, there is a ship setting, 26 stone circles and 31 menhirs within the burial ground, which measures about 200 x 150 metres. The stone circles, also called judge's rings, have diameters between four and 15 metres. They consist partly of lying boulders and partly of vertically placed stones. About half of them have a central stone in the centre of the circle.
From 1915 to 1916, many of the graves were archaeologically examined and both graves of men and women were found. The women's graves in particular suggest that the deceased were very wealthy during their lifetime. Jewellery and weapons or food were found, and in some graves even bones of lynxes and bears. Since these animals have never been found in the wild on Gotland, it is assumed that the deceased were given the skins of these animals in their graves.
Similar destinations in the area