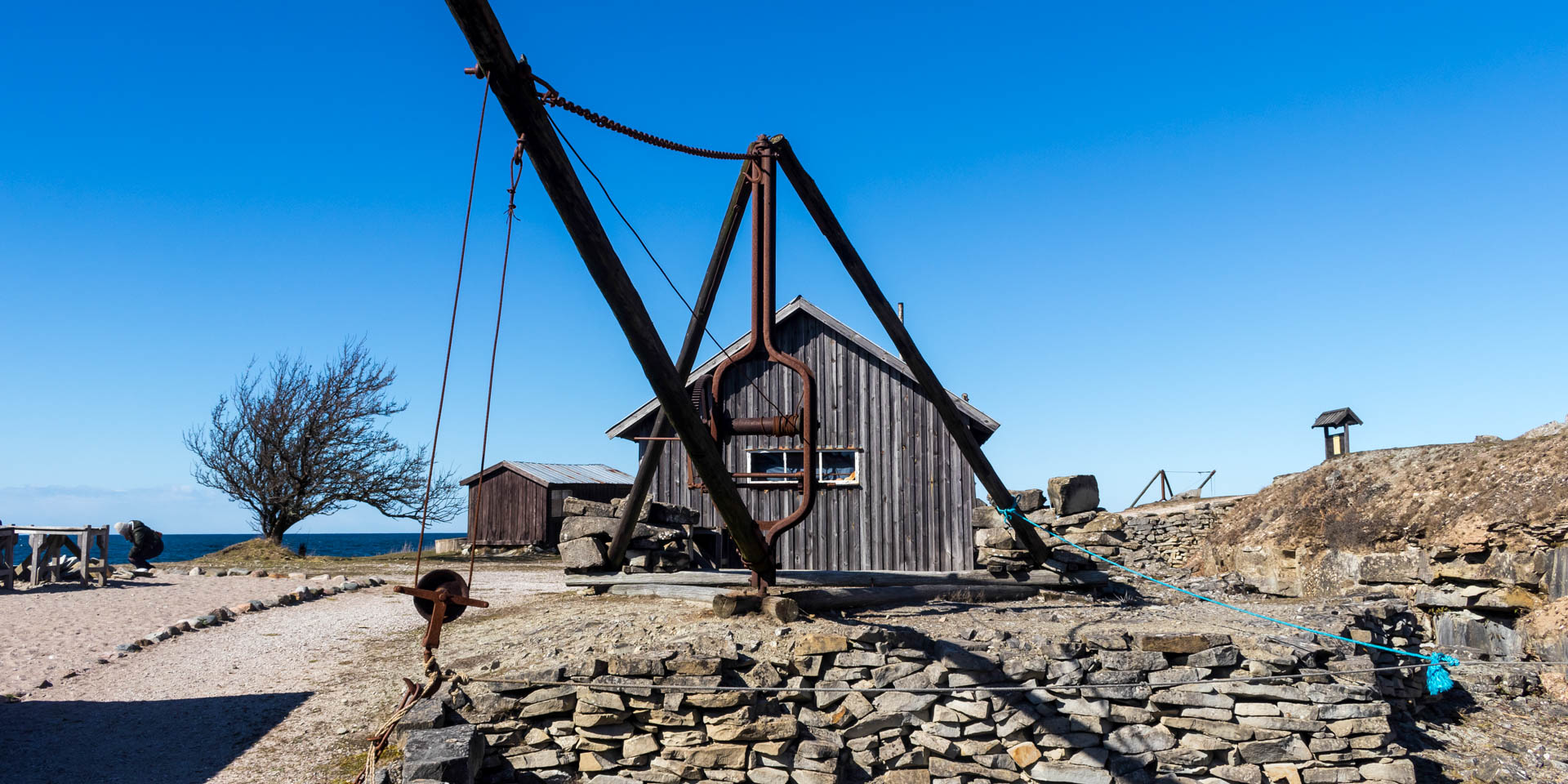 Kettelviks Stenmuseum
Stone museum in the south of Gotland
The stone museum Kettelviks Stenmuseum is located in an old quarry at the southern tip of Gotland, just about 14 kilometres south of Burgsvik.
Kettelviks Stenmuseum is a so-called Arbetslivsmuseum (Museum of Work Life), of which there are around 1,500 in Sweden. The museums show the work and life of various occupational groups in Sweden's history. In this case, everything centres on the manufacture of stones and the work of stonemasons.
The stone museum itself is located in the quarry of the former stonemason John Larsson. From the early 1930s until the 1980s, sandstone was quarried and processed in this quarry. The company Gotlandsbrynet started to build up the museum in 1987 in order to preserve the historical equipment and objects.
The exhibition of Kettelviks Stenmuseum
The museum is actually a small open-air museum consisting of two buildings and various historical machines. Since the old cranes and pumps are still in the quarry, visitors can see very clearly how work was once done there. Some of the cranes date from the 1950s, when they were first used in Valar, south of Burgsvik. The even older wind-powered piston pump that was used to pump the water out of the quarry consists of a small windmill that had to be turned by hand into the wind.
The two buildings contain the exhibitions of the stone museum. Old tools, photographs and objects made of sandstone show how the stone is shaped and processed. A collection of sharpening stones also explains the history of Gotland sandstone, which has been used for thousands of years as a building material but also to sharpen tools and knives.
The association Kettelvik Stenmuseums Vänner takes care of the preservation of the Kettelviks Stenmuseum today. Access to the quarry and viewing of the exhibition is free of charge. Group tours are also possible by prior arrangement.
The quarry and stone museum are located right by the water, west of the Husryggs Naturreservat. The nature reserve is ideal for a hike to Hoburgen, a hill and viewpoint at the southern tip of Gotland, which is three kilometres from here.
Similar destinations in the area