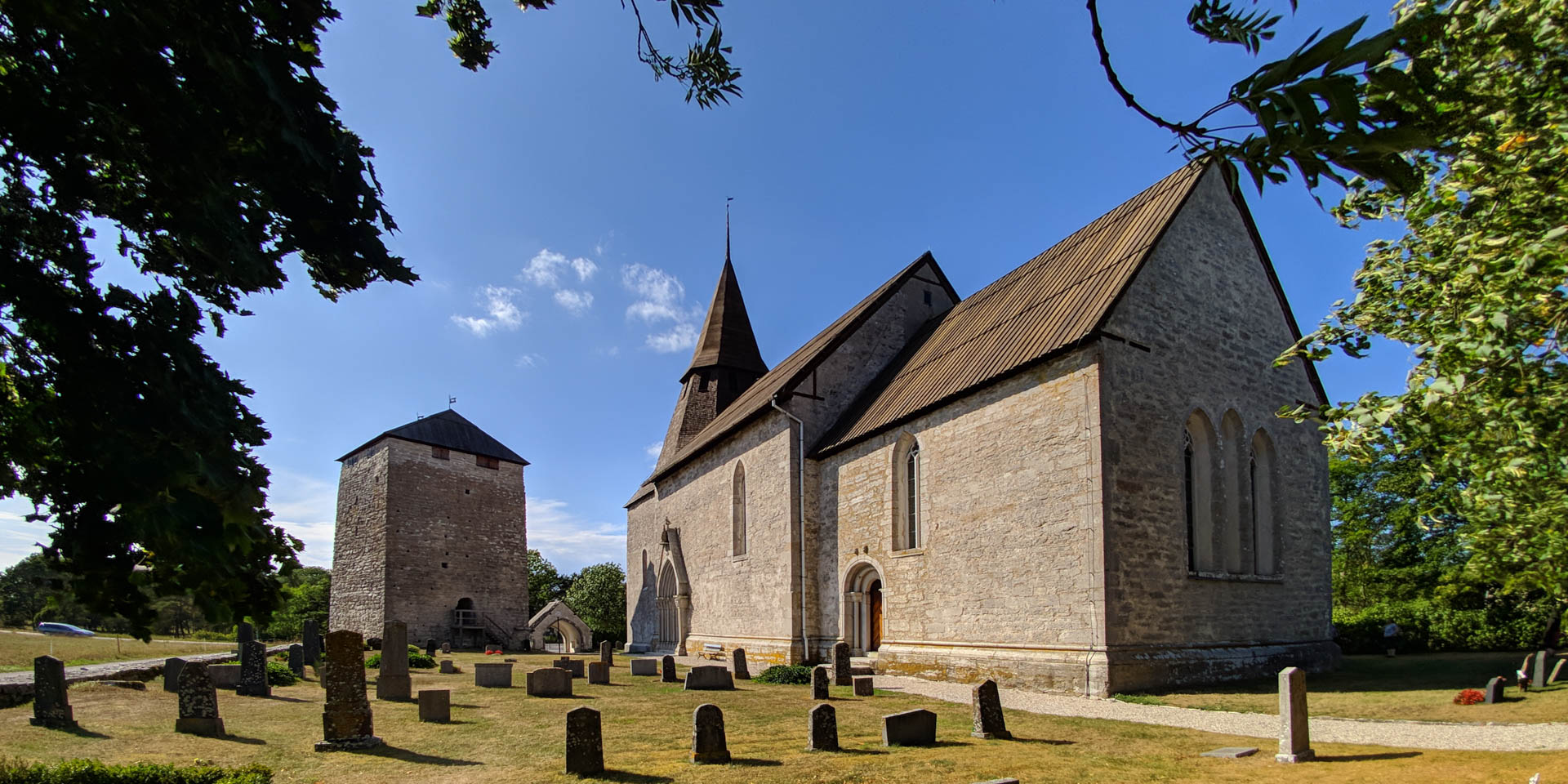 Gammelgarns Kyrka
Medieval church in Gammelgarn
Gammelgarns Kyrka is a 13th-century church in the small village of Gammelgarn, just a few kilometres inland from Katthammarsvik on the east coast of Gotland.
Today's Gammalgarns Kyrka corresponds to the condition after the church was rebuilt and extended at the beginning of the 14th century. The nave and chancel of the church, originally built in the Romanesque style at the beginning of the 13th century, were rebuilt in the Gothic style. Only the narthex of the Romanesque predecessor remained unchanged.
From the outside, both the high ogival windows reveal the Gothic architectural style, as does the entrance portal on the south side of the church. The columns of the portal are somewhat reminiscent of large cathedrals and are decorated with scenes from the Book of Moses, showing the skill of the medieval stonemason. The Gammelgarns Kyrka has a special recognisable appearance due to its bell tower, which was placed as a large ridge turret on the western part of the nave in 1755.
The interior of Gammelgarns Kyrka
In the interior of the church, the Gothic stylistic elements are particularly evident in the cross vaults of the nave, supported by a central column, and in the large pointed arches in the transitions from the nave to the narthex and the chancel.
In front of the gable wall of the chancel is a large magnificent winged altar from the middle of the 14th century. On the north side is the 13th century baptismal font and on the south wall of the chancel there is the pulpit, which dates from around 1680. On the northern wall of the nave are fragments of medieval lime paintings from the 15th century, which were rediscovered during a restoration in the 1950s.
Like most of the more than 90 medieval churches on Gotland, Gammelgarns Kyrka is also accompanied by a defence tower. It dates back to the late 12th century and already guarded the old wooden church, which was the first place of worship there in the 11th century before the stone church was built. In 2006, the defence tower was lavishly restored and, with a proud height of 13 metres, it now looks as it did in the Middle Ages.
Gammelgarns Kyrka:

Opening hours
Opening hours
15. May – 15. September
Monday – Sunday: 8:00 – 18:00
---
Last update: 01/2021 | Errors and omissions excepted.
Similar destinations in the area