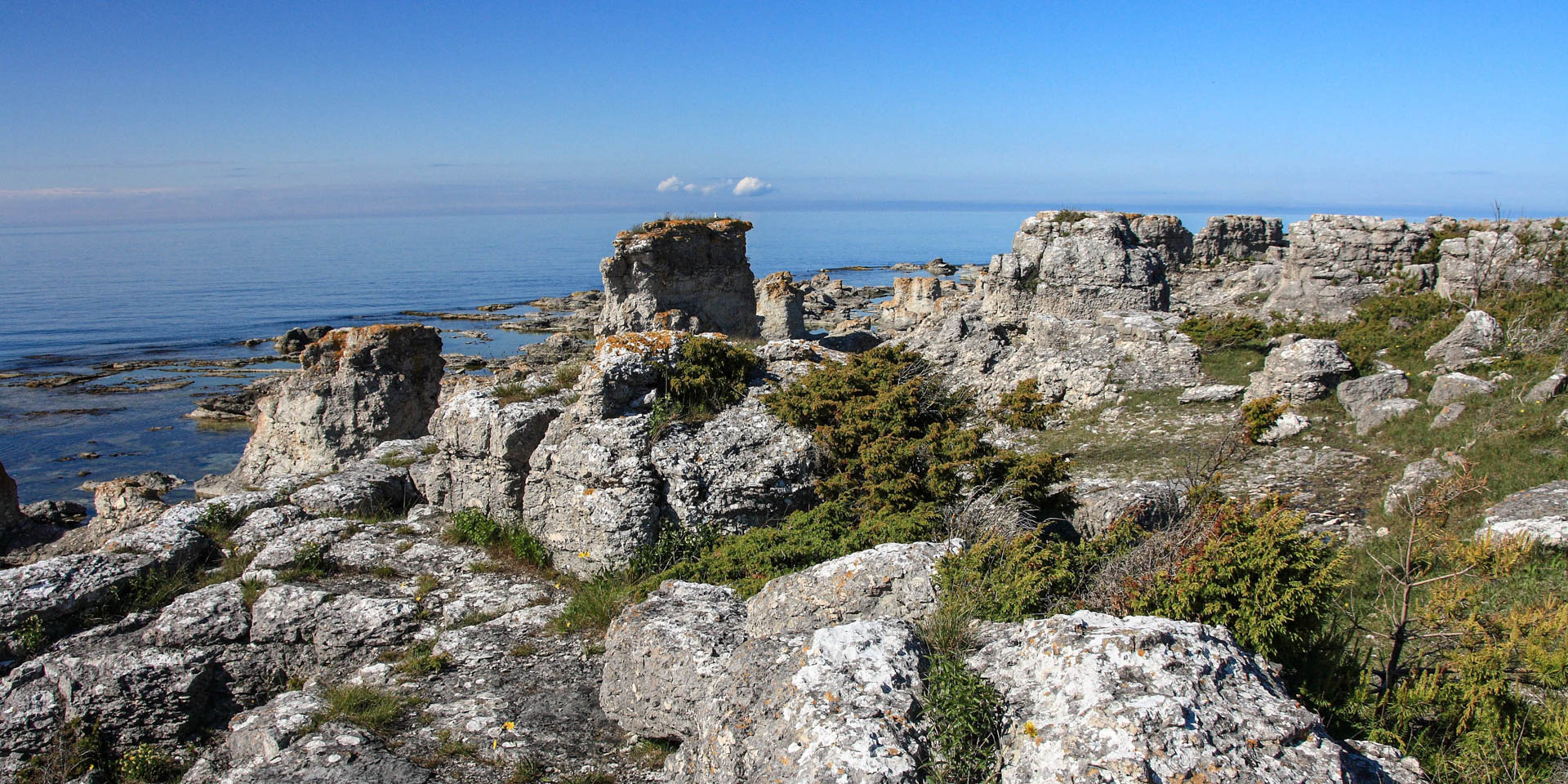 Popular destination
Digerhuvuds Naturreservat
Sweden's largest rauk area on Fårö
The nature reserve Digerhuvuds Naturreservat in the northwest of Gotland's neighbouring island Fårö, is the largest contiguous rauk area in all of Sweden, with several hundred bizarrely shaped limestone pillars known as rauks.
Digerhuvuds Naturreservat has an area of 113 hectares and stretches between Lauterhorn and the historic fishing spot Helgumannens Fiskgeläge as a narrow strip about 3.5 kilometres long along the coast in the northwest of the island of Fårö.
The rauks reach heights of between one and eight metres and stand along the shoreline, in some places also in the water. They are the parts of a primeval coral reef lying above the waterline, which have been shaped into bizarre formations by natural erosion. Due to their origin, the rauks contain large amounts of fossils of primeval corals, snails, cephalopods, bryozoans, arthropods or crinoids.
The reef below the rauks drops vertically to the seabed directly on the shore as a steep underwater cliff up to 60 metres deep. If you want to go swimming there, you should be careful to avoid the dangerous underwater currents that arise at the edge of the cliff.
Inland, the rauks are joined by an approximately 100-metre-wide, almost vegetation-free strip of pebbles. There are only a few plant species, such as white swallow-wort (Vincetoxicum hirundinaria), true sheep's fescue (Festuca ovina) or the herb-Robert (Geranium robertianum), which thrive in the barren stony landscape. Behind the field of pebbles follows an extensive forestation of low-growing maritime pines, shaped by the constant wind.
Discover Digerhuvuds Naturreservat
A paved road leads along the coast throughout the nature reserve of Digerhuvud. It passes the pebble field and the forestation, so that every spot on the coast can be reached easily. There are six parking areas along the road, each close to the largest accumulation of the rauks.
There are information boards and picnic tables at the parking areas and basic toilets at three of them. The northernmost parking lot is within sight of the fishing site Helgumannens Fiskgeläge, which consists of 15 historic fishing huts. From there, the road continues into the adjacent Langhammars Naturreservat to the north, where there are particularly large rauks to be seen.
Similar destinations in the area