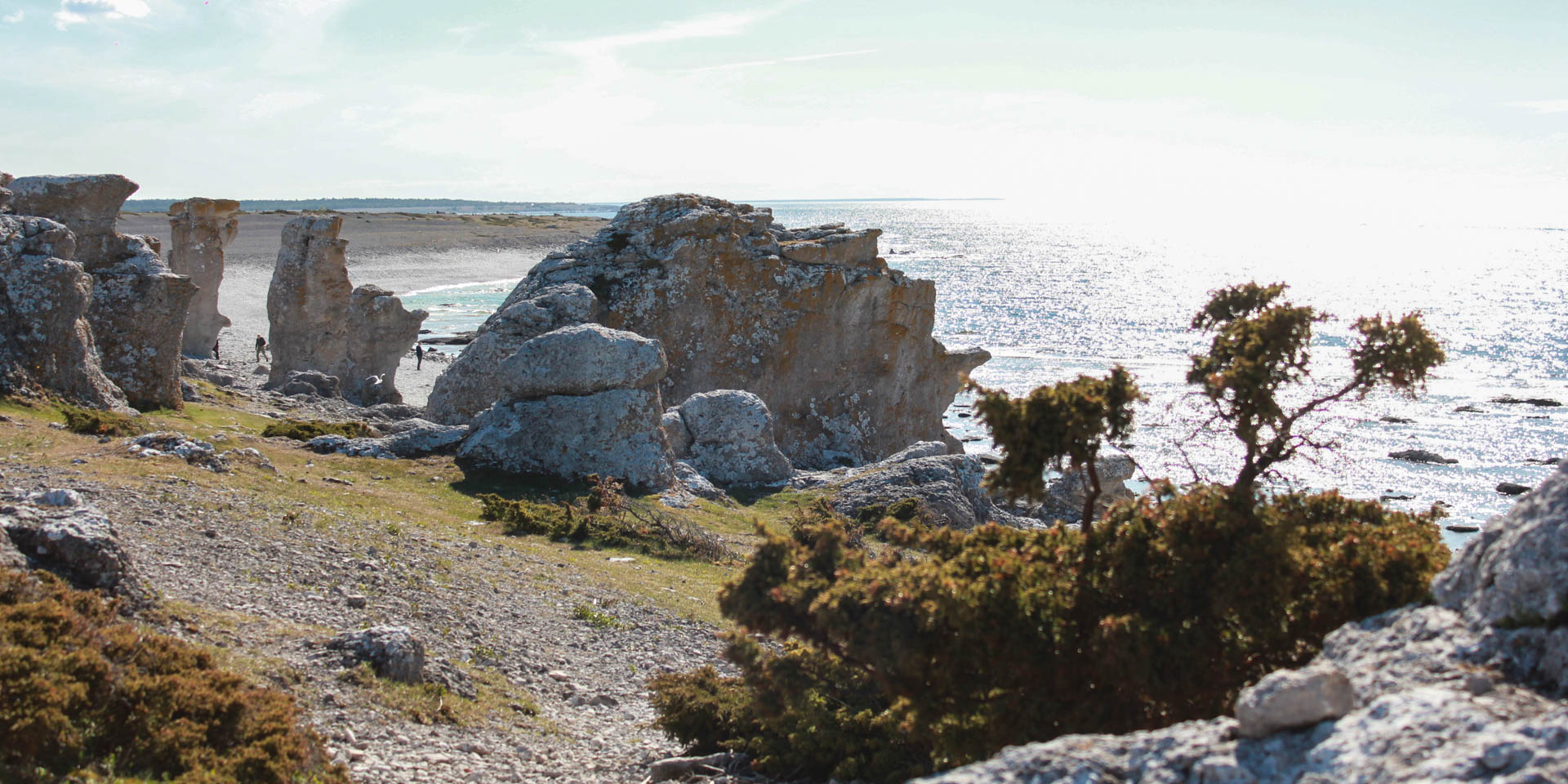 Popular destination
Langhammars Naturreservat
Rauk terrain on Fårö
One of Sweden's best-known rauks, with a variety of particularly large and especially bizarrely shaped rauks, is located in the nature reserve Langhammars Naturreservat in the north of Fårö, Gotland's northern neighbouring island.
Langhammars Naturreservat is located on the peninsula of Langhammars between the bays of Aursviken and Tällevika. It is home to around 50 freestanding limestone columns that natural erosion by wind and waves has sculpted into bizarre rock formations over thousands of years. The rauks reach heights of eight to ten metres at this point and are concentrated along a long pebble beach at the northern tip of the peninsula near Klajvika.
With a size of 479 hectares, Langhammars Naturreservat does not only protect the rauk terrain, but the overall special landscape of the peninsula, which shows several different natural forms in a relatively small area. These include the vegetation-free and up to 300-metre-wide fossil pebble beaches and seawalls along the coast, as well as the heart of the peninsula, whose treeless vegetation is characterised by centuries of sheep grazing.
Flora and fauna in the nature reserve Langhammar
In the south of the nature reserve, an almost savannah-like landscape dominates, in which small pine groves alternate with sparse heath areas and individual small wetland biotopes. Due to the sparse vegetation, the animal life within the nature reserve is not particularly well developed. Only a few bird species breed there, including some gull species as well as European golden plovers (Pluvialis apricaria) and black-tailed godwits (Limosa limosa) in the wetland biotopes.
Near the small pools and ponds, you can often find the Natrix natrix gotlandica, a subspecies of grass snakes found exclusively on Gotland and is on the red list for endangered species.
The insect world within the nature reserve also includes some rare species, such as the strictly protected Apollo butterfly (Parnassius apollo) or the ergates carpenter (Ergates faber), one of the largest European longhorned beetles, which is found in Sweden only on Gotland.
Similar destinations in the area