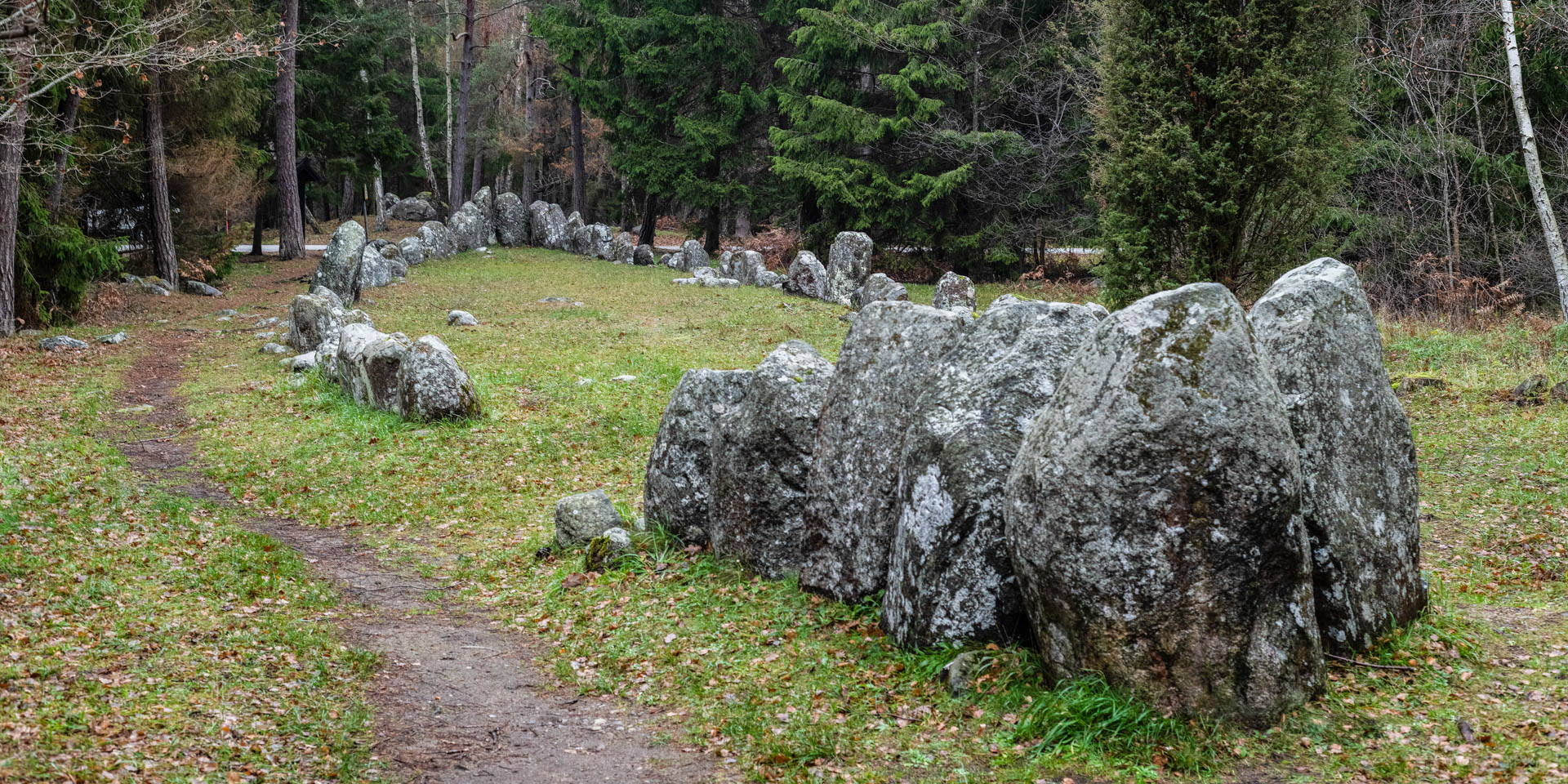 Gnisvärds Skeppssättningar
Gotland's largest ship setting
The name Gnisvärds Skeppssättningar describes the largest Bronze Age ship setting on Gotland, which is located together with two other shipsettings in a wooded area not far from the fishing village of Gnisvärd on the west coast of the island south of Visby.
The largest ship setting of Gnisvärds Skeppssättningar is easily accessible just a few steps from the road to Gnisvärd. There is also a small parking bay just across the road. Also known as Gnisvärdsskeppet or Ansarveskeppet, the ship setting is 45 metres long, seven metres wide and consists of about 100 stones.
The side stones of the large ships setting are between 30 centimetres and 1.15 metres high and placed in such a way that the height of the stones increases from the centre of the ship towards the bow and stern. The bow and stern stones are up to 1.40 metres high. The Gnisvärdsskeppet is accompanied by two flat round stone settings.
More graves at Gnisvärds Skeppssättningar
Another stone setting, 36 metres long and four metres wide, is located about 100 metres south of the large stone setting. It is also mostly intact, but consists of much smaller stones. The bow and stern are symbolised by several upright stones up to 70 centimetres high, while the long sides are formed by closely lying stone chunks that are between ten and 20 centimetres high.
In the immediate vicinity are two stone circles – one three metres, the other 5.50 metres in diameter and partly overgrown. Furthermore, there is a stone grave mound with a diameter of 16 metres and a height of about one metre, with edges that are not clearly defined due to the overgrowth.
A little further south is a third, even smaller ship setting, which is about ten metres long and four metres wide. It is partly destroyed and heavily overgrown, so that it is not easily recognisable as a ship setting. About 200 metres to the east of the ship settings is a Bronze Age burial ground with an area of 90 x 20 metres. There is a stone grave mound with a diameter of about 16 metres and a height of one metre, as well as eight shallow stone circles with diameters between four and ten metres.
If you walk about 100 metres north through the forest after returning to the road, you will come across the remains of the dolmen Toftadösen, the only documented Neolithic megalithic tomb on the island of Gotland.
Similar destinations in the area