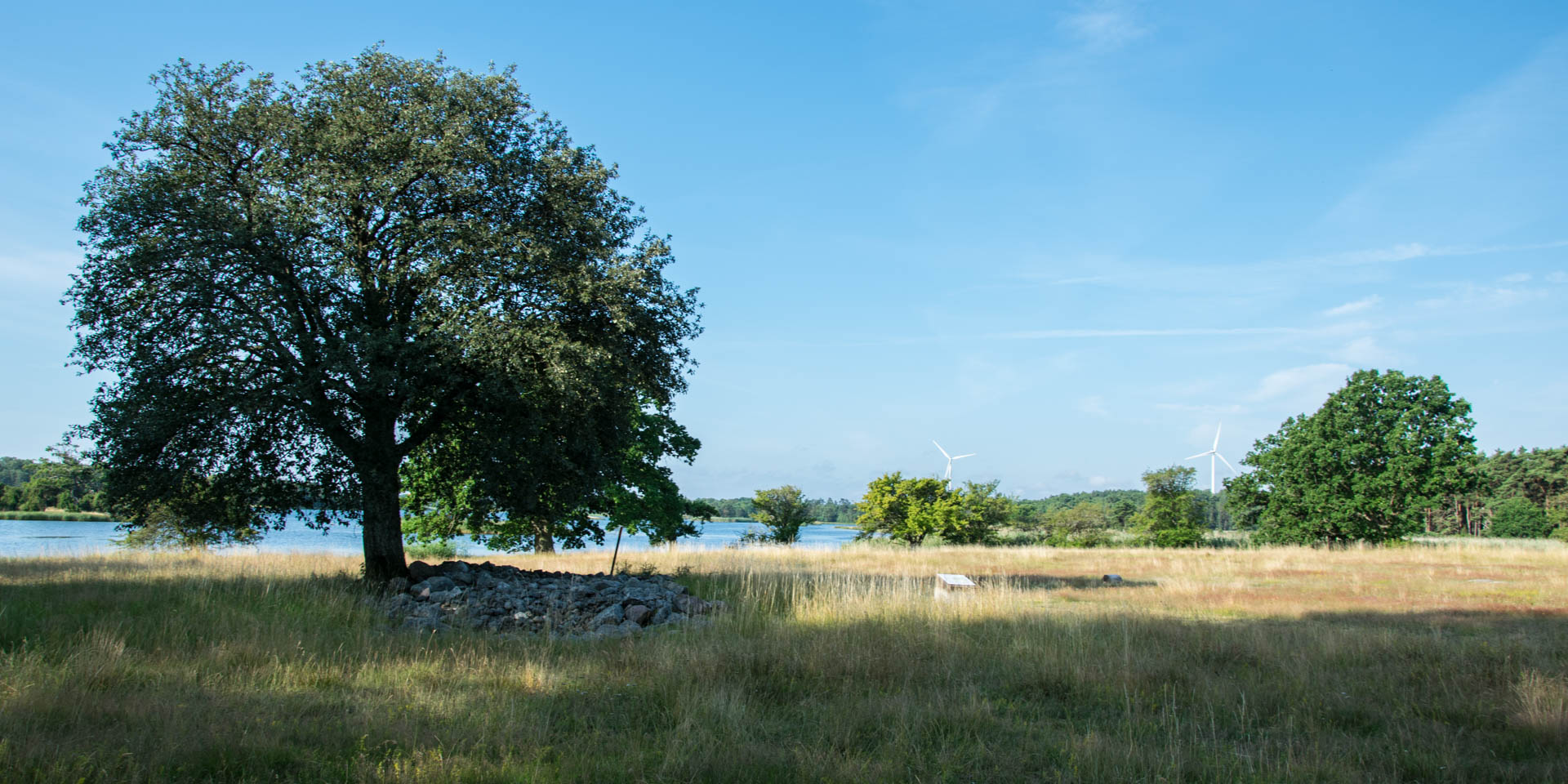 Påbonäs Borg
Castle ruin near Söderåkra
Påbonäs Borg was a castle near the present-day village of Djursvik at the Kalmar Strait, located about four kilometres southeast of Söderåkra. Today, only a few remains of the castle can be seen.
Påbonäs Castle was probably built in the first half of the 14th century. At least this is documented by a letter sent from the castle in 1339. However, Påbonäs was not a classical castle, but rather a fortified medieval manor house. It stood on a headland separated from the mainland by a wide moat and protected by a wooden palisade.
Exploring Påbonäs Borg
This headland still rises as a plateau into the Kalmar Strait and can be discovered by you. The moat can still be seen as a depression, but it no longer carries water and at the place where the manor house once stood, you will only find a large pile of stones that fills the cellar of the building. The house had a floor area of 16x8 metres and was made of stone, at least in parts.
The plateau has a diameter of about 100 metres. In addition to the filled-in wine cellar in the centre, you can also discover the remains of another earth cellar a little further away. Your visit will be rewarded by a magnificent view of the offshore archipelago. Only six kilometres to the north is the exciting nature reserve Örarevet with the bathing beach Fulviks Badplats, which you can combine with your visit to Påbonäs.
The history of the castle
When Påbonäs Borg was inhabited at this site in the 14th century, the border to Denmark was only 15 kilometres away. From 1344, the castle was owned by the German nobleman Puke Glysing. Some lands belonged to Påbonäs and therefore this was also the place where the peasants of the surrounding area paid their taxes and did some of their work to maintain the fortress.
In the second half of the 14th century, the castle played an important role and was frequently mentioned in documents. At that time, Påbonäs became the property of the German family van Vitzen. After the Swedish King Albert (1338 – 1412) was replaced in 1389 by the Danish Queen Margaret I (1353 – 1412), Påbonäs got in her possession.
For this reason, the cellar of the house is also called the Queen's Wine Cellar, where wine from Germany was once stored.
Similar destinations in the area