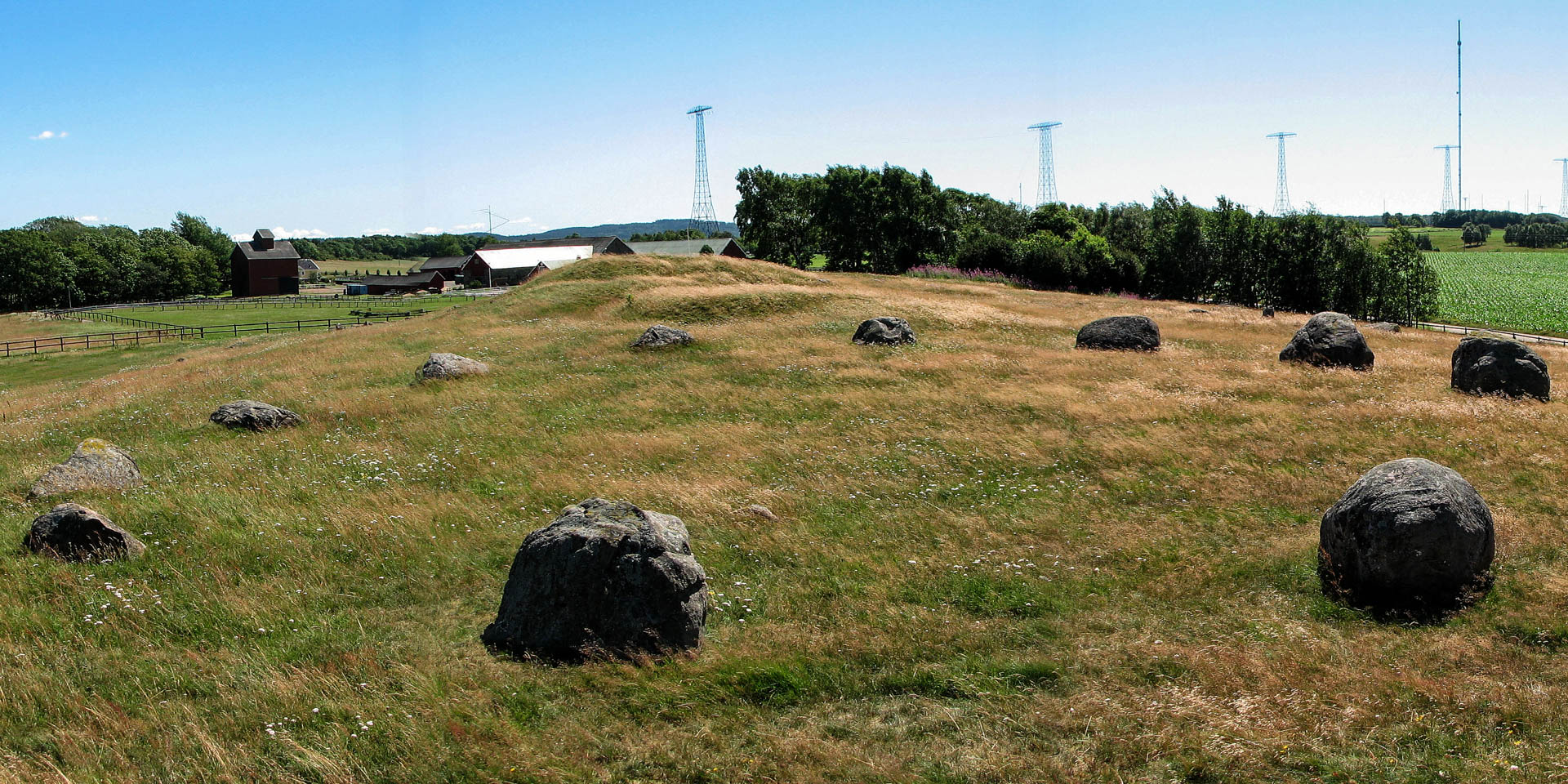 Broåsens Gravfält
Iron Age burial ground near Grimeton
Broåsens Gravfält is one of the largest Iron Age burial grounds in the province Hallands Län and is located on the flat hill Broåsen at the edge of the village Grimeton, about twelve kilometres east of Varberg.
The burial ground of Broåsen extends over an area of 250 to 110 metres on a moraine consisting of gravel and boulders and contains about 55 different graves. The site has been used for a long time during the different periods of the Iron Age, and therefore contains many different types of graves.
The largest grave is the stone circle Götriks Ring, a so-called judge circle, which is located approximately in the middle of the cemetery. It has a diameter of 20 metres and consists of 13 large boulders, which are arranged at regular intervals around the circumference. Furthermore, there are five round burial mounds on the grave field which are between 0.8 and 1.5 metres high and have diameters between eight and 20 metres.
On the western slope of the hill there are three cigar-shaped long graves, which are typical for the west coast. They are each about four metres wide and about 0.5 metres high, with two of the elongated hills being 40 metres long and the third 12 metres long. There are also eight other stone circles with diameters of four to eleven metres and heights of up to 0.5 metres, with the lower circles partly overgrown by the turf.
In addition, there are nine stone ships in different sizes between twelve and 23 metres as well as three of the less frequently encountered three-armed stone settlements, the so-called Treudd. The side arms of the two larger Treudd are each 30 metres long, the arms of the smaller Treudd are each ten metres long. All three Treudd are not easy to spot as they are mostly overgrown by grass.
Similar destinations in the area