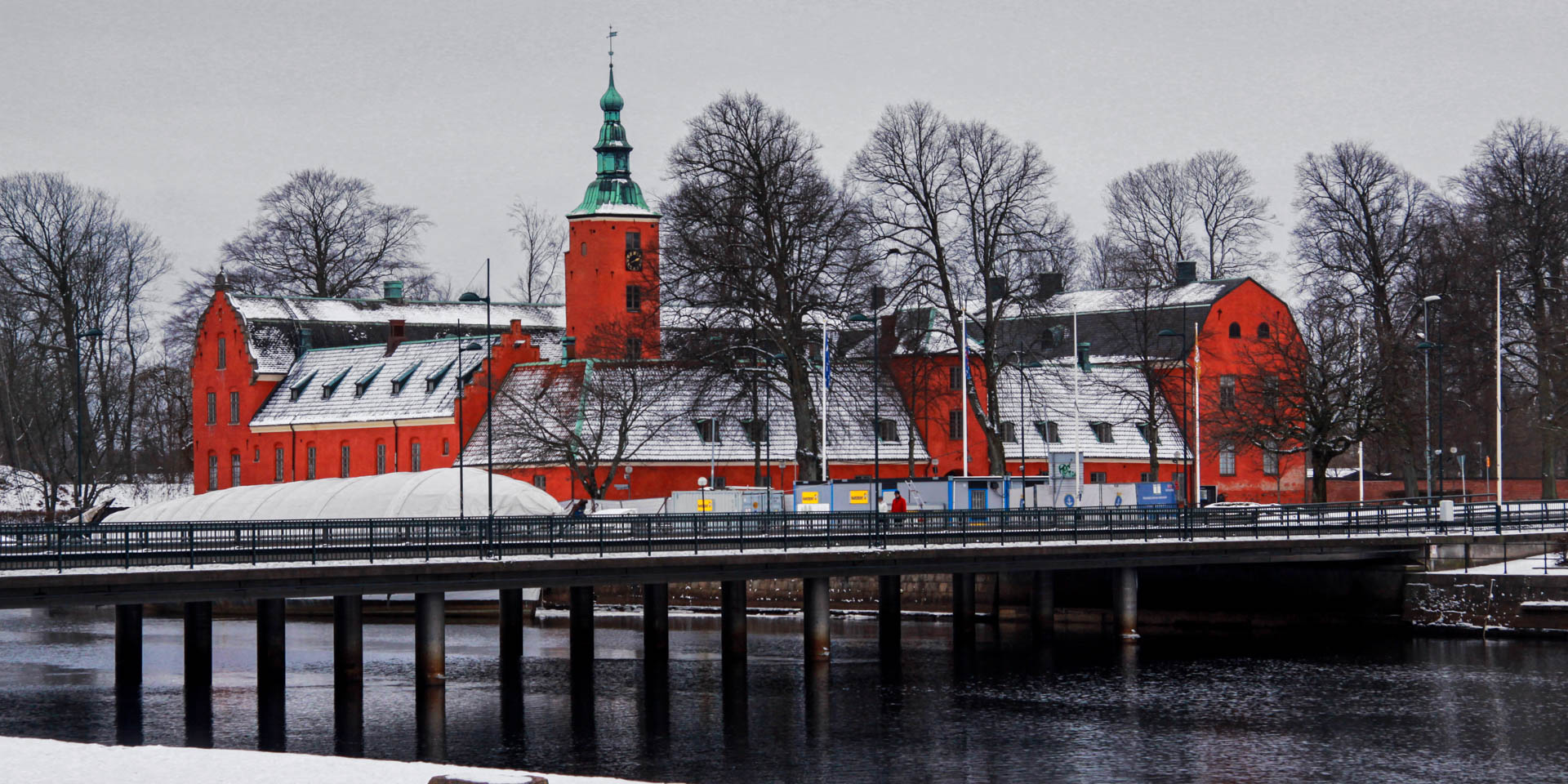 Halmstads Slott
Castle in Halmstad
Halmstads Slott is a romantic castle in Halmstad. It is located on the banks of the river Nissan in the city centre of Halmstad, the capital of the province Hallands Län in the southwest of Sweden.
Halmstad Castle dates back to the early 17th century, when Halland belonged to Denmark alongside Skåne and Blekinge. Halmstads Slott was built by order of the Danish king Christian IV and is regarded as a beautiful example of the Nordic Renaissance style, which is often referred to in Sweden as Christian IV-Renaissance in allusion to the reign of the Danish king.
The construction of the castle
The tall, slender tower of Halmstad Castle with its elaborately designed spire is a particular example of this special architectural style. The construction of Halmstad Castle began in 1595 under the direction of the Fleming Hans van Stenvinkel the Elder, who was at that time the Danish master builder of the kingdom and from whose pen several castles and fortresses in the former Danish hemisphere originated. However, Stenvinkel died in 1601 and the construction of Halmstad Castle was completed in 1615 by his apprentice, the master builder Willum Cornelissen.
The castle consists of four large wings that are situated to a rectangle around a closed courtyard with an area of 30x36 meters. The oldest wing of the castle is the west wing followed by the more luxurious south wing, the former royal residence. The north wing with the gate house and the east wing on the riverbank were the last to be completed.
The history of Halmstads Slott
During the Danish time Halmstads Slott had the function of a pleasure palace, which served the Danish king as accommodation during his inspection trips. Otherwise the castle was the official residence of the Danish governor. The royal pleasure in having the castle did not last too long, since the Peace of Roskilde in 1658, in which the transfer of the former Danish provinces to Sweden was agreed upon, also made Halmstad Castle the property of Sweden.
Since then the castle has served as the residence of the governor of the province of Hallands Län and several rooms of the castle are still used by administrative units of the provincial administration. The castle is state-owned and was declared a historical monument in 1935. The structural changes, which were carried out in particular during the 17th and early 18th centuries, were largely reversed by several restorations and renovations in the 19th and 20th centuries, so that today Halmstads Slott largely has its original appearance.
With the exception of some special events, the interior of the castle cannot be visited. However, the inner courtyard and the adjacent park with some remains of the old fortifications are open to the public. The castle courtyard has also been used for many years as the venue for the annual summer theatre and on the third Sunday in Advent it forms the romantic backdrop for a cosy Christmas market.
Similar destinations in the area