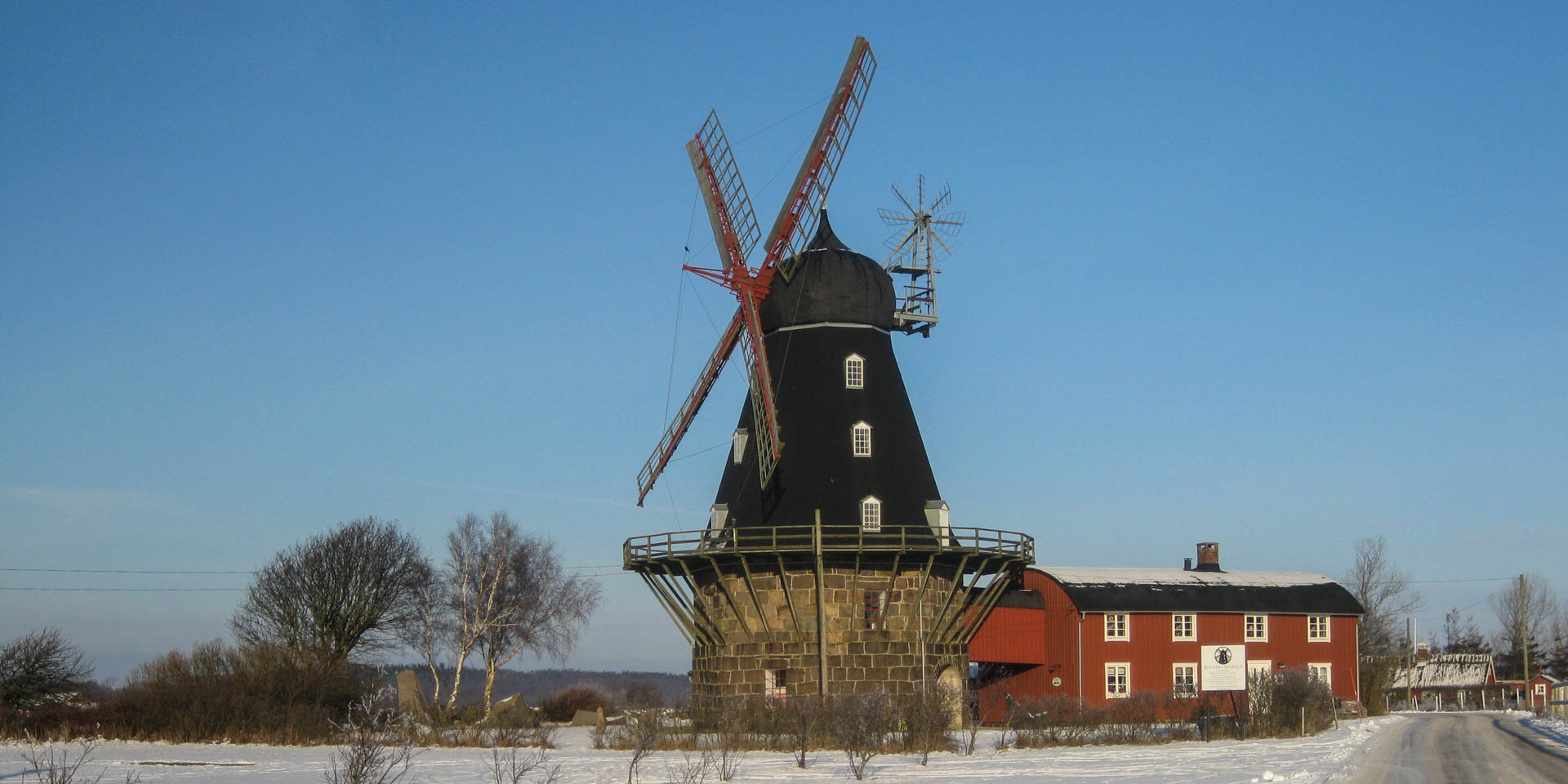 Särdals Kvarn
Large windmill near Haverdal
One of the largest windmills in Sweden and the rest of Northern Europe is the smock mill Särdals Kvarn. It is located outside the coastal town Haverdal, about 15 kilometres northwest of Halmstad.
Särdals Kvarn was built in 1890 and was in continuous operation until 1967. The mill is a so-called Gallery-Dutchman, where the mill building was erected on a two-storey brick pedestal with a surrounding gallery. The entire mill, including the base, is six storeys high and has four stone floors.
As one of the largest windmills in Scandinavia, Särdals Kvarn is on a level with other large windmills in Sweden. Among them for instance are [ link=4-1378]Sandviks Kvarn[/link] on the island Öland or Kronotorps Mölla near Malmö.
One of the most modern mills of its time
The actual mill building of Särdals Kvarn consists of an octagonal wooden construction covered with wooden panels and bituminous cardboards. When the mill went into operation in 1890, it was equipped with the latest technology. It already had automatic wind tracking, where the mill cap is automatically turned into the wind.
After the wooden mill wings had been damaged by a lightning strike in 1921, they were replaced with today's steel construction. The blade surface is formed by louver dampers which are automatically closed or opened by a centrifugal force controlled mechanism and thus adapt the blade surface to the respective wind conditions.
The two-storey wooden building directly next to the mill were used as the warehouse and dwelling house. The storage was located in the western half of the building, which is connected to the mill by a roofed corridor. The second large building next to the mill contained the stables and the brewery.
Särdals Kvarn today
The mill and its outbuildings were declared a historical monument in 1980. In the former residential building is now a farm shop which offers regionally produced jams, juices and local delicacies as well as handicrafts, vintage and decorative items. The shop is open all year round, whereby the opening times in the winter are limited to the weekends.
In the former stables is a cosy café which is only open during the summer months. If the weather is fine, there is also a restaurant in the beautiful old mill garden. A tour of the mill from the inside is only possible during some events or after prior agreement with the owners.
Särdals Kvarn:

Opening hours
Open today: 12:00 – 16:00
---
Opening hours
1. April – 30. April
Saturday – Sunday: 12:00 – 16:00
1. May – 30. June
Thursday – Sunday: 12:00 – 16:00
1. July – 11. August
Monday – Sunday: 11:00 – 18:00
12. August – 31. August
Thursday – Sunday: 12:00 – 16:00
1. September – 31. December
Saturday – Sunday: 12:00 – 16:00
---
Last update: 07/2019 | Errors and omissions excepted.
Similar destinations in the area