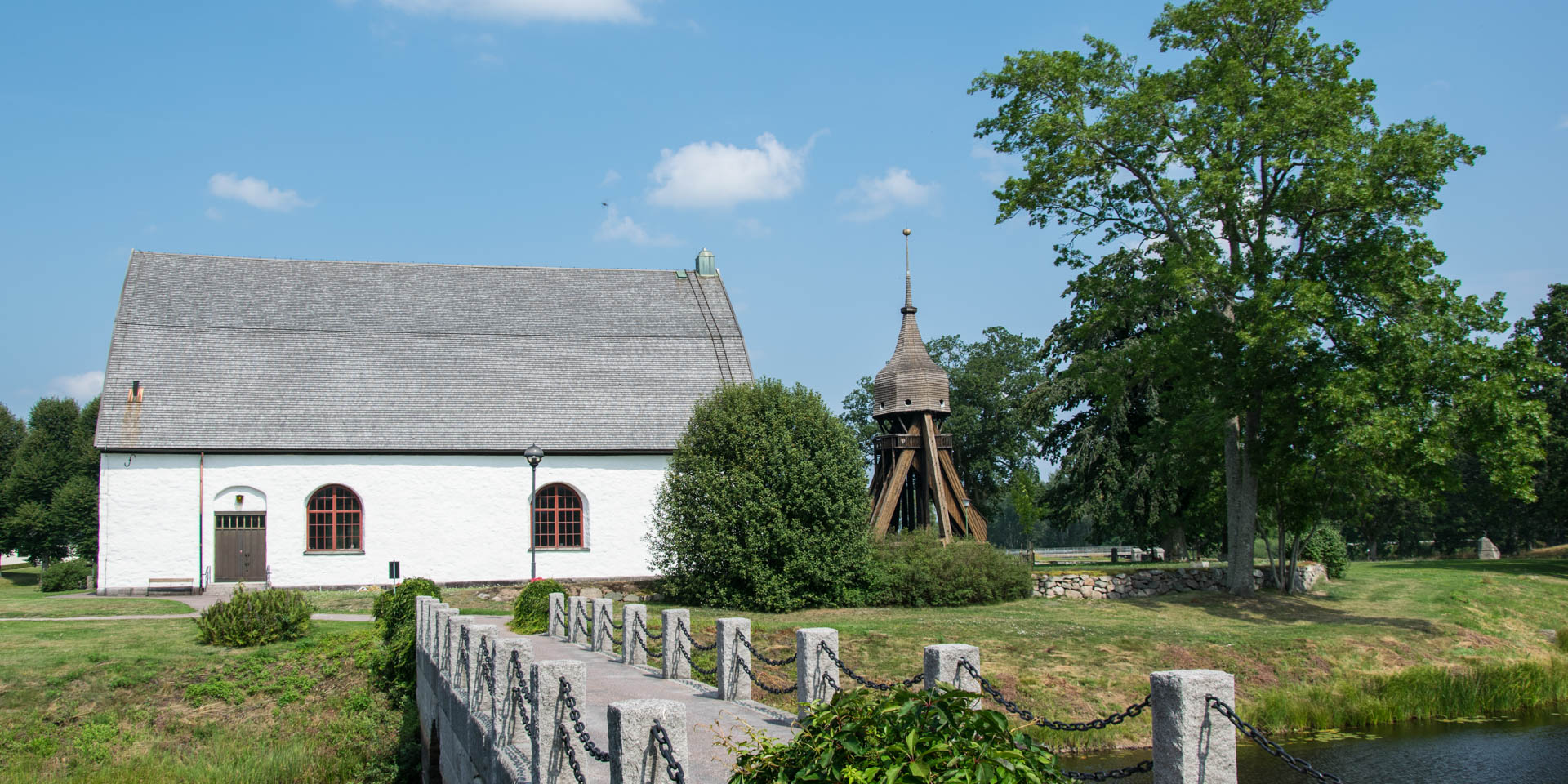 Insider tip
Vissefjärda Kyrka
Historical church in Vissefjärda
The 18th-century Vissefjärda Kyrka is located on a headland at the Kyrksjö (Church lake) in Vissefjärda, a church village in the south of Emmaboda Kommun.
Vissefjärda Kyrka was consecrated in 1773 as the successor of an earlier medieval church, which was located in exactly the same spot. Parts of the north wall of the present church still originate from its predecessor. The Vissefjärda Kyrka consists exclusively of a nave with the choir room on the east side. The brickwork consists of field stones with white plaster facade and the roof is covered with tarred wooden shingles.
The interior of Vissefjärda Kyrka
Although the church is conspicuously broadly proportioned, the interior is designed as a hall church with a self-supporting roof construction without supporting pillars. The church ceiling covered with wooden panels is designed as a high tunnel vault and painted in light blue.
The most valuable object within the Vissefjärda Kyrka is the large altarpiece painted in 1795 by Pehr Hörberg (1746 – 1816), which shows Jesus' deposition from the cross. Despite the fact that Hörberg, as one of the most famous Swedish church painters of his time, painted a total of 87 altarpieces, he only used this motif three times.
The large chandeliers hanging from the ceiling date from different eras, the oldest of which dates back to 1691. From the same century, there is an oak baptismal font in the church, which is no longer in use since a new baptismal font in red polished limestone was installed in the chancel in 1938.
The pulpit with canopy found its place in the church in 1841. In a corner under the organ gallery – the organ, by the way, originally stood in the Cathedral of Kalmar – there is a beautiful old grandfather clock. It was donated in 1776 by the farmhands in the parish, all of whom are mentioned by name on a plaque next to the clock.
Belfry and surroundings
Instead of a church tower, Vissefjärda Kyrka has a wooden belfry with a curved top. The belfry was built in 1774, contains three bells and is located a few steps east of the church.
At the top of the headland, where the river Lyckbyån flows into Kyrksjön, there is a memorial stone for the parish's folk hero Nils Dacke (1510 – 1543). The stone originates from the former farm grounds of the peasant leader in Södra Lindön and carries a commemorative text and a crossbow on its tip, which symbolically points north towards Stockholm.
From there, you have a direct view to the former church stables on the opposite bank of the river. The four-winged stable building was built in the 1850s as a shelter for the horses of the church visitors, offered space for up to 200 animals and was in use until the 1930s. Today the old stables house the local museum Vissefjärda Hembygdsmuseum.
Similar destinations in the area