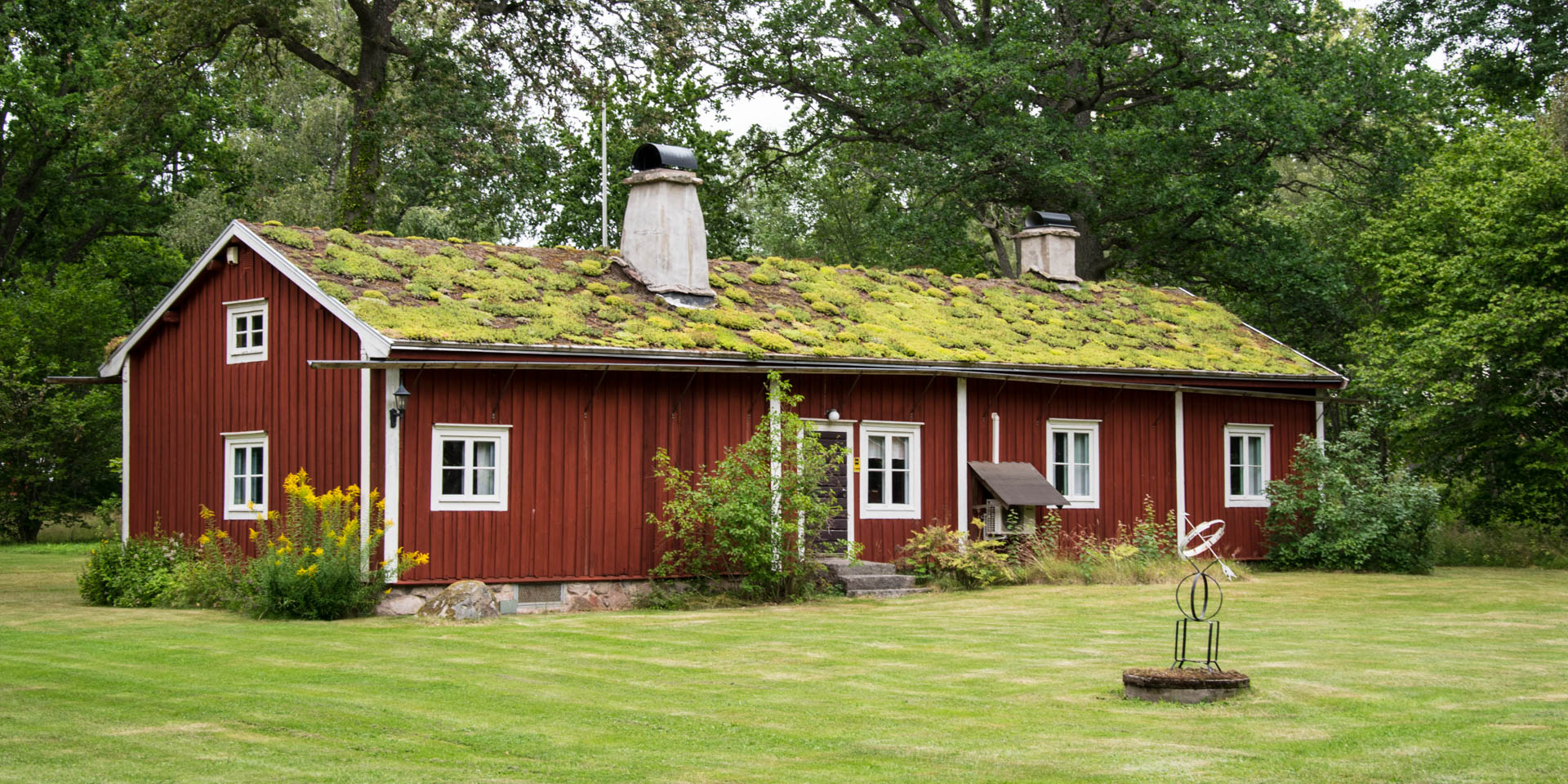 Algutsboda Hembygdspark
Heritage museum in Algutsboda
The farmhouse and local history museum Algutsboda Hembygdspark, consisting of a total of ten buildings, is located in the middle of Algutsboda, a small village in the northern third of the municipality of Emmaboda Kommun in Småland.
In the mid-1950s, the local heritage association Algutsboda Hembygdsförening began to build the Algutsboda Hembygdspark on the area next to the historic Algutsboda Church. The first historical building to be built in the park was the so-called Stekaremålastugan in 1957. Dating from the early 18th century, the elongated low house with a peat roof was once a dwelling for officers of the Småland cavalry regiment and originally stood in the hamlet of Stekaremåla.
Buildings and museums in Algutsboda Hembygdspark
Until the Algutsboda Hembygdspark was officially opened in 1966, other different historical buildings followed, the number of which has grown to a total of seven. They are all from the surrounding area and were dismantled piece by piece from their original locations and rebuilt in the museum.
Among these are old farm buildings such as a small log barn with a sheep pen and hayloft, a village stable dating from the late 19th century and a historic field barn. Another residential building is the Trollagärdestugan, dating from the 1830s, which consists of only one living room and a kitchen, but was nevertheless at times inhabited by two families with a total of nine people.
The local history museum of Algutsboda Hembygdspark is housed in the former gym of the school in Algutsboda. The building dates from the 1920s and was moved to the park in 1958. On the ground floor, an exhibition shows the different historical crafts that used to be practised in the area, and upstairs is an extensive collection of textiles from different periods.
A small agricultural museum is located in a building newly constructed in 1977. In addition to all kinds of historical agricultural equipment, the collection also includes old horse-drawn carriages, coaches, sleighs and bicycles from times gone by.
The newest building within the park was rebuilt in 2004 entirely in the style of the historical buildings. The large one-and-a-half-storey house contains an exhibition hall for changing exhibitions, the office of the local history society, toilets, a kitchen and a dining room. From the beginning of July to the beginning of August, the local history society runs a summer café there and in the adjacent garden, offering coffee and fresh waffles several afternoons a week.
The very active local history society, which has around 600 members, owns and looks after other historical buildings in the vicinity in addition to the buildings in the park. These include the historic farm Wibergsgården in Bökevara or the school museum Persmo Skolmuseum in Erksmåla.
Similar destinations in the area