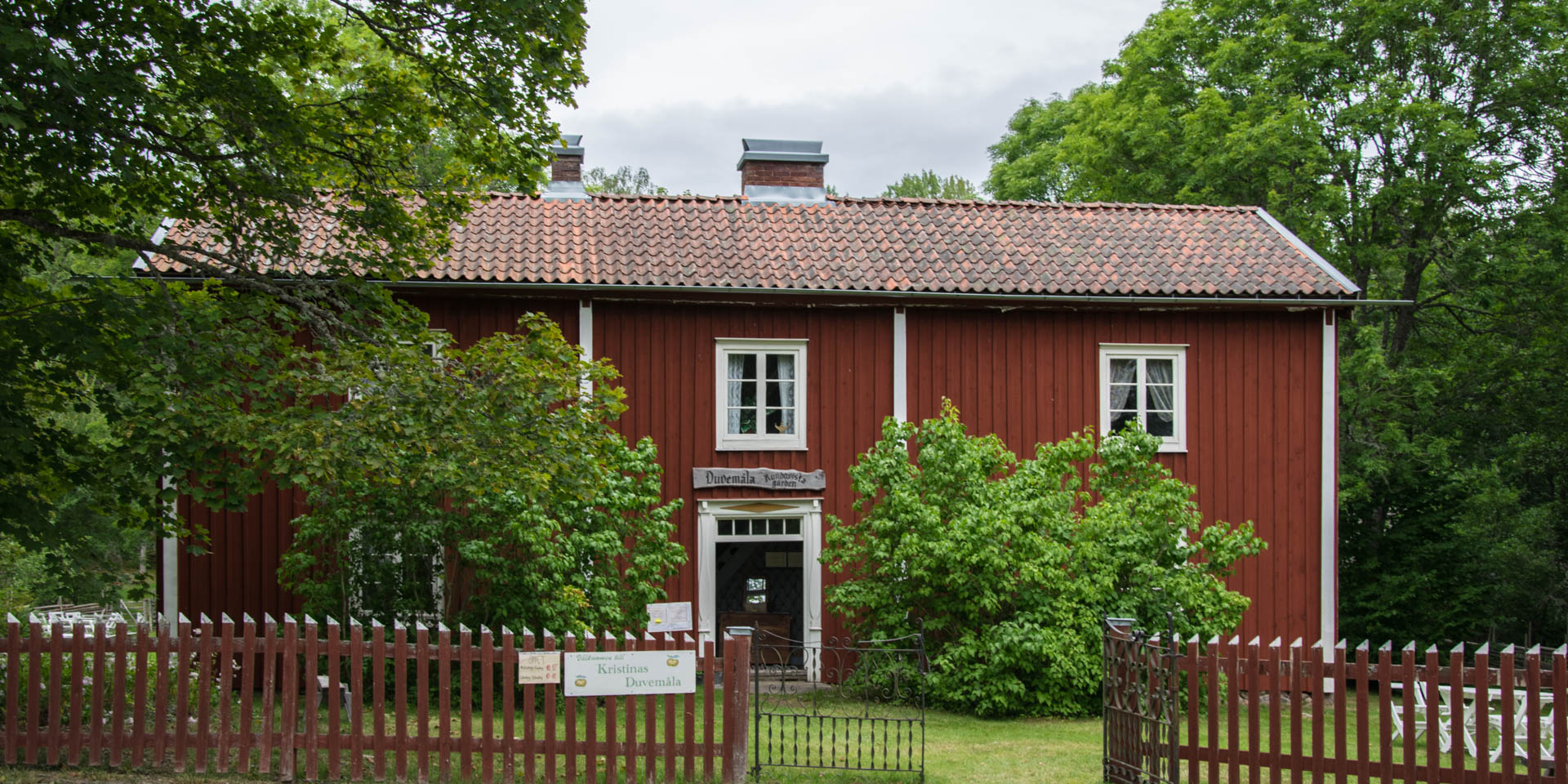 Popular destination
Duvemåla
Local museum near Emmaboda
The hamlet of Duvemåla, consisting of a handful of houses, in the middle of the municipality of Emmaboda Kommun in Småland served as the inspiration for the home village of Kristina from Duvemåla, one of the two main characters in the four-part epic The Emigrants by the author Vilhelm Moberg.
Vilhelm Moberg knew the small hamlet quite well because his grandmother lived there, and so Duvemåla inspired the author to create his character. His grandmother's cottage once stood right across the road from the farm Rundqvistagården, which is now a small museum of local history, commemorating the many Swedish emigrants who, like the novel character Kristina, felt homesick in the distance.
Rundqvistagården in Duvemåla
At Rundqvistagården in Duvemåla, the four siblings Hertha, Naemi, Martin and Mauritz Rundqvist, who remained unmarried throughout their lives, were the last residents. They lived on the farm as self-sufficient farmers, just as they had learned from their parents. And they lived extremely frugally, which is not unusual for people from Småland, but the Rundqvists took it to the extreme.
After Mauritz was the last of the siblings to die in 1989, Rundqvistagården had neither electricity nor running water, not to mention a telephone. And when the farm was subsequently examined more closely, it confirmed what had been told for some time: the Rundqvists owned a fortune that they had accumulated through their more than frugal way of life. In the house and in the large barn, cash to the value of 1 million Swedish crowns was found in a number of hiding places.
The value of the farm added to this was 5 million crowns. As there were no heirs or wills, Rundqvistagården and the money went to the General Heritage Fund, a state fund that provides financial support for projects of associations and non-profit organisations.
The Rundqvistagården Museum
After a long legal dispute with the inheritance fund, the municipality of Emmaboda succeeded in the mid-1990s in acquiring ownership of Rundqvistagården. Since then, the two-storey residential building has been open to the public as a museum and takes visitors on a short journey back to the time when life as a self-sufficient farmer was still commonplace.
In an outbuilding of Rundqvistagården there is a cosy café decorated with photos and objects related to Vilhelm Moberg, his figure Kristina from Duvemåla and the emigrant movement. The café's menu includes homemade traditional Småland delicacies such as bread rolls with butter and cheese, cheesecake with jam and cream or apple pie with vanilla sauce. You can either sit in the café or, when the weather is fine, enjoy coffee and cake in the large garden behind the farmhouse.
Similar destinations in the area