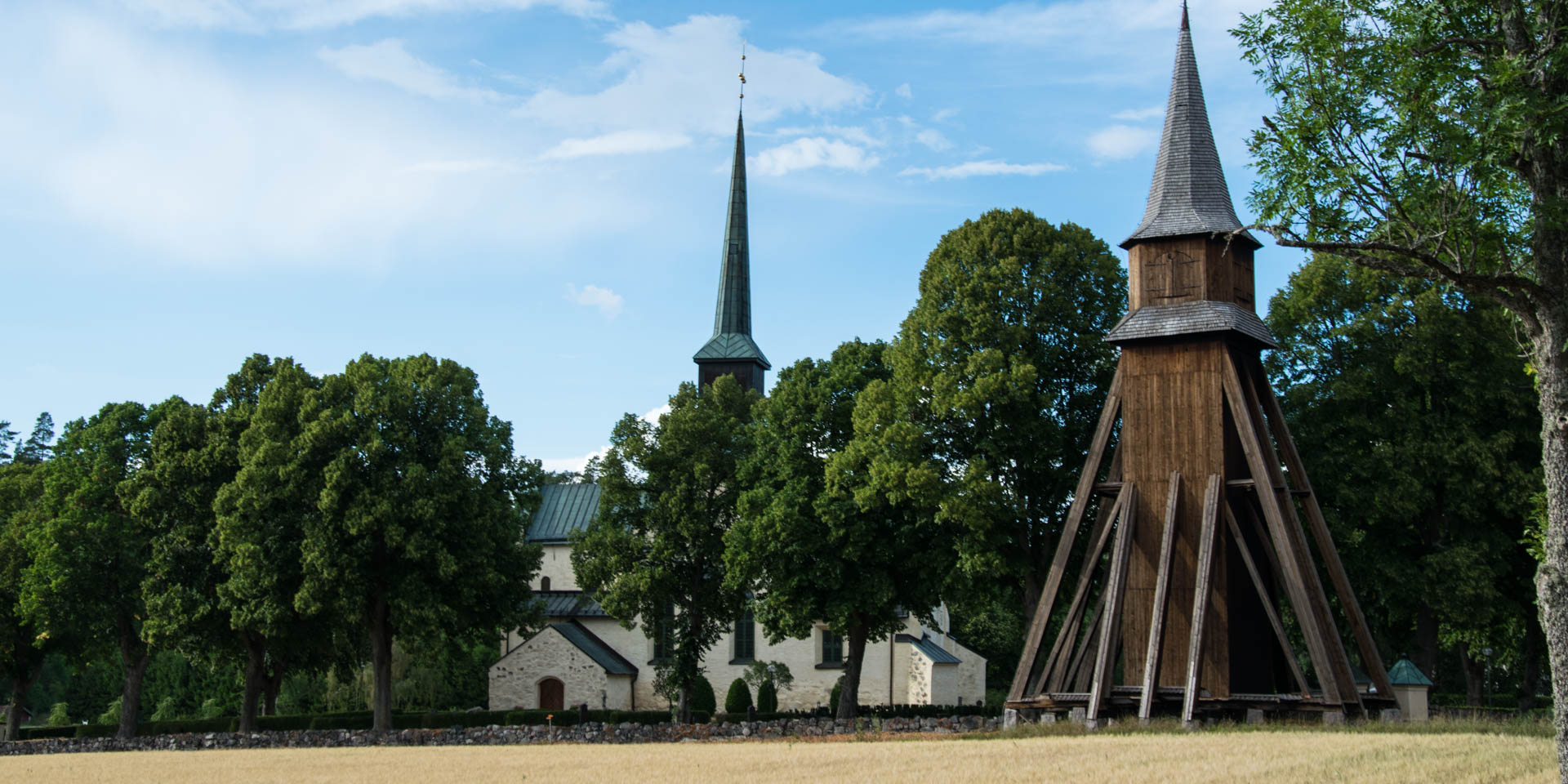 Skällviks Kyrka
Medieval church near Stegeborg
Skällviks Kyrka was built in the early 14th century and is located near Stegeborg, about 18 kilometres southeast of Söderköping. As a small rural church it impresses with its relatively elaborate architecture.
The church is located on the south shore of the bay Slätbaken, in sight of the castle ruin Stegeborg, whose royal lords had a great influence on Skällviks Kyrka in the past.
In its original form, the church consisted only of the rectangular nave made of natural stone with a straight chancel and brick ornaments on the outside of the eastern gable, like it was typical in the 14th century for Gothic churches on the coasts of the Baltic states.
Skällviks Kyrka today
Skällviks Kyrka received its present appearance in the years 1590 – 1593, when it was rebuilt in the style of an Italian Renaissance central church on behalf of King John III (Swedish: Johan III), who was born at Stegeborg Castle. In addition, the church was given a cross-shaped ground plan, in which a short transept was added to each side of the nave, creating a large room in the middle of the cross. In contrast to a pure central church, however, the altar remained in its original place in front of the east gable of the central nave and was not moved to the middle of the church.
At the four transitions from the transepts to the nave, large columns were installed which carry a large cross vault above the middle of the church at a height of twelve metres. Exactly above the middle of the church a tower with a remarkably high and slender top was put on. In the middle of the 18th century the freestanding wooden belfry was rebuilt for the last time and the vestibule on the south side of the church, which seemed more like a foreign object in form and placement, was added.
Inside the church
The interior of the Skällviks Kyrka is rather simple, showing the special architecture to its best advantage. The oldest object in the church is the 15th century altarpiece made of walnut wood from Germany. The baptismal font carved from sandstone, which according to tradition used to stand in the castle chapel at Stegeborg Castle, dates from 1607, and the pulpit decorated with carvings and a canopy was donated to the church in 1661.
Similar destinations in the area