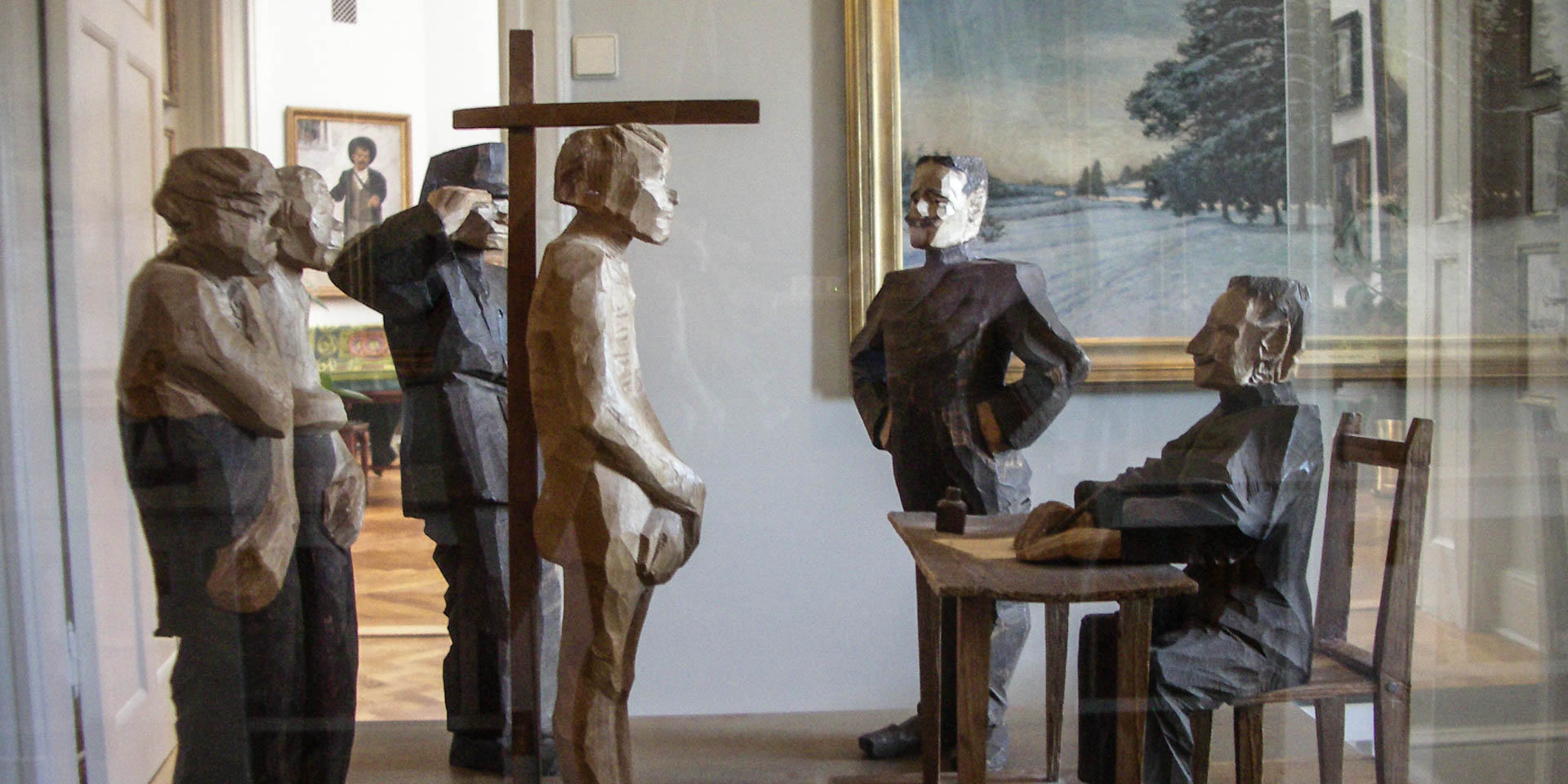 Döderhultarmuseet
Art museum in Oskarshamn
Döderhultarmuseet, the museum in honor of the well-known Swedish wood sculptor Axel "Döderhultarn" Petersson, is located in the cultural center in Oskarshamn.
The Döderhultarmuseet presents nearly 200 of the unmistakable works from the hand of Axel Petersson. The wooden sculptures, which are between 20 and 30 centimeters large, look a bit like caricatures and show expressive characters in all sorts of life situations.
The sculptures are often assembled in groups and show a reflection of the little people and their living conditions in the region around 1900. Petersson's models were mostly real people and the scenes themselves reflect experienced situations.
Depictions like that of the hard-working man, the caring woman milking a cow, the intimidated girl during the catechism exam, the young soldier at the medical examination, or the pregnant bride at the altar and the old woman at her husband's coffin – all of them take the viewer a bit into the life of the characters.
Axel Petersson, born in 1868 in the parish of Döderhult, today a district of Oskarshamn, left his native region only for the duration of his military service and died in Oskarshamn in 1925. For many years, Petersson, who was called an oddball, was only known as an artist his home region.
Only beyond his 40th birthday, he gained national and international recognition. At that time, his artist's name "Döderhultarn" (The one from Döderhult), emerged and is today more common to most people than the name Axel Petersson.
From 1907 until his early death at the age of just 57, Petersson lived in a small attic apartment in the Garvaragatan in Oskarshamn, which was also his studio. The Döderhultarns Ateljé still looks the same as it did during the artist's lifetime and can be visited during the summer months.
Döderhultarmuseet:

Opening hours
Open today: 12:00 – 17:00
---
1. January – 31. May
Monday – Friday: 12:00 – 17:00
Saturday: 10:00 – 14:00
1. June – 31. August
Monday – Friday: 10:00 – 17:00
Saturday: 10:00 – 15:00
Sunday: 12:00 – 16:00
1. September – 31. December
Monday – Friday: 12:00 – 17:00
Saturday: 10:00 – 14:00
Similar destinations in the area