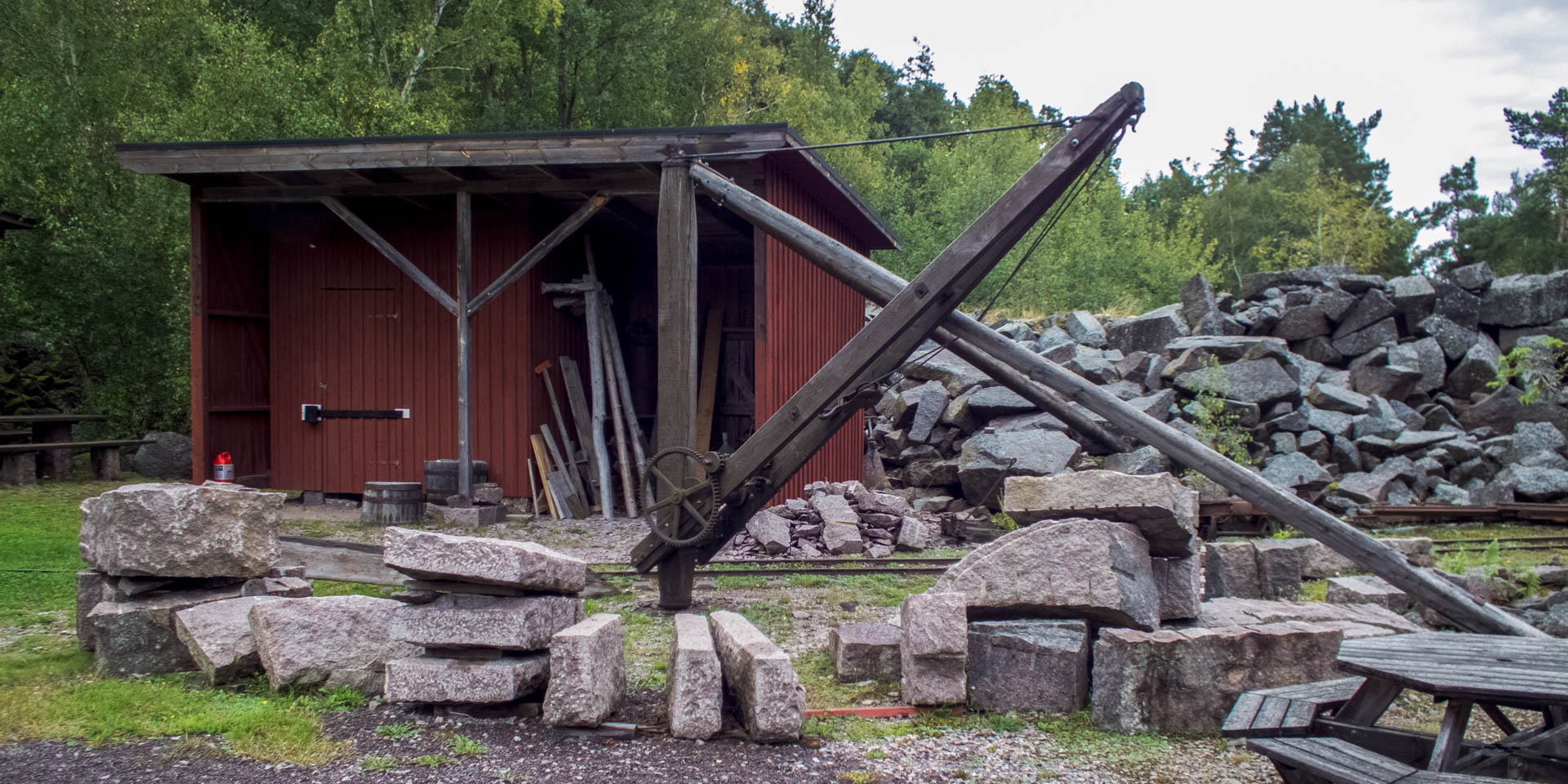 Våneviks Stenhuggarmuseum
Stonemasonry museum in Vånevik
The stonemasonry museum Våneviks Stenhuggarmuseum is an open-air museum showing a reconstructed former quarry in the small coastal town Vånevik, about 10 kilometers south of Oskarshamn.
Våneviks Stenhuggarmuseum is located in Ångkransbrottet, the largest of the approximately 30 former quarries in and around Vånevik. This quarry was in operation from 1870 to 1926 and has been restored with field railway tracks, old machines, stone grinding, blacksmith, stonemason's hut and storage room, as it looked during its heyday.
A small exhibition building displays old tools, photographs and documents that tell of the hard work and history of the quarries around Vånevik, which were used to break the well-known, reddish Vånevik granite.
In addition to the Ångkransbrottet open-air museum, there are two trails, one in northern and one in southern direction, leading through the old quarry landscape over a total length of 20 kilometers. The northern path leads to the tip of a promontory called Näset, where is another small exposition, a large quarry and the remains of an old loading quay.
The southern route leads to Sjöhagen in Påskallavik, past the old workers' barracks, where an apartment is set up as a museum showing the living conditions of the former working-class families. In the further course, the path passes several quarries, old port facilities and a powder cellar. A total of 13 stations can be found, whose importance is explained on the basis of information boards attached there. In addition, there are QR codes on the boards that allow you to retrieve an audio file with detailed information.
The open-air museum and the exhibition in Näset are accessible all year round free of charge. During the summer, both stations are staffed on Saturdays and Sundays, available for guided tours. The museum apartment in the old workers' barracks is only open for a visit during the summer.
Similar destinations in the area