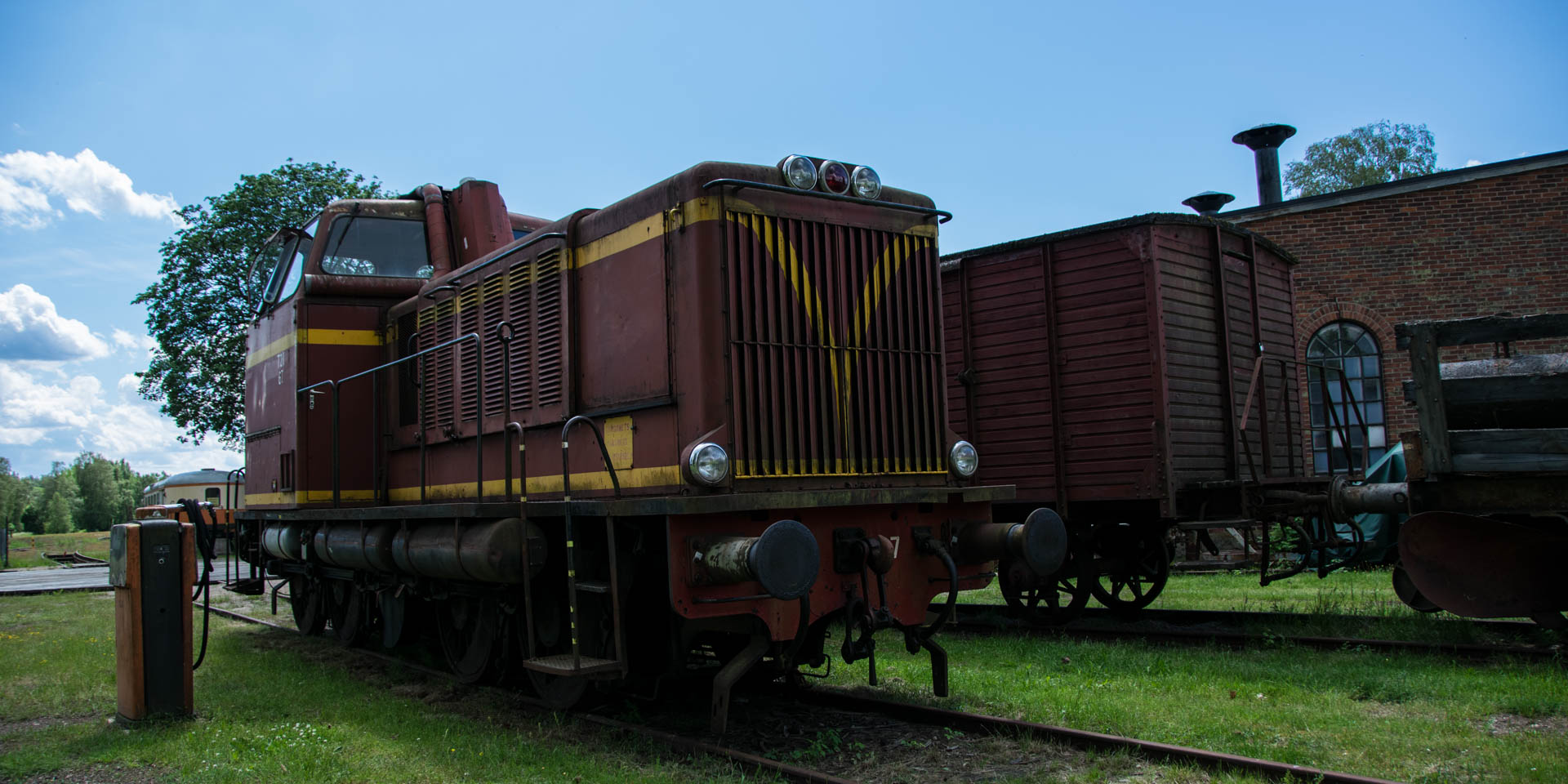 Insider tip
Skåne-Smålands Järnvägsmuseum
Railway museum in Strömsnäsbruk
The railway museum Skåne-Smålands Järnvägsmuseum is located in the centre of the former industrial town Strömsnäsbruk in the east of the municipality of Markaryd and preserves vehicles, buildings and railway tracks of the former railway company SSJ.
Skåne-Smålands Järnvägsmuseum is located on the site of the former main station of the SSJ (Skåne-Smålands Järnväg), with a historical roundhouse, functioning turntable and siding. The museum and the historical tracks are operated by the voluntary museum association founded in 1986.
In the locomotive shed and on the freely accessible tracks there are various historical locomotives as well as several freight and passenger cars from different eras and in different states of preservation. Some of the rail vehicles have been restored and are operational, while others are still in their original condition.
The exhibits of the railway museum
The museum's only steam locomotive, an E2 955 from 1908, is also the museum's oldest locomotive, but unfortunately no longer operational. It was in service between 1937 and 1940 on the SSJ line, which at that time ran from Kärreberga in Skåne to Värnamo in the province Jönköpings Län.
On the other hand, a diesel-hydraulic T21 67, built by MaK in Kiel in the mid-1950s, a diesel-hydraulic Z43 198 mini locomotive from 1951 and several Y7 rail buses from the second half of the 1950s are ready to go. The pride and joy of the museum association is a fully operational workshop vehicle with a hydraulic working platform for the maintenance of overhead lines. The vehicle with the designation LMV 1928B dates from 1955 and is the only one of its kind preserved from the 1950s.
The railway and the museum
The former private railway SSJ was founded in 1889 and the line from Kärreberga to Värnamo was completed in 1899. In 1940 the SSJ, like all Swedish private railways, was nationalised and taken over by the Swedish State Railways (SJ). 1968 the passenger traffic on the line was stopped and the freight traffic was also stopped step by step until 2000.
The largest parts of the track were demolished, so that today only the section between Traryd over Strömnäsbruk to Markaryd is passable. The museum association uses the historical rail buses on this route for special occasions and has also been responsible for the maintenance of the track systems as infrastructure administrator since 2015.
The inspection of the locomotives and wagons on the tracks is possible at any time – the locomotive shed and the vehicles parked therein are only visitable after prior agreement. The summer months from mid-June to mid-August offer a good opportunity for a spontaneous visit. During this time a member of the association is usually present during the day, since the association lends draisins for tours of several hours on the historic route for a fee.
Similar destinations in the area