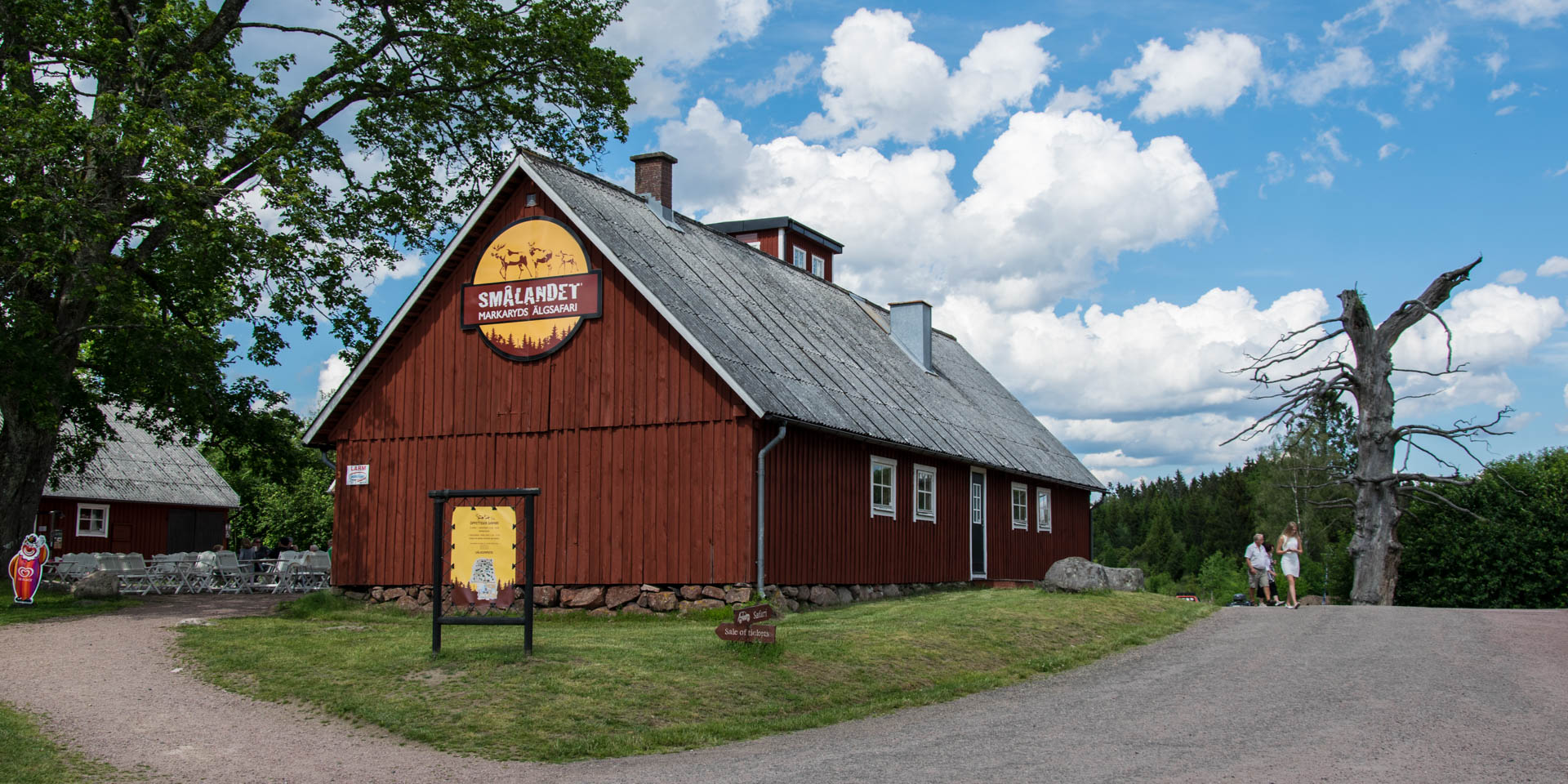 Smålandet
Elk safari in Markaryd
The elk park Smålandet is the only park worldwide in which an elk safari with the own vehicle is possible. The park is located on the eastern outskirts of Markaryd, the main town of the municipality of Markaryd in the southwest of Småland.
The elk park Smålandet in Markaryd covers an area of about 15 hectares and is situated in a varied forest area with small clearings. An average of twelve elks live within the park and in a separate part in the north, the so-called bison valley, lives a small herd of ten North American bison.
The safari leads over a three kilometre long circular path which winds through the slightly hilly terrain of the elk park. You can either drive your own car or take the small train for a one-hour tour through the park. At the beginning of the tour, you usually get branches of leaves with which you can feed the elks on the way.
The tour through the elk park
The safari by train is led by a guide who provides interesting information on elks and bison during the trip. The safari with your own car, on the other hand, has the advantage that you can drive several rounds and decide for yourself how long you want to stay in one place to observe the animals.
Please note that for safety reasons you are not allowed to leave the vehicle during the safari. It should also be interesting for dog owners to know that you are allowed to carry the four-legged family members in the car during the safari. It must be ensured that the dogs cannot jump out of the vehicle and the park also reserves the right to exclude barking dogs from the visit.
Further more in Smålandet
Outside the park there is a picnic area where you can eat your own provisions. There is also a self-service restaurant offering mainly fast food, including bison burgers and elk köttbullar. Right next door, the Café Våffelstugan offers a variety of coffees, homemade waffles and ice cream.
The shop of the elk park offers an extensive range of elk and Swedish souvenirs on around 100 square metres. Within the safari park itself there are no toilets. All the toilets, including two with changing tables and wheelchair accessible, are located in the restaurant, café and near the shop.
1. January – 12. April
Saturday – Sunday: 11:00 – 16:00
13. April – 3. November
Monday – Sunday: 10:00 – 18:00
4. November – 31. December
Saturday – Sunday: 11:00 – 16:00
Similar destinations in the area