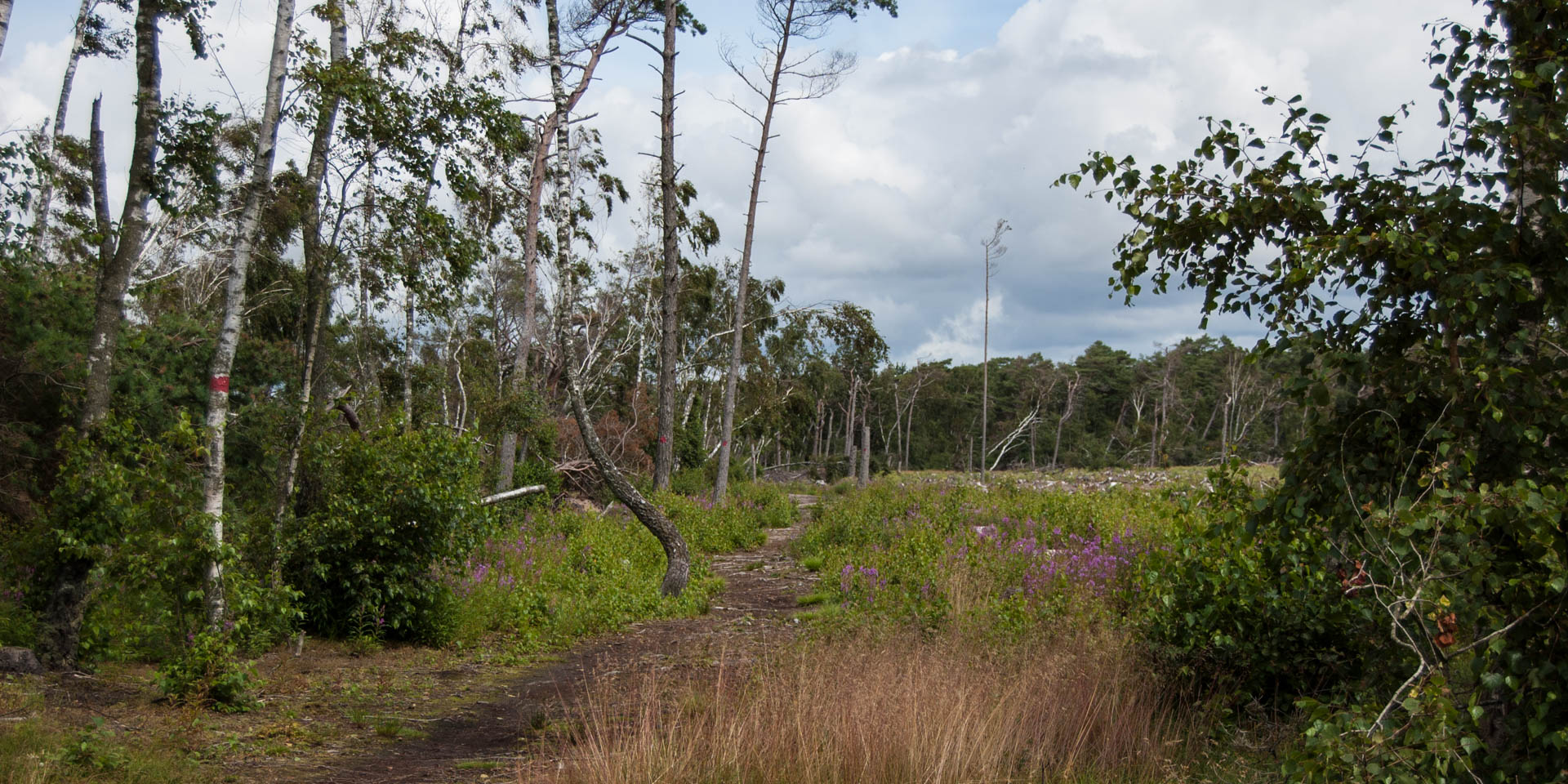 Kronoskogen
Beach forest in Ängelholm
Kronoskogen is a wide forested area between the beach at Skälderviken and the city Ängelholm. It is approximately 6 kilometers long and up to 2 kilometers wide and crisscrossed of trails.
You can't see it, but Kronoskogen is an artificial protection forest. The vegetation of the mixed forest consists of beach pine, birch and many bushes. This is relatively dense, but due to the meager sandy soil it is not rich in species.
In the forest are five hiking trails in various lengths from 2.5 to 8.3 kilometers, which invite you to long walks in the well accessible terrain. Good starting points are located near the beach Råbocka, or at the other end at Sibirienstranden. In the Siberia section one of these paths leads to Ängelholms most extraordinary attraction, the UFO-Monument.
Part of Kronoskogens, the 219-hectare beach Ängelholms Strandskog has been declared a nature reserve in 2010. The nature reserve extends over a part of the forest, up to 9 meters high dunes, the sandy beach and 69 hectares of sea area.
History
After cutting down of the original forest off the coast of Ängelholm in the Middle Ages, the negative effects appeared immediately. In 1516 a further deforestation was prohibited because of shifting sands made increasing problems, but for a recovery of the forest it was already too late.
At the beginning of the 18th century the situation was so dramatic that the estuary of the river Rönne threatened to silt up, drift sand are extended up to the city and farmland were covered by sand. A 100-year process in order to build a protective forest began 1739. Fences were built, where the drift sand gathered by the wind in long embankments. Beach grass was planted for attachement. Following this, the land behind the embankments were planted with trees and shrubs.
Similar destinations in the area