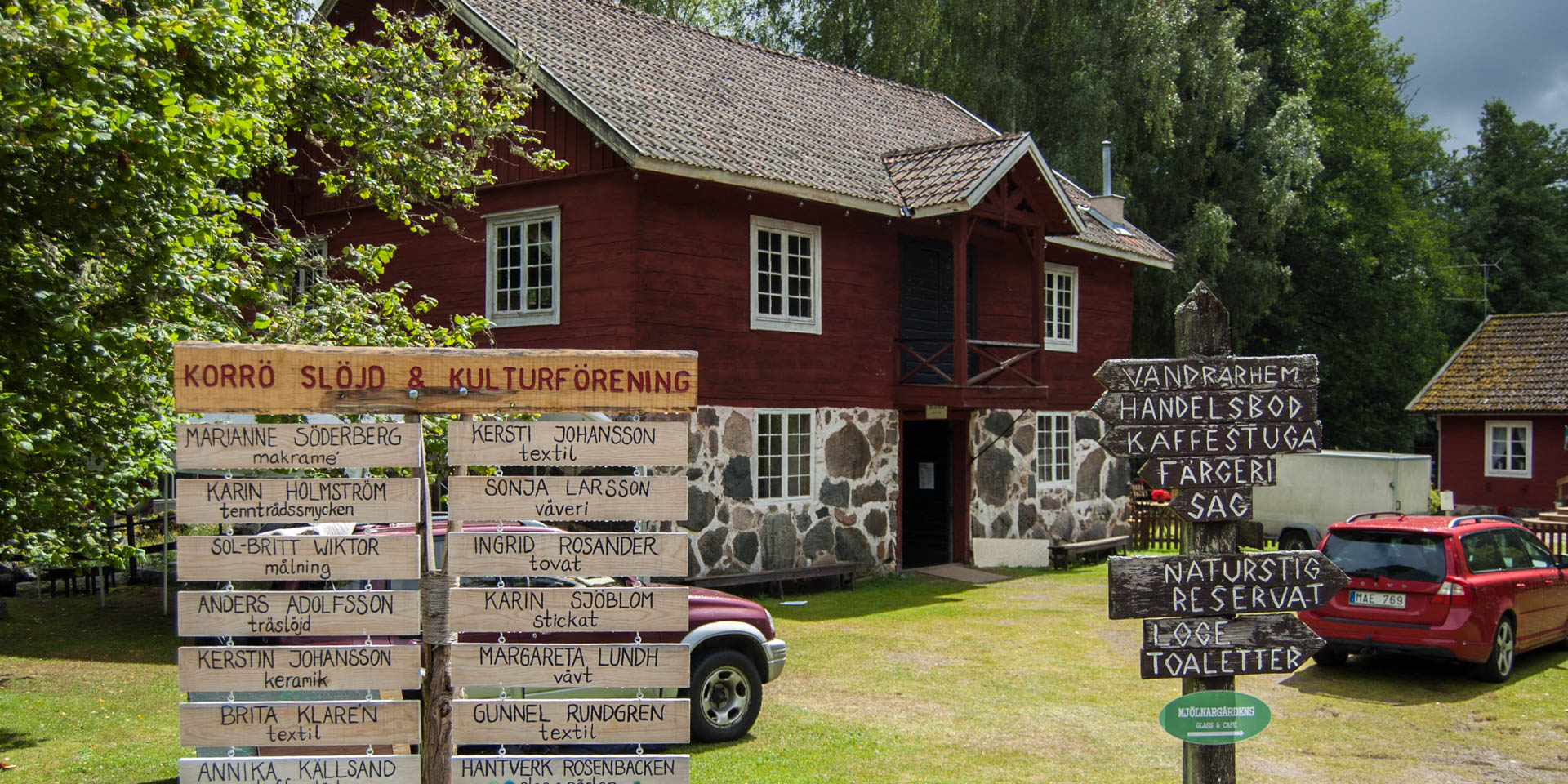 Popular destination
Korrö Hantverksby
Historical crafting village Korrö
Korrö Hantverksby is a historical craftsman village from the 18th century. It is located on the small island Korrö in the river Ronnebyån in Småland, about 7 kilometers south of Linneryd.
During the heyday of the village in the late 19th century, there were a water mill, a tannery, a dye works, a sawmill and a shop with post office operated in Korrö. In total, Korrö Hantverksby consists of 15 historical wooden houses from the 19th century which have been lovingly preserved and give Korrö a wonderfully romantic charm.
In the former dye works, a two-storey wooden building from 1844, you can still find some of the old equipment. The ground floor is used as an exhibition and sales room during the summer season. Who is looking for original and high quality craftsmanship products from Småland, should find something quickly.
The water mill was built 1848. Except for the missing waterwheel, the mill looks like it did, when the last miller left it. From about 1880 to 1948 the sawmill was in operation. Only between Christmas and the end of April was the water level of the river Ronnebyån high enough to produce sufficient hydro power for the operation of the large saw. A planer is still present in the mill, which was used all year for the making of shingles.
The former manor house and five of its outbuildings housing different accommodations. Depending on your budget you can stay in a classic hotel, a B&B or in a Vandrahem. The old shop from 1890 is used today as small tourist information and reception for the Vandrahem and is also still a cozy little shop, which sells ice cream, candy, drinks and souvenirs.
The Café Mjölnaren in the former house of the miller, located right on the water, provides a nice place to rest with a coffee, pastry or a large sundae. Next door, you find a restaurant with daily specials and an à la carte menu.
Korrö Folk Music Festival is a special event in Korrö, which takes place every year in the last week of July. The multi-day event has become the largest festival of folk music in Sweden.
Korrö Hantverksby:

Opening hours
Opening hours
1. May – 2. June
Saturday – Sunday: 11:00 – 17:00
6. June – 1. September
Monday – Sunday: 11:00 – 17:00
---
Last update: 07/2019 | Errors and omissions excepted.
Similar destinations in the area