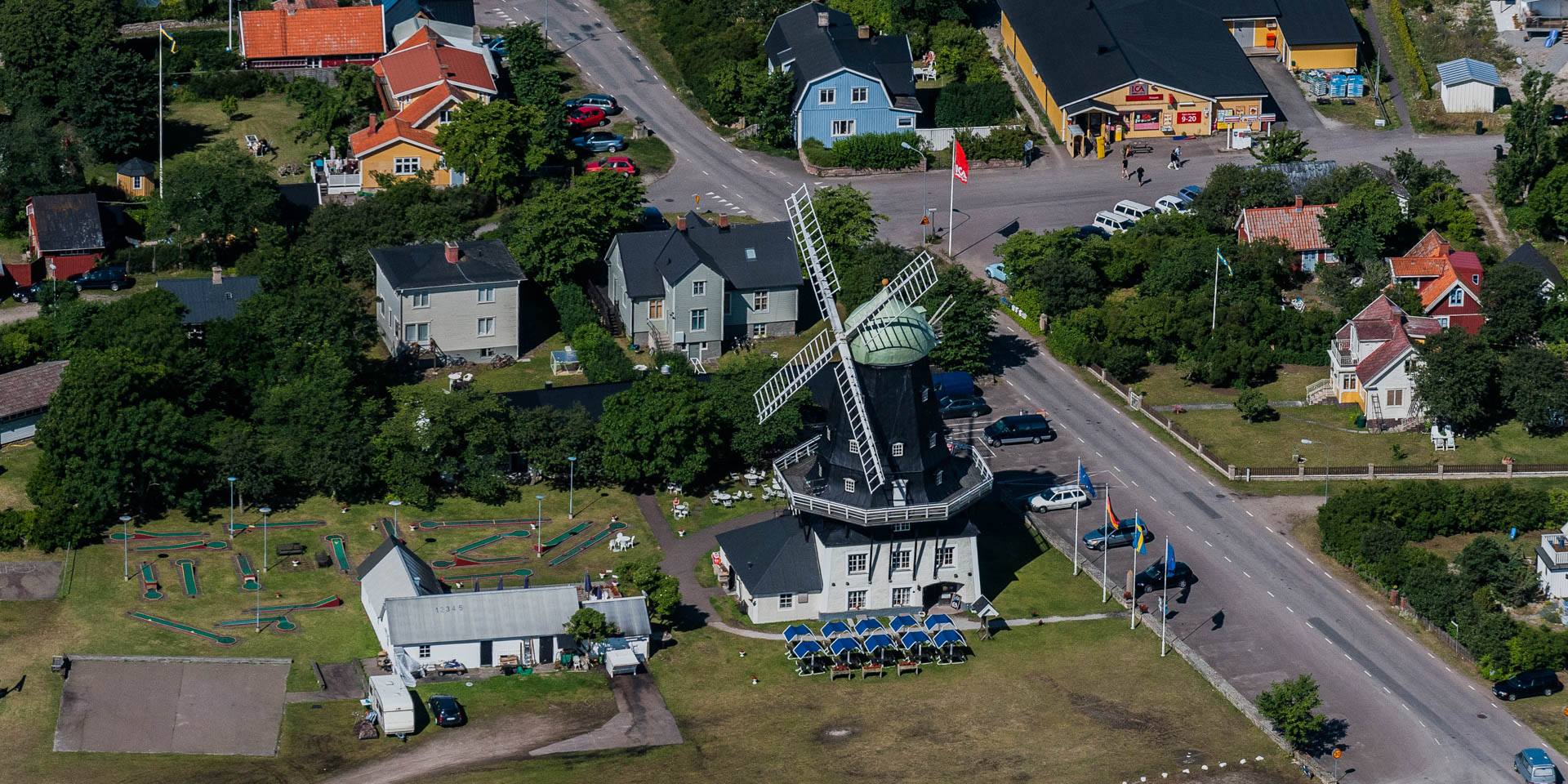 Sandviks Kvarn
Northern Europe's largest windmill
Sandviks Kvarn is located in the coastal village Sandvik on the west side of the Swedish Baltic island Öland, about 30 kilometers north of Borgholm. Sandvik is also known as the center of the stonemason craft on Öland.
The eight-story smock mill Sandviks Kvarn belongs with a height of 26 meters and a wingspan of 24 meters to the largest historical windmills in the world and is the largest windmill in Northern Europe.
The mill was originally built near Vimmerby in Småland in 1856. After a heavy storm damaged the mill, it was no longer in operation and finaly sold in 1885. The new owner had the mill completely disassembled, transported it to Öland and rebuild it on a specially constructed two-storey base.
Sandviks Kvarn was in operation until the 1950s and was sold to the local heritage association in 1955. Shortly afterwards a simple café opened in the basement of the mill and it developed into a popular destination over the years with restaurant, pizzeria, cafeteria, grill, mini golf and bowling lane.
The mill itself is completely preserved and can be visited as a museum. Narrow stairs offers access to all floors of the mill. Starting with the lower floors with the sieves and filling equipment, up to the seventh and eighth floor with the massive, wooden shafts and gears as well as the brake system and the rotating device for the tower dome.
Because of its higher productivity and capacity, most of the approximately 2,000 windmills on Öland were abandoned with the emergence of Sandviks Kvarn in the late 19th century. Thanks to the initiative of individuals, local history societies and preservationists, 350 of the old windmills on Öland still exist.
Similar destinations in the area